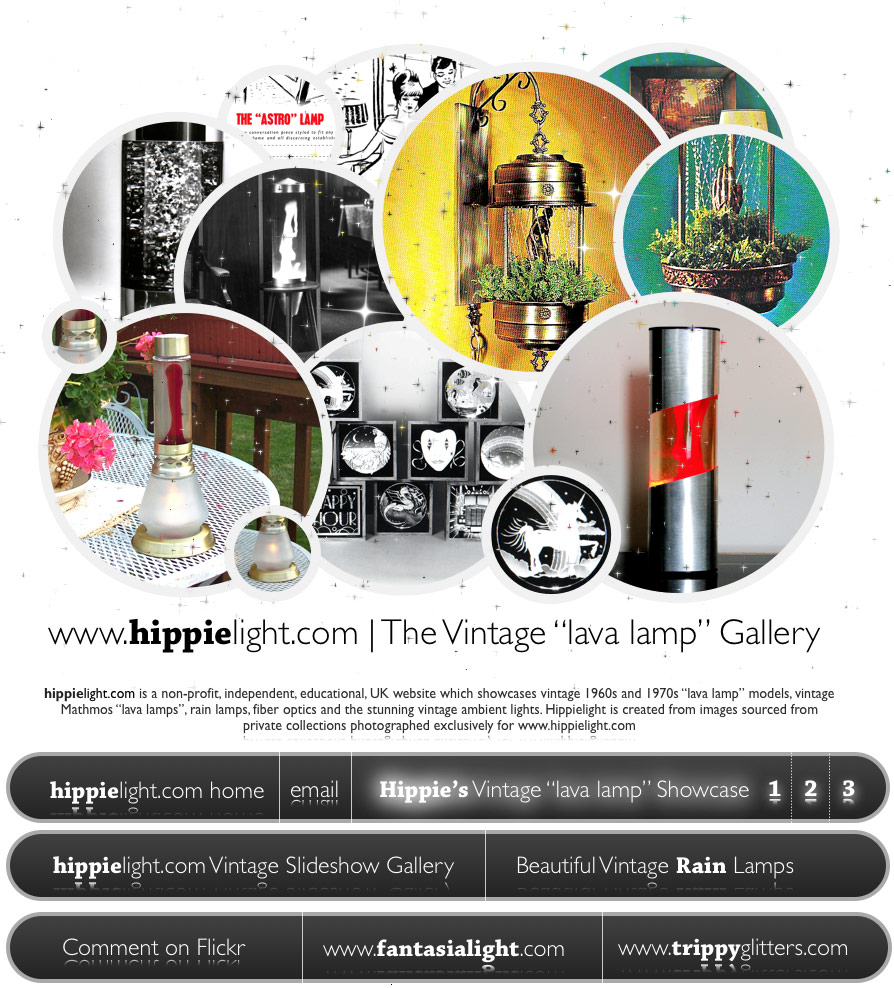 www.hippielight.com | Vintage USA Florence Art Co. Glitter Lamps
One of the most beautiful manufacturers of glitter lamps in the USA in the vintage years was the Florence Art Co. who produced a wide range of beautiful glitter lamps, some featuring one glitter bottle, some featuring two or some even featuring three. Whilst many of their designs were traditional looking, they were very beautiful pieces and below once can see a pair complete with their original lamp hang tags which show the lamps named as "Astro-Lite" and the details: Florence Art Co. 831. W. Washington Street, Chicago, Illinois 60607. The examples below show designs produced by the Florence Art Co. Oddly these company was indeed in the same state as Lava-Simplex-Scribe. Furthermore the Florence Art Co name has been seen attached to vintage Laff-Lite (non-liquid motion lamps) models.
Florence Art Co. was listed in the Illinois Secretary of State Certified List of Domestic and Foreign Corporations from 1959 through 1977. Initially, its officers were A.P. Lerman, president; S.A. Lerman, secretary; and L.N. Lerman, registered agent.
Images below are courtesy of Bohdan Rudy for the single bottle pieces and for the dual piece, courtesy of Nancy Lopez.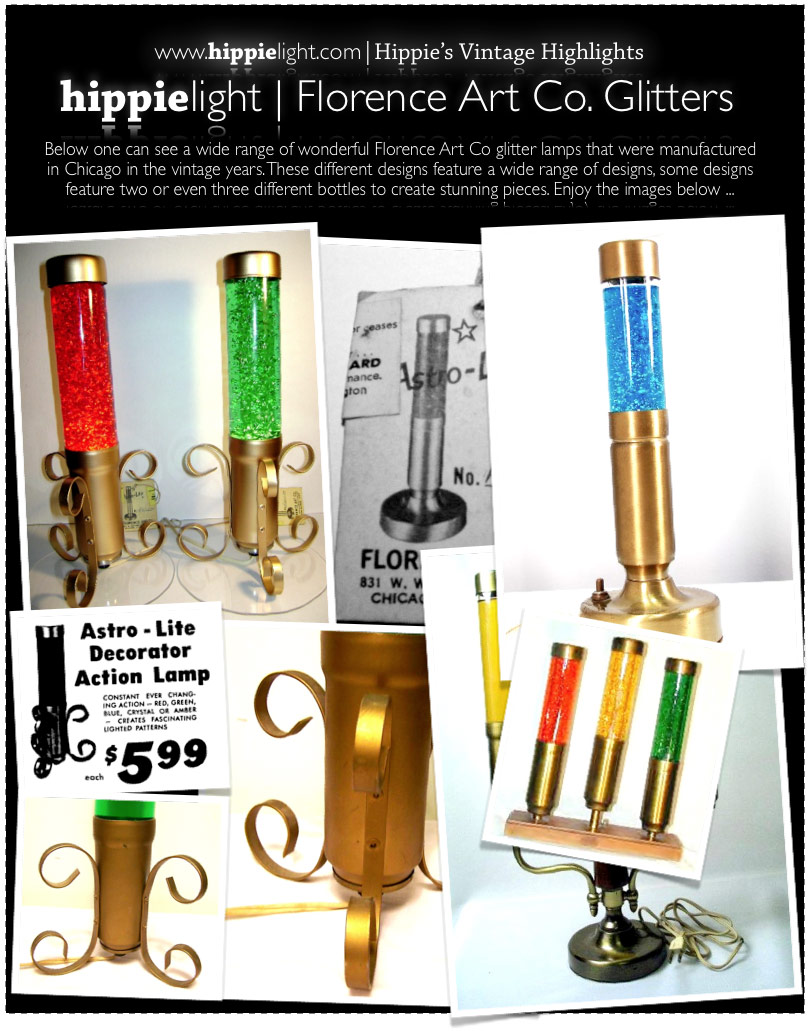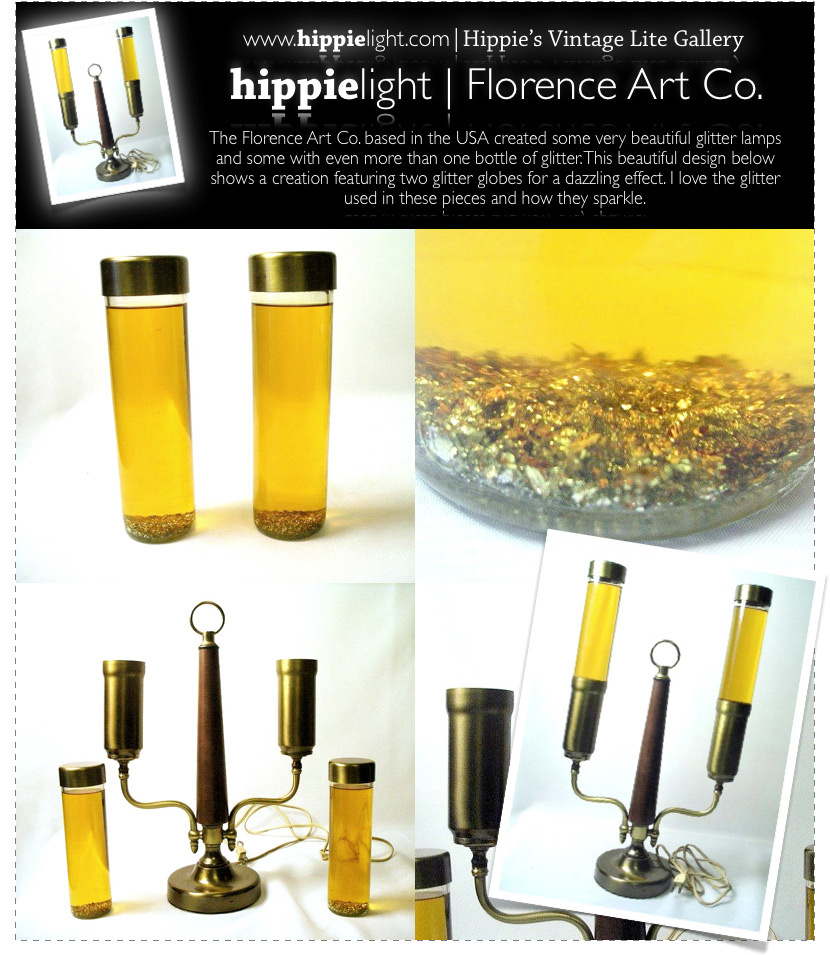 www.hippielight.com | Vintage USA Stardust Lites (Glitter lamps)
One of the most interesting glitter lamps from the vintage years was produced in Chicago by Heat Tapes Inc and feature beautiful ornate bases. Titled, Stardust Lites, these lamps are beautiful glitter lamps which feature slow moving shimmering flakes of glitter floating in colourful liquid. Stardust Lites feature an ornate styled base which add character to the lamp, a wooden base and furthermore a switch on the base for easy operation.
Stardust Lites shipped in Gold, Red, Blue and Green. A second version of these lamps featuring lava liquids was produced and titled Bubble Lites. These lamps have a very beautiful design and a very beautiful vintage look to them.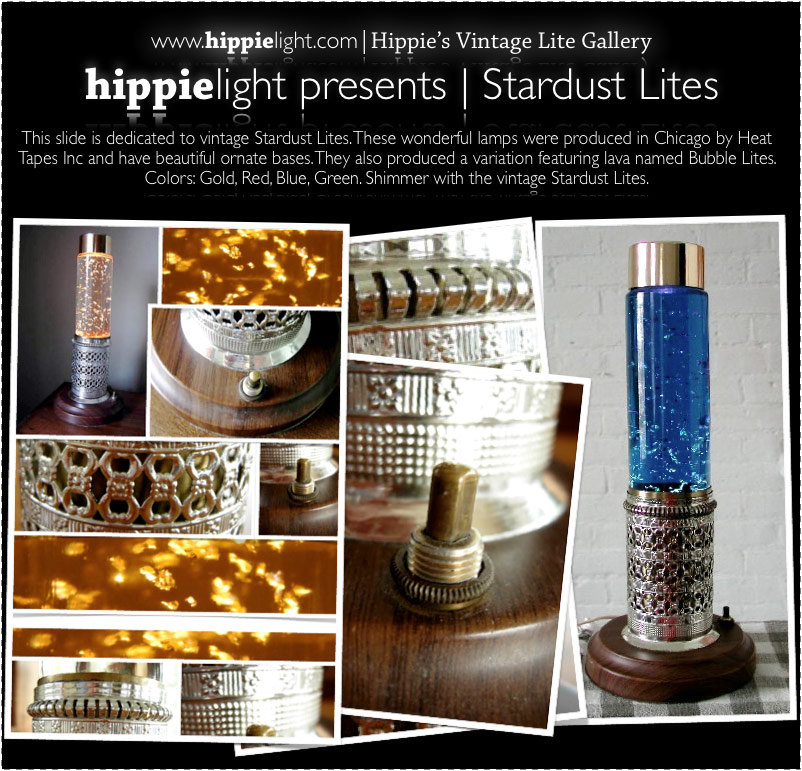 www.hippielight.com | Vintage USA Pagoda Lamp Starlite
This wonderful vintage USA Pagoda lamp was recently uncovered by Dietrich who emailed into www.hippielight.com. This particular design was produced by the Pagoda Lamp Co., a division of Heat Tapes, who produced these wonderful glitter lamps.
These particular lamps feature beautiful glitter pieces in various colours as listed on the front of the box.
Gold, Red, Blue, Green, Orange & Chartreuse (a colour that is between yellow and green). These particular lamps are very rarely seen in such a great condition and are a wonderful example of the vintage lamps produced. The cap of the bottle features a wonderful metal hat styled cap and the lamp is slightly oriental in its theme with a Pagoda inspiration. This gives the lamp character. The bottle has a slight taper and is held on a beautifully produced base featuring an integrated switch. These lamps are rarely seen in this great condition.
Many thanks to Dietrich for these wonderful images below. The model below is the blue version and was found in his Aunt's storage room.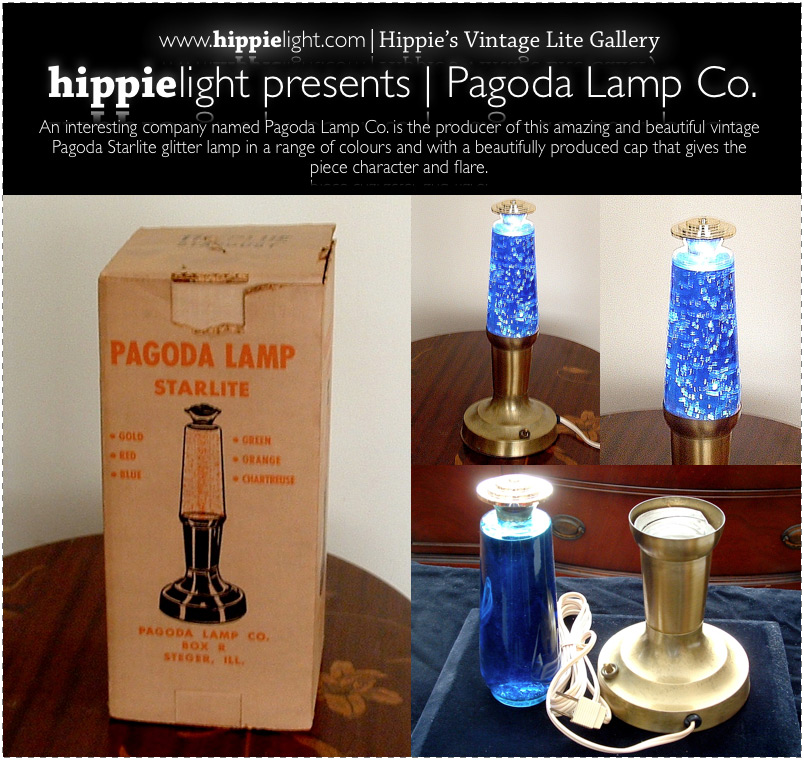 www.hippielight.com | Fantasia Cosmic Window | A Unique Glitter Lamp Design
Cosmic Window by Fantasia, is a stunning vintage lamp designed by Fantasia to be one of the most beautiful glitter lamps ever created. Unlike other glitter lamps, Fantasia's Cosmic Window utilises the body of the lamp to accentuate the shimmering effect. Designed by Fantasia, this lamp takes, the wonderful concept of a glitter lamp to a whole new level.
Cosmic Window by Fantasia, is a stunning vintage lamp designed by Fantasia to be one of the most beautiful glitter lamps ever created. Below one can see bulb changing instructions. Image scan is kind courtesy of James Reiche and the product illustrations were created by George Stadnik, Fantasia's industrial designer.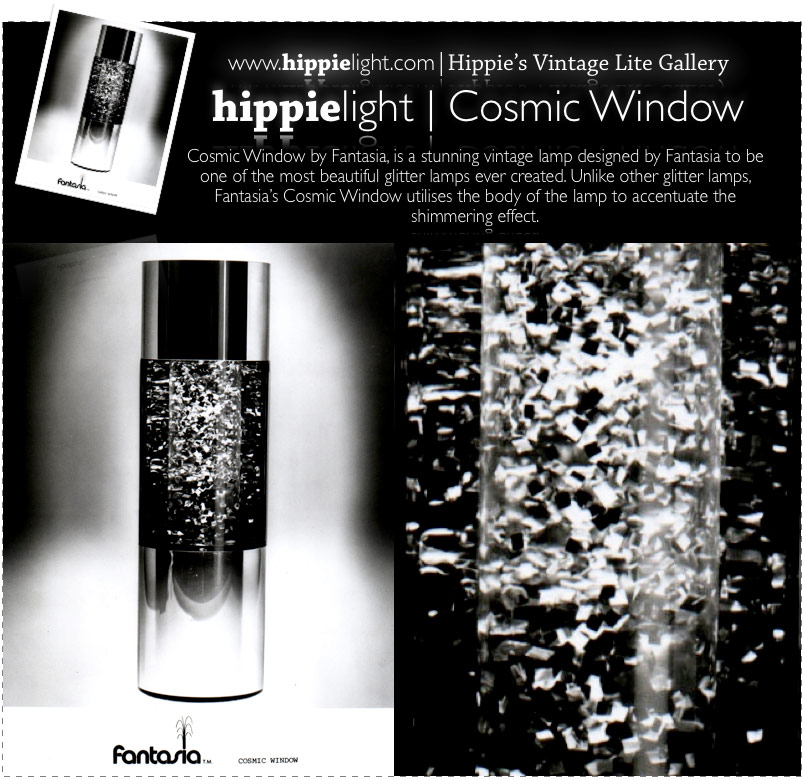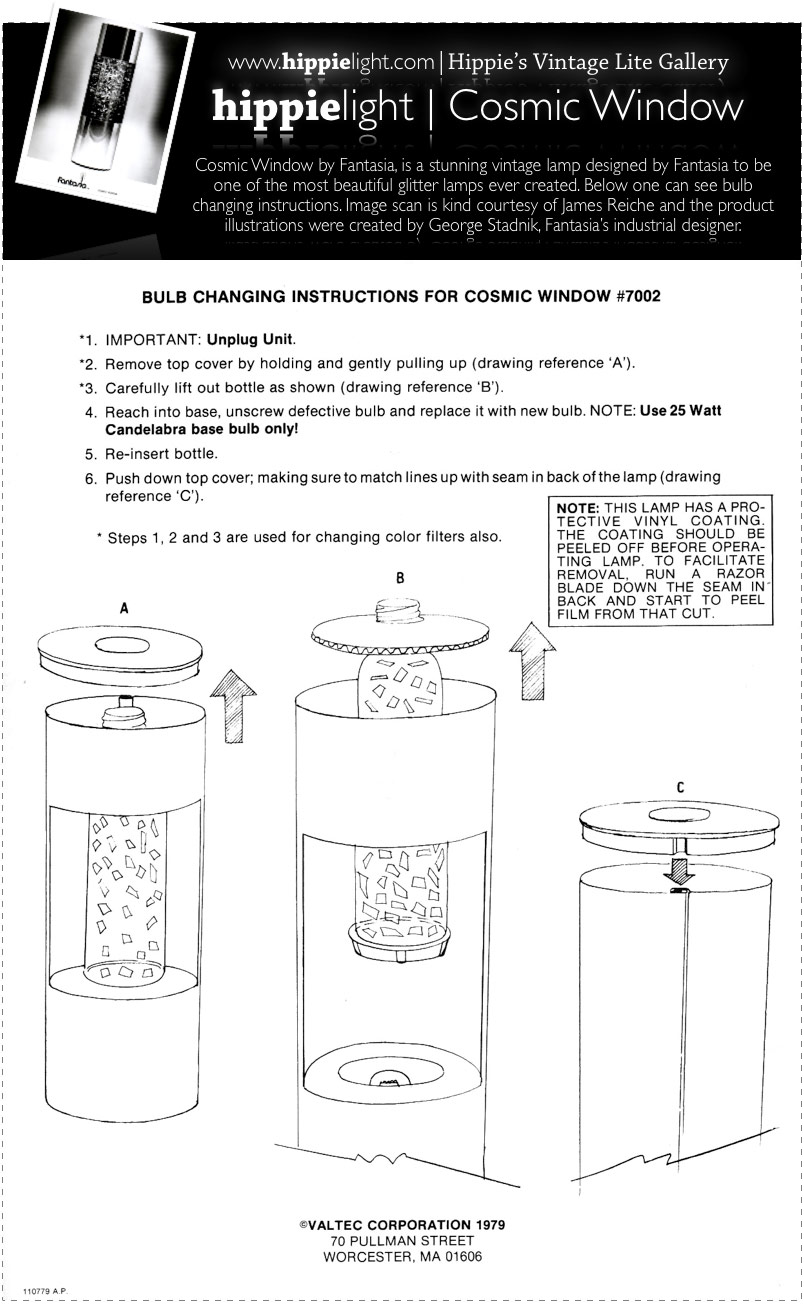 www.hippielight.com | Fantasia Glitter Graphics | Glittering Visually
Glitter Graphics by Fantasia is a stunning Fantasia glitter lamp series that featured beautiful artwork on the front of the lamp. When illuminated, the front would come alive with the glitter shimmering behind the image. Glitter Graphics just like the Cosmic Window, shows how Fantasia re-thought the way glitter lamps could be visualised. Which one is your favourite?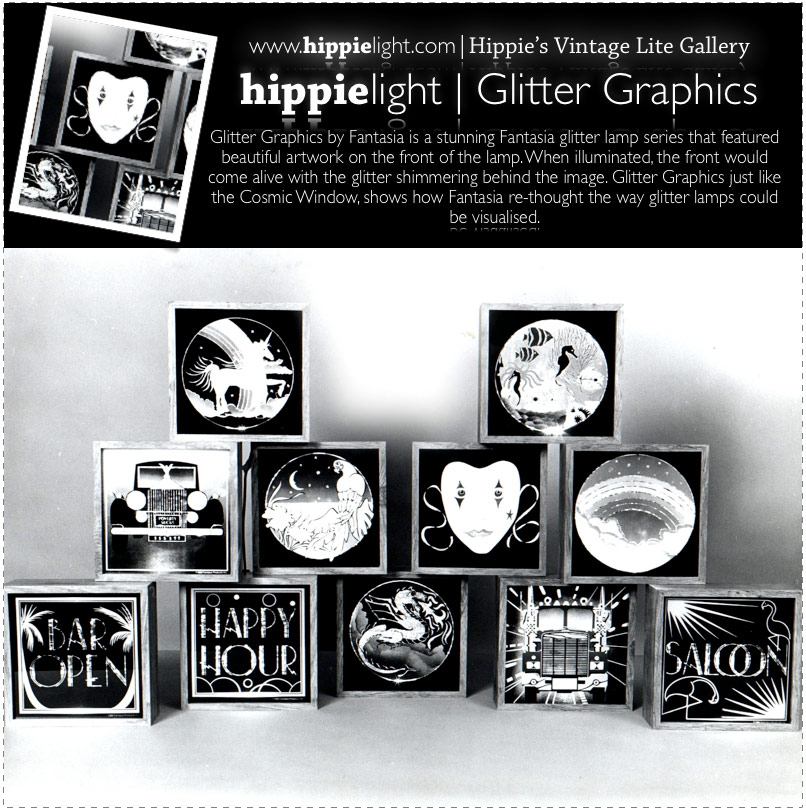 www.hippielight.com | Fantasia | 1990s Revival of Fiber Optic Decorative Lighting | Love Bug
The 1990s saw a massive revival of all kinds of lighting such as "lava lamps", however fiber optics saw a massive return and Fantasia the iconic USA manufacturer of fiber optic lamps produced a wonderful array of stunning lamps. One of their entry level models can be seen below. The Fantasia Love Bug features a wonderful base and a trippy colour wheel that creates absolutely dazzling effects through the fiber optic spray. For more on Fantasia - please see www.fantasialight.com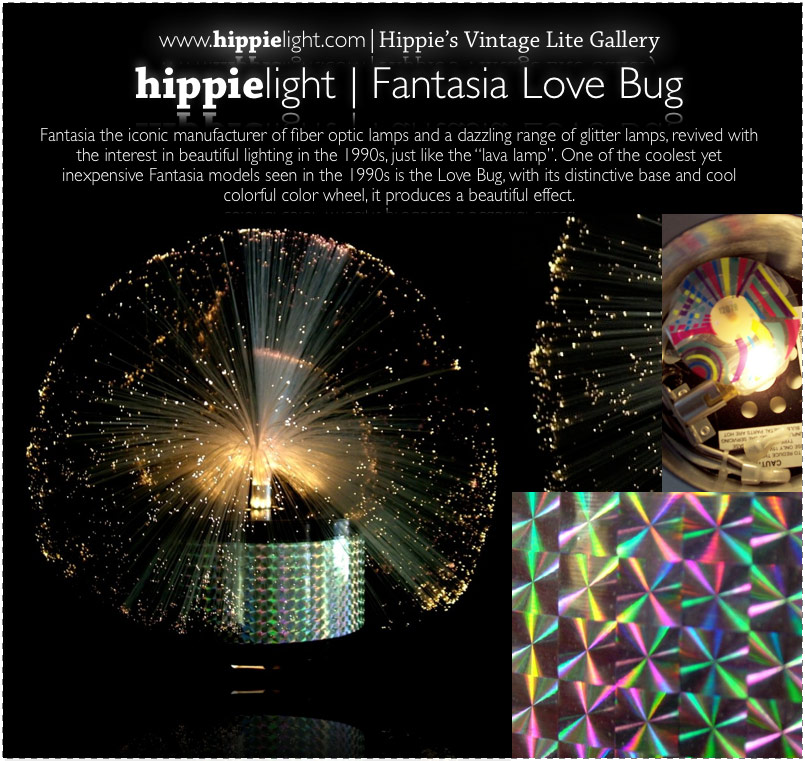 www.hippielight.com | Vintage Australian Fibre Optic 'Koninderie' lamp by Bendix Australia
The 1970s saw a massive amount of stunning decorative fiber optic lighting being produced. One of our favourite lamps is 'Koninderie' by Bendix. Beautifully named, 'Koninderie' in Australian Aboriginal and translating to 'Rainbow', this lamp is a truly stunning fiber optic design that creates beautiful colourful light in eight colours. 'Koninderie' uses a 15v 150w halogen dicroic light bulb. I particularly love this lamp and how it was packaged.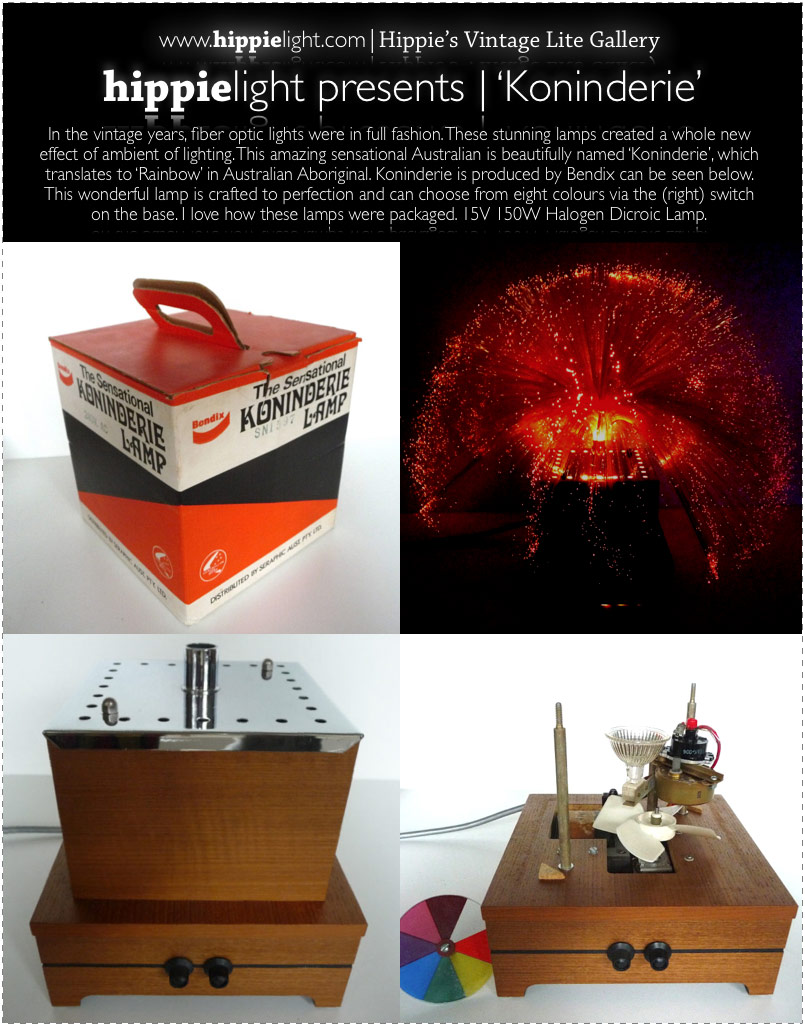 www.hippielight.com | Vintage Spinning Lights | Colourful, Psychedelic, Optical Spinners
We at www.hippielight.com love all kinds of unusual vintage lamps. In the 1970s, spinning colourful lamps rotating merely from the heat of a light bulb were in their heyday. Below one can see examples such as the beautifully psychedelic Gorilla Lite. This wonderful lamp features not one, but two rotating cool spinning translucent shades that swirl around a bulb to create a stunning effect. Please see the kinetic fantastic lights below: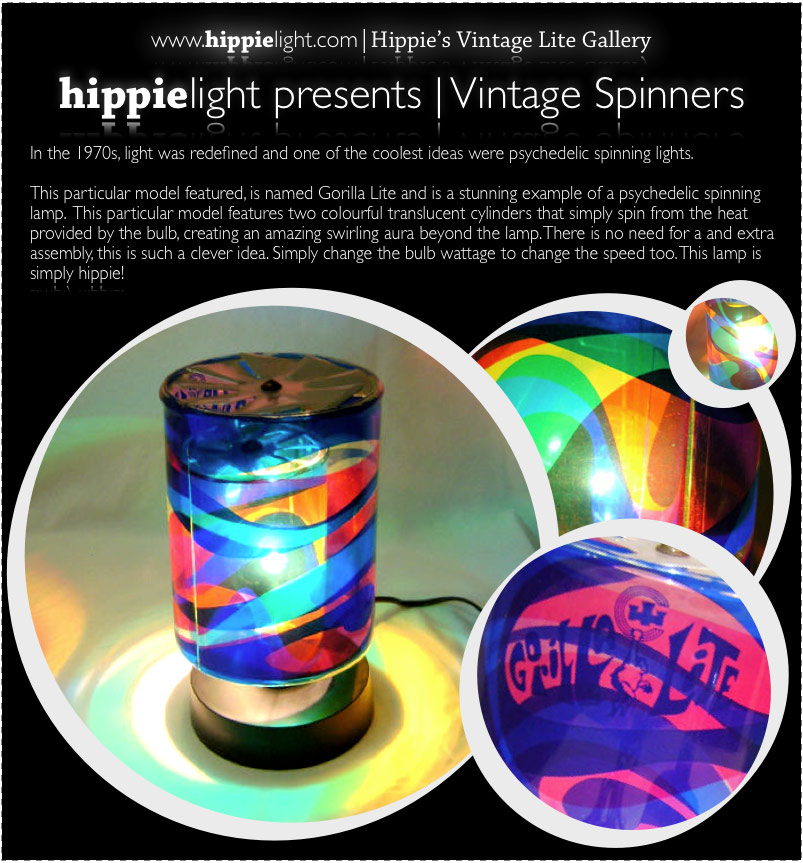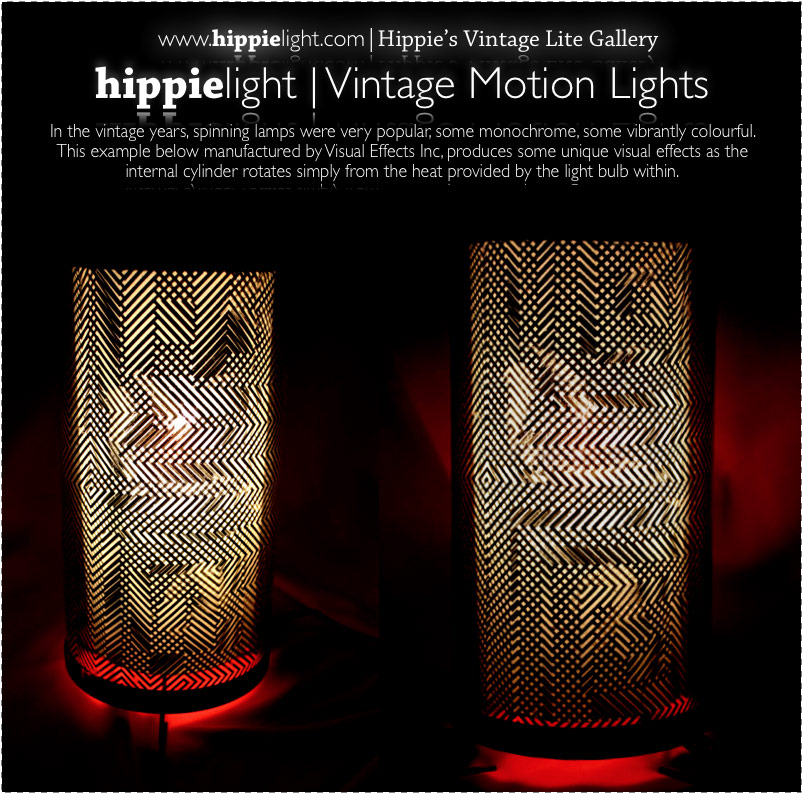 www.hippielight.com | Vintage Swag Lamps | We love them too
Here at www.hippielight.com, we love vintage swag lamps, of all kinds. The models below are some of our favourite vintage swah lamps and exude colour, texture and light. Do you have a swag lamp that you like at lot or collect these. We would love to hear from you? These vintage swag lamps were very popular in the 1960s and the 1970s and reflect the fashion, styles and colour of their particular era.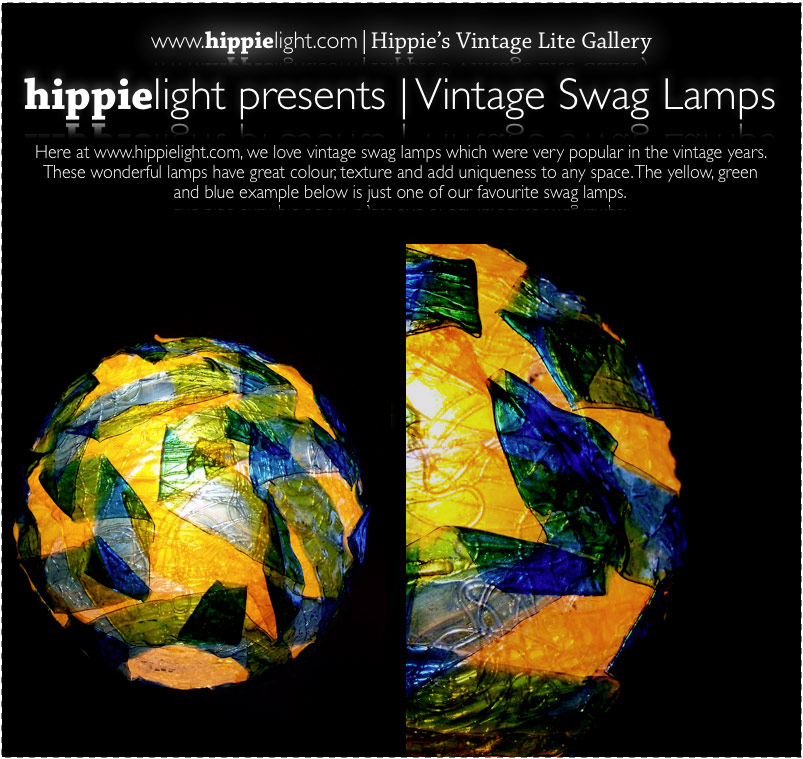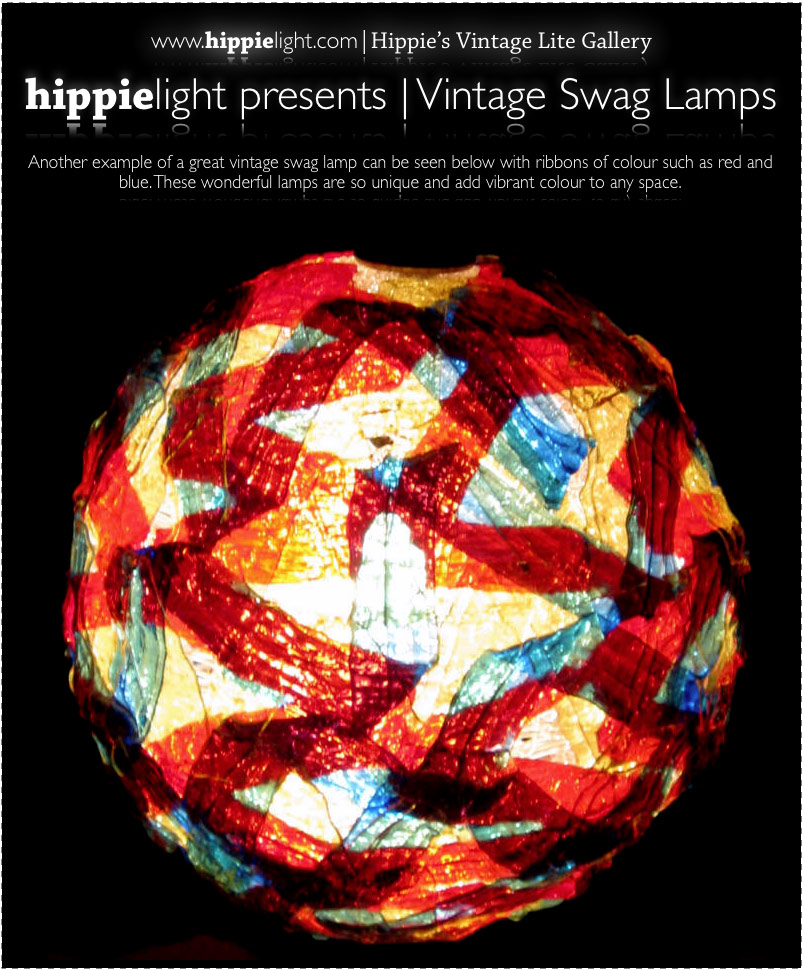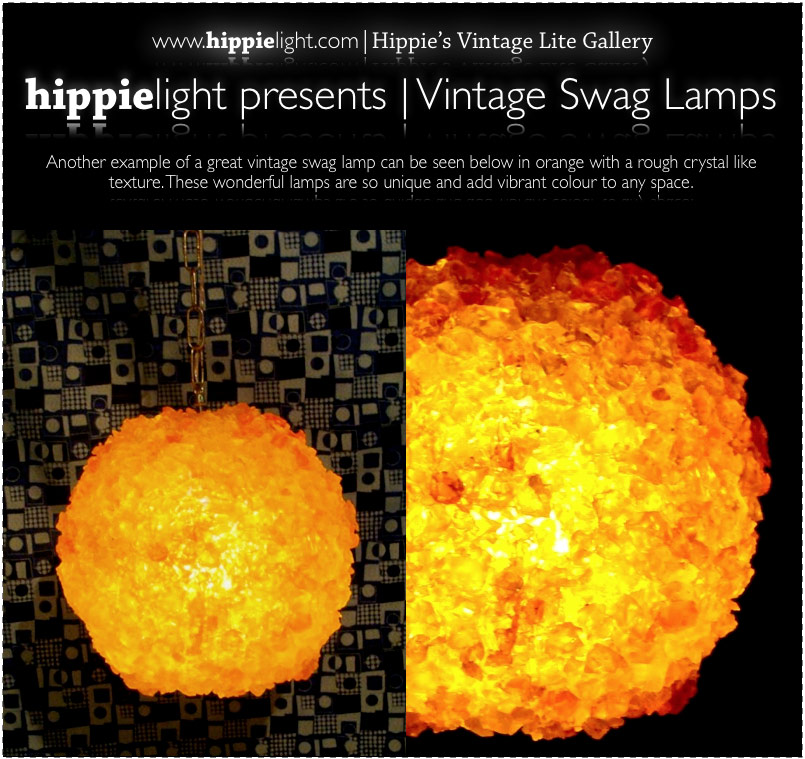 www.hippielight.com | Vintage Grape Lamps | We love them all
We at www.hippielight.com love vintage grape lamps (sometimes known as swag grape vine lamps), with their translucent bubbles like grapes that glow in light, these are very beautiful pieces. One of the coolest items from the vintage years, are swag grape lamps, hanging from the ceiling where they look amazing and they are simply stunning. Many were sold as a Deluxe Grape Lamp Kit and some were sold ready made but they are all fun and really beautiful when one uses them. They also come in very beautiful colours and some even with metallic foil pieces on the inside which adds to the reflective optical effect within them, as seen an example below. Vintage swag grape lamps came in all different colours and sizes.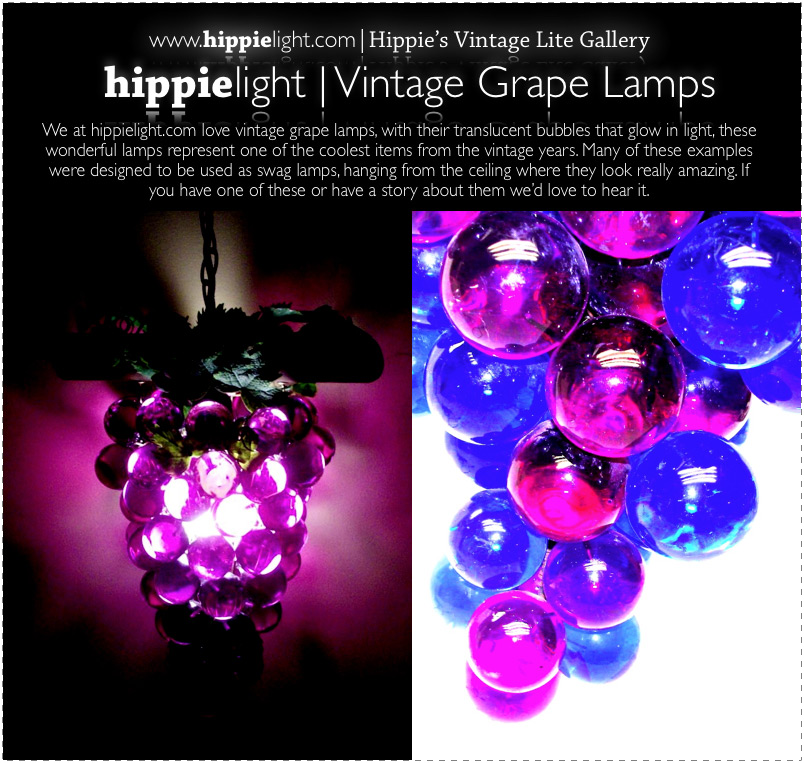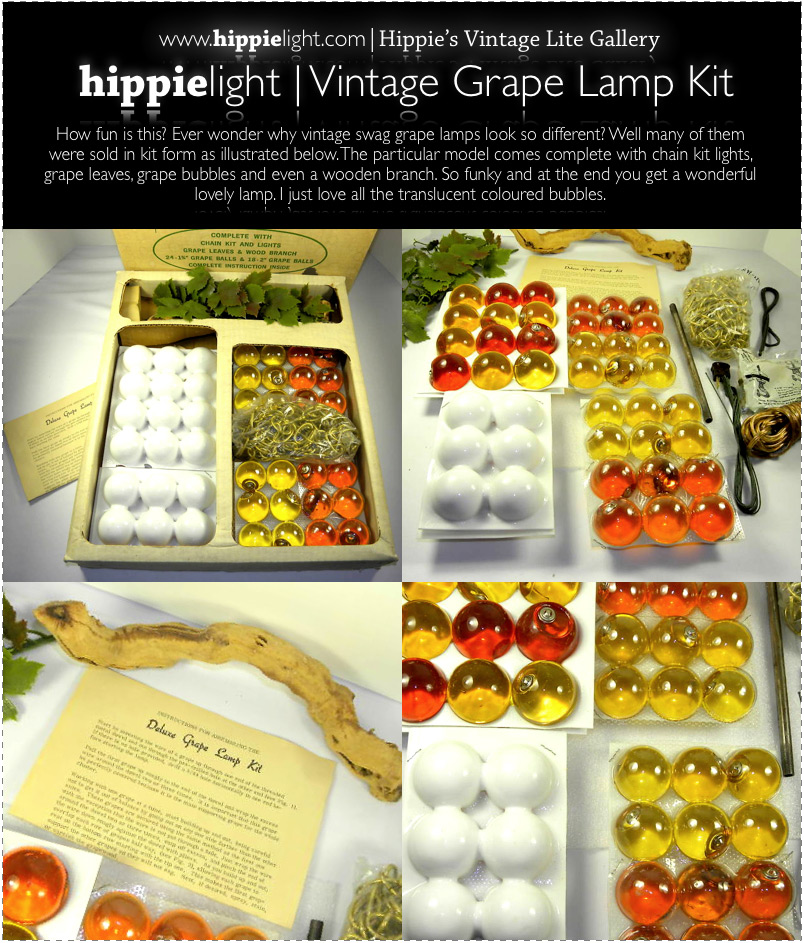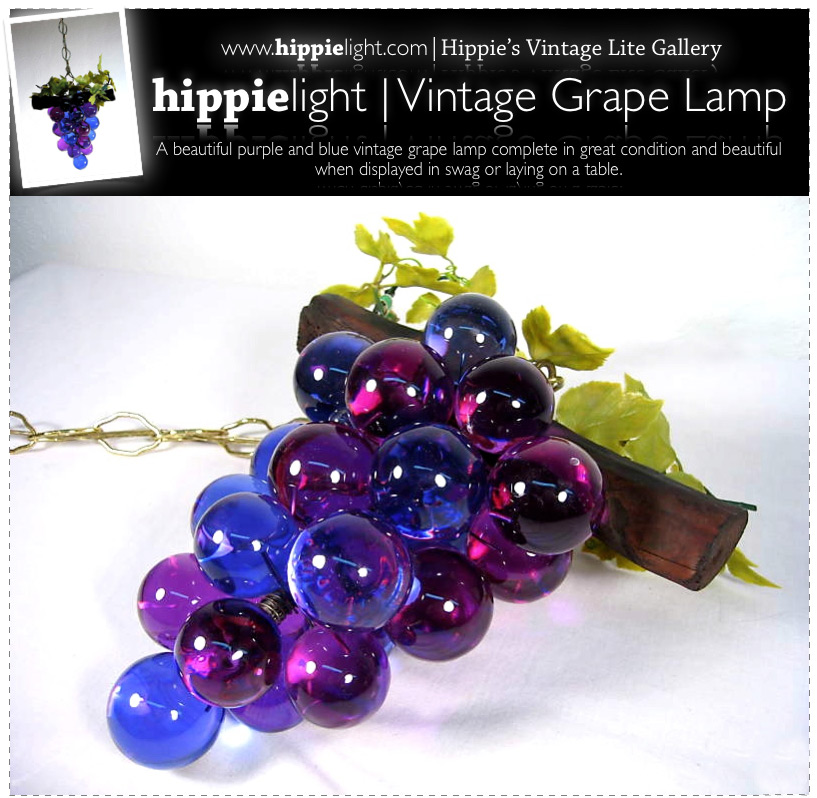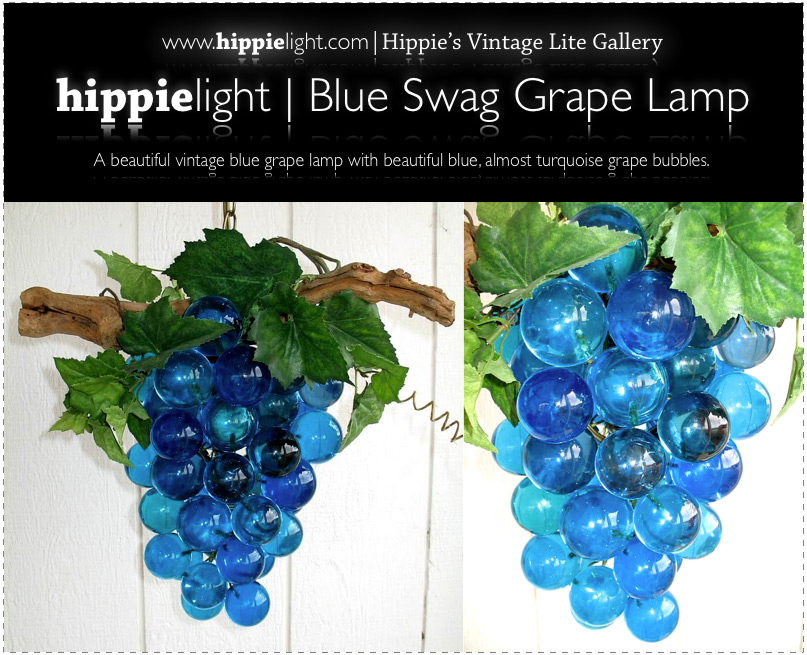 Welcome to www.hippielight.com | www.trippyglitters.com Presenting Beautiful Vintage Fiber Optic Lamps.
Did you know that in the 1970s there was a company named Poly-Optics which created very beautiful fiber optic pieces under a whole multitide of product ranges. These wonderful lamps are known under the StarFlite series and offer some amazing new light sensations of sparkling fiber optics. They also did kits where people could make their own fiber optic pieces. I also love the children designs known as Golly Opticals. Please see the highlights in the images below. See the brochure scan below ...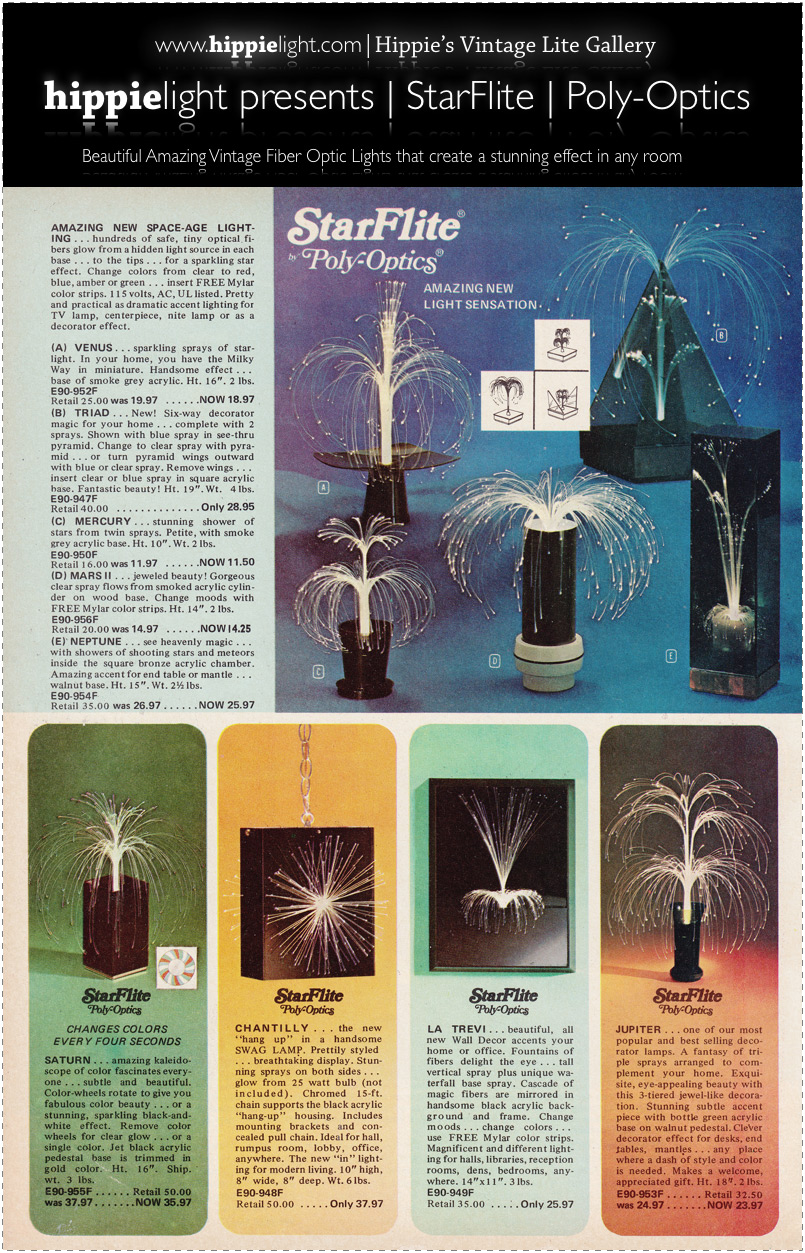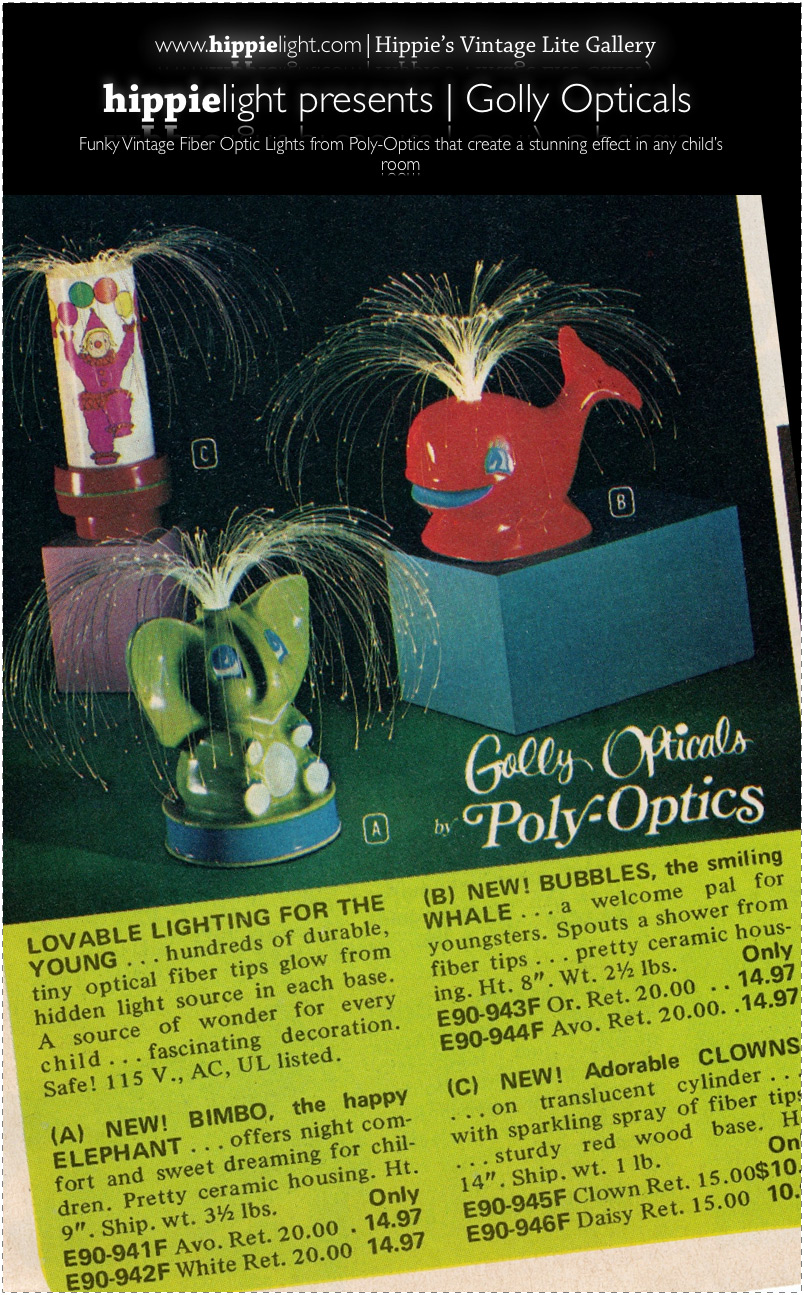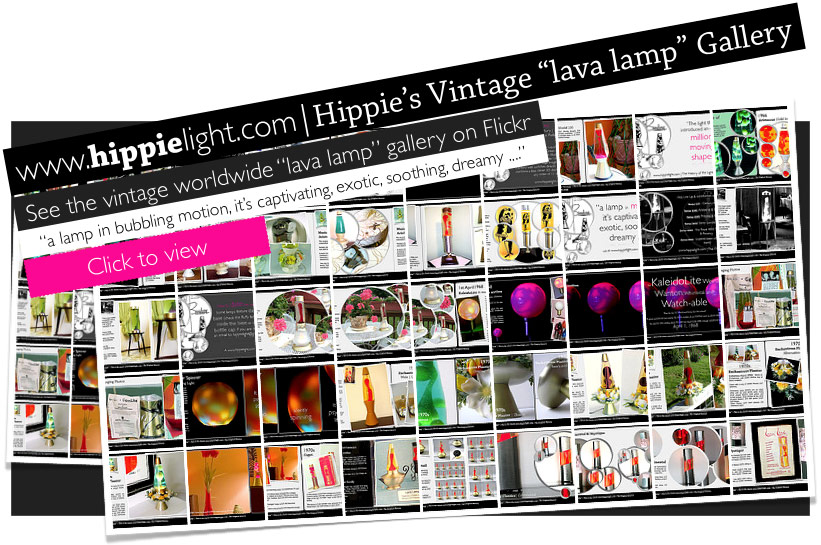 Welcome to www.hippielight.com Mini Index, a site dedicated to the history, heritage and nostalgia of the "lava lamp" and other beautiful vintage lights such as rain lamps. Created by Anthony Voz. Thank you for visiting www.hippielight.com | www.hippielight.com