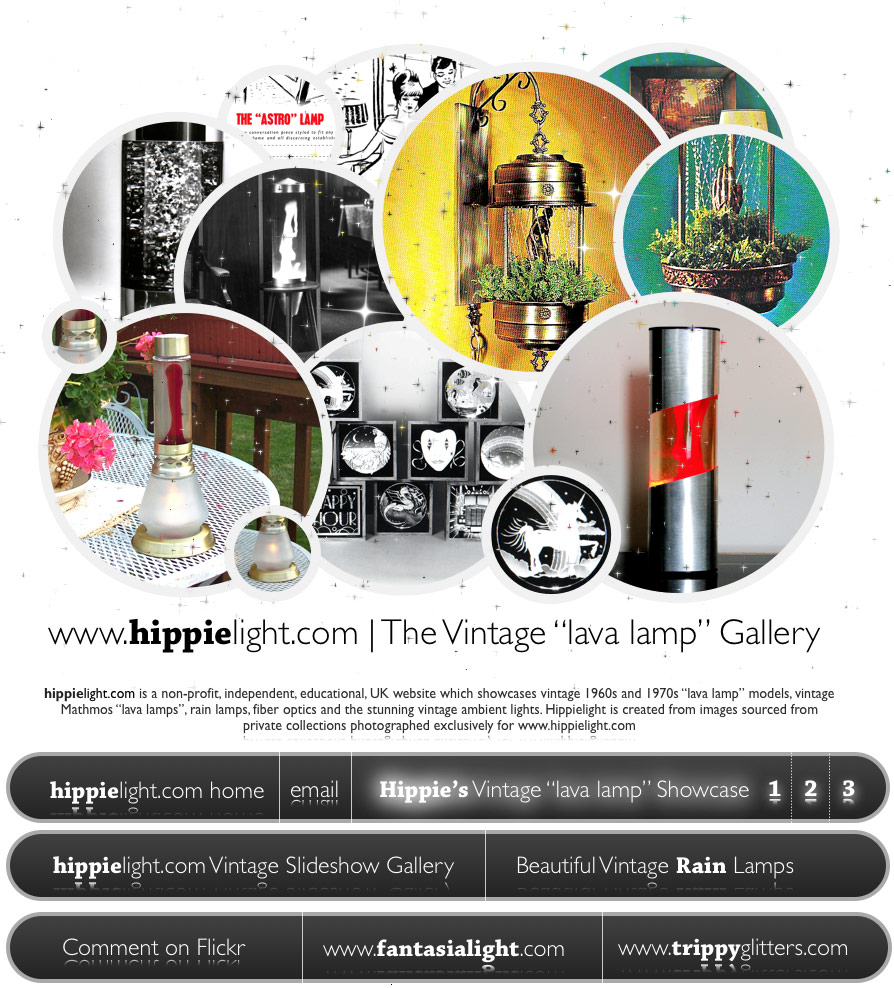 www.hippielight.com | The Vintage "Lava Lamp" Timeline | The Savoy & Continental Vintage Candle Powered Lava Lamps.
In the vintage years "lava lamps" were created to suit every single taste and every house style. Savoy is a product is very special as unlike all the other vintage "lava lamps", it was powered by a candle. In fact the whole base was disposable and featured a large candle. This particular model has been seen advertised in restaurant and commercial trade magazines which show where the creators wanted this piece to stand. I can just imagine these beautiful models placed in restuarants in the 1960s and the 1970s. Can you imagine a restaurant or night club with all of these on all the tables, perhaps an Imperial in the background and some Princess models on the wall for full effect. Savoy was marketed for outdoor living that was in fashion. - "Use it anywhere... indoors or out... it's cordless and carefree"
Today, as these candle bases are no longer produced, household tealights are used. These lamps are very stunning. Thank you to Fog and Manix for the images of their Continental. Later on these wonderful models were simply known as Continental lamps. Vintage brochure material tell everyone to use it everywhere as it is cordless and care-free and even suggested use for patio use and lawn parties. These lamps were described perfect as a unique table accent for dinner parties.
The Continental was truly portable as it was cordless and really unique. These lamps are extremely elusive and rare to find. Each model was sold with two candle base units.
From a 1966 brochure, we can see this product was featured in 3 colours in 1966.
There were two metal body combinations: Silver base, collar and cap. Gold base, collar and cap. Please see chart on the right or details below:
Model: 3212: Gold Metalwork. Orange Wax. Yellow Fluid. Model: 3215: Gold Metalwork. Champ. Wax. Champ/ Mist. Model: 3216: Gold Metalwork. Red Wax. Clear Fluid.
Model: 3222: Silver Metalwork. Orange Wax. Yellow Fluid. Model: 3225: Silver Metalwork. Champ. Wax. Champ/ Mist. Model: 3226: Silver Metalwork. Red Wax. Clear Fluid. they were also gift boxed!
Replacement Candle units were $.75. (Bulk packed 24 to a carton) As the brochure material states, it only costs pennies to operate. This product was also featured in Happy Occasion pack. No: 3295. I'd love to see a Happy Occasion pack. Wouldn't it be so cool to give this as a gift to someone.
This pack contained 3 Champagne/ Champagne Mist bottles. This is a very rare colour combination and the bottles have a slightly misty appearance.
These bottles had 3 happy slogans written on the actual bottle: 1. Happy Birthday. 2. Happy Anniversary. 3. Happy Holiday. Replacement base unit candles were also sold separately for the product. Please see the graphic below. Savoy and Continental are purely candle powered.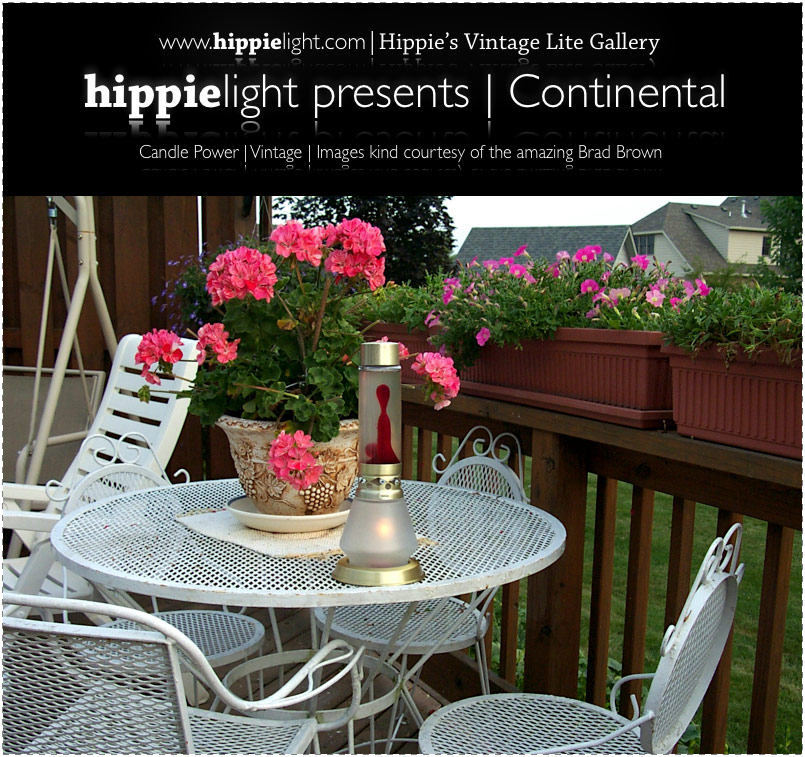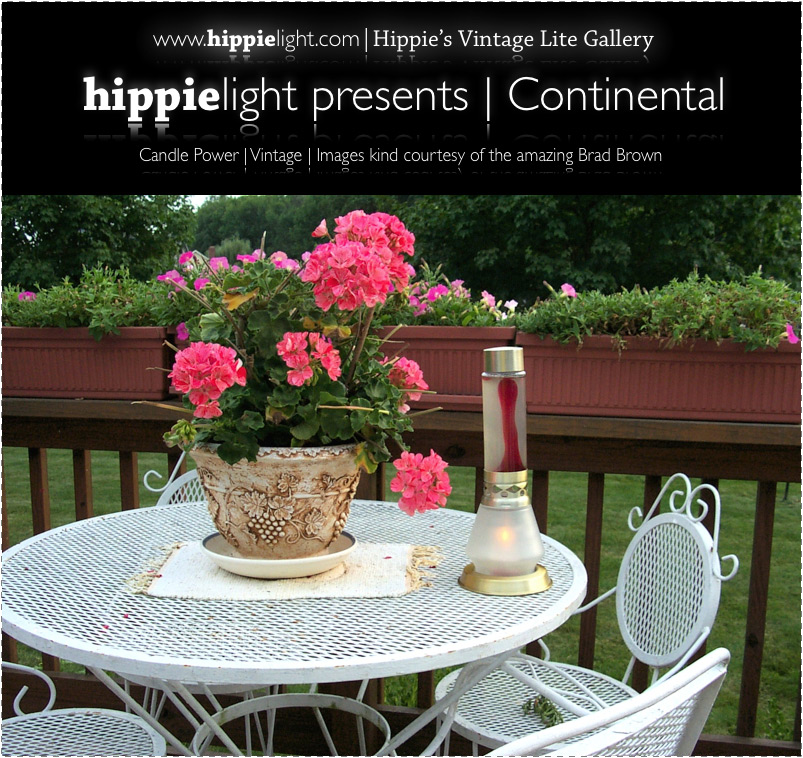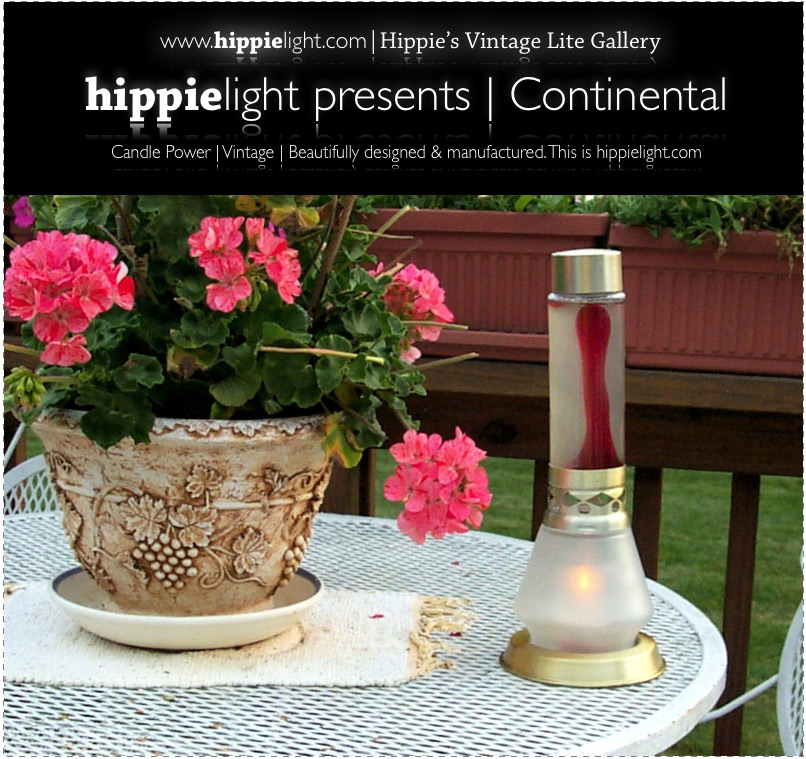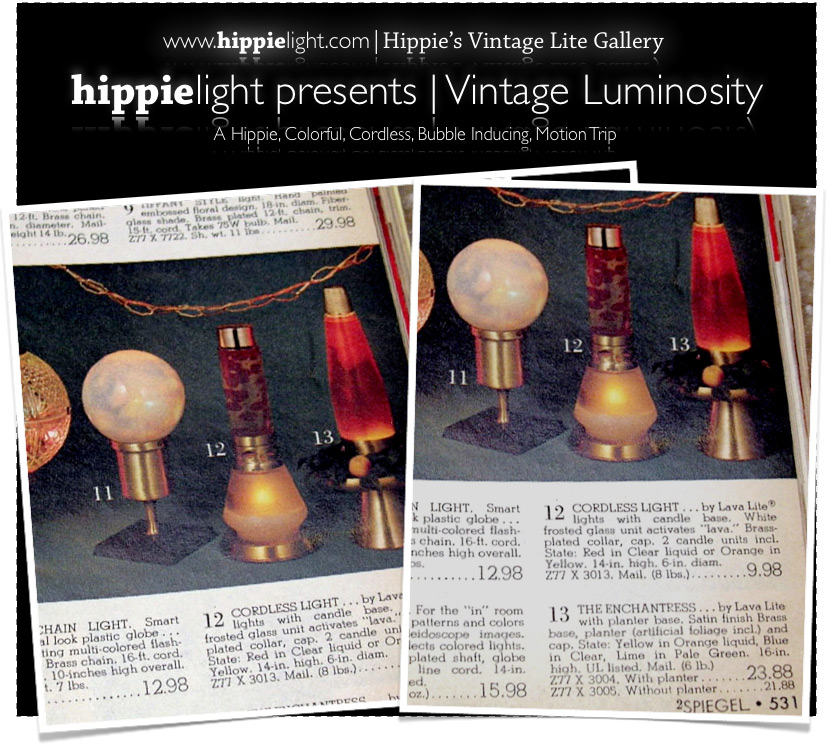 www.hippielight.com | The Enchantress | With its hippie ring of flowers to cheer everyone up
The Enchantress is simply a classic, first seen in the vintage years, and was a strong product even in the 1990s. The Enchantress is a simple 32oz vintage "lava lamp" featuring a dual two cone base and was offered in a satin gold finish. The cap of Enchantress is black plastic which has been sprayed gold to match the base. The Enchantress featured a very popular sister product featuring a dish of pretty plastic foliage named the Enchantress Planter. See the vintage Enchantress lava lamp below: Enchantress uses a 40w appliance bulb.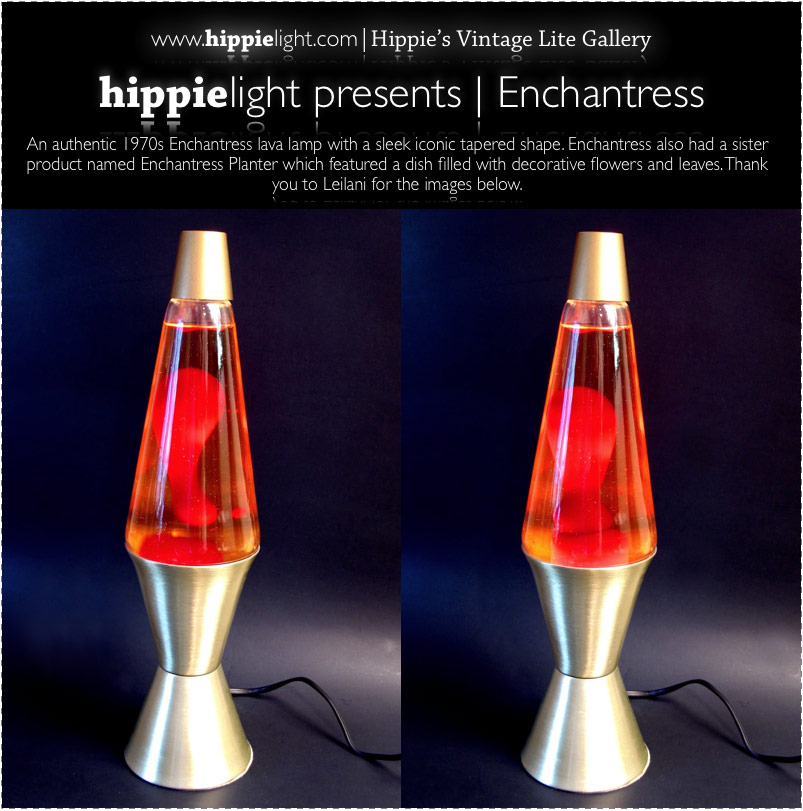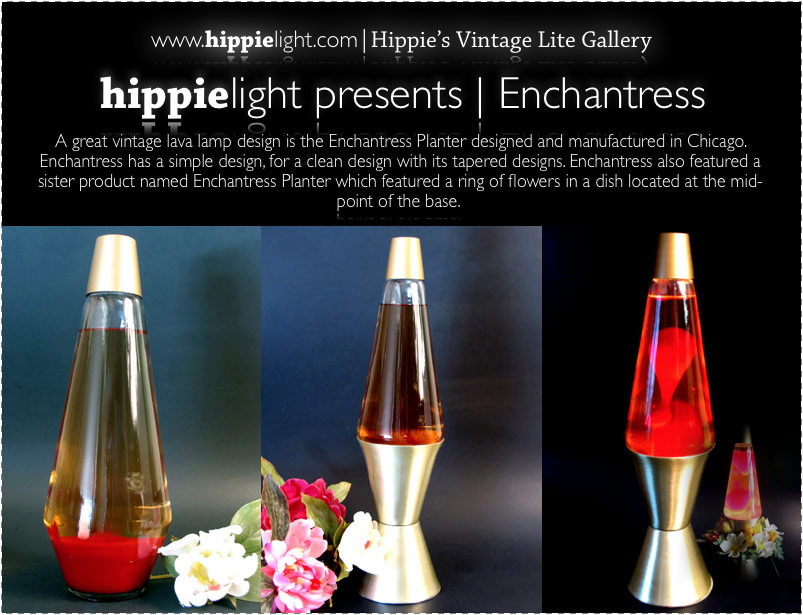 www.hippielight.com | The Enchantress Planter | With its hippie ring of flowers to cheer everyone up ...
Whilst we love all vintage "lava lamps", Hippielight's hippiest "lava lamp" would have to be the Enchantress Planter. Described in vintage "lava lamp" paperwork as "Comes complete with lovely, colourful artificial foilage" With its cool shape and based on the Enchantress design, the planter version features a dish at the mid-point of the base. This dish shipped with beautiful plastic flowers and leaves, giving the planter a stunning and yet beautiful array of greenery around the lamp. Commonly seen flowers as seen in the two images below are six white petal flowers, with tonnes of beautiful sunset orange closed flowers and some tiny little flowers too. Totally beautiful and complete with colourful and beautiful foilage.
Tall, slender, graceful and charming. This makes it Hippielight's hippiest "lava lamp". Be happy. Thank you to Jen for the image below of her Planter.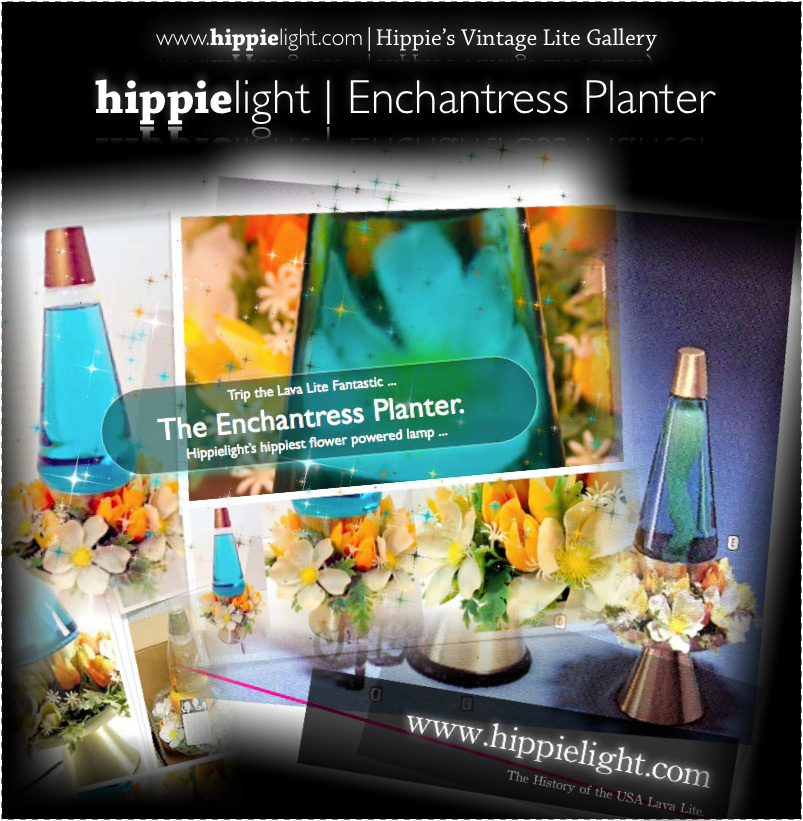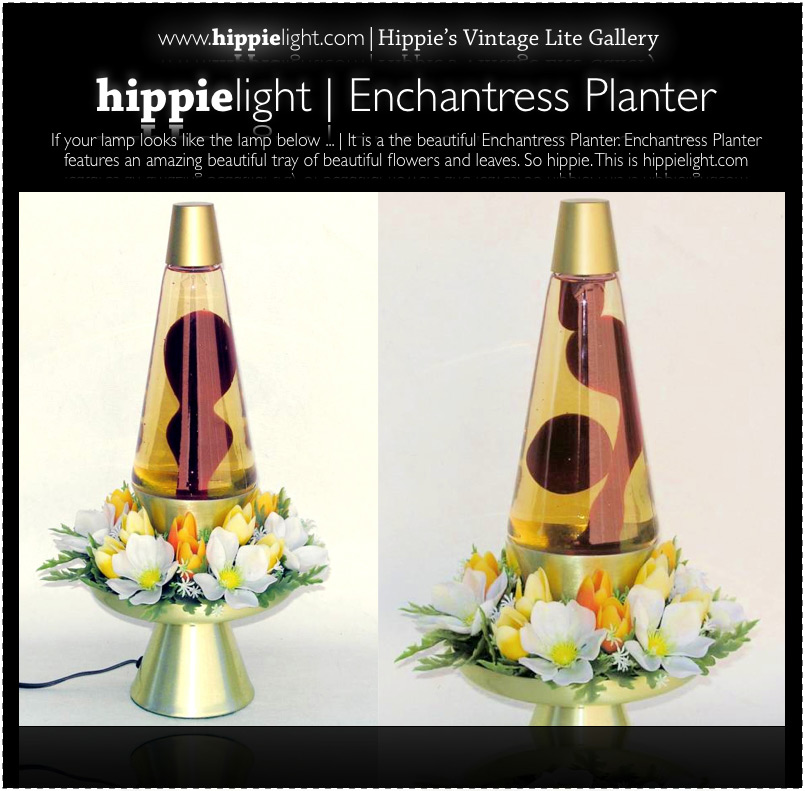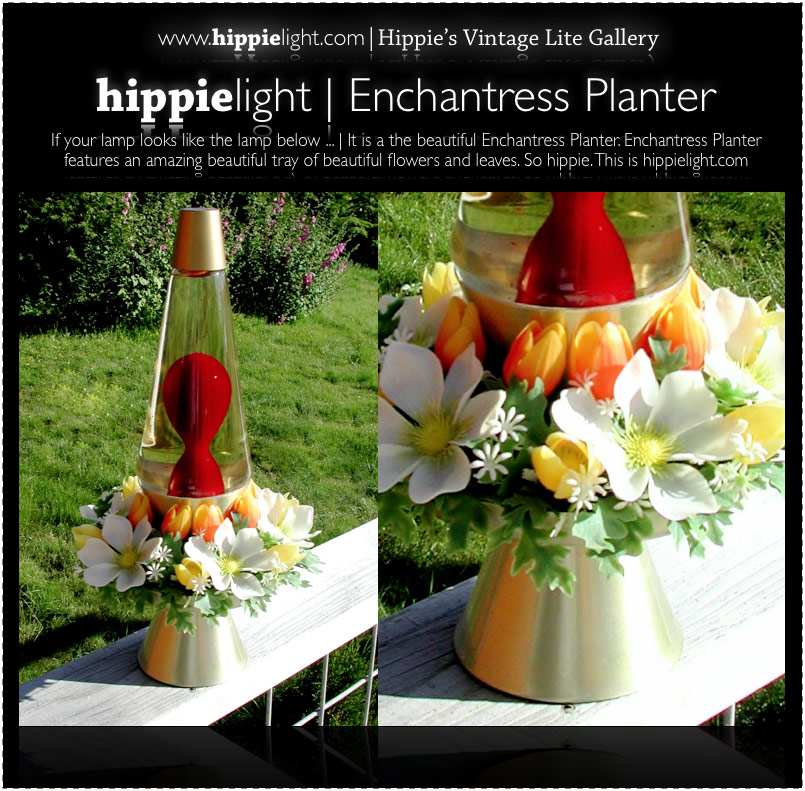 www.hippielight.com | The Enchantress Planter | With its hippie ring of flowers to cheer everyone up ...
There have been many different kinds of flower rings seen with Enchantress Planter "lava lamps", including those featuring fruits (most notably seen with the elegant globe), this lamp beautiful large white petaled flowers with a yellow center and other kinds of plastic flowers and leaves. These lamps are totally trippy and hippie. Of course we love to see Enchantress Planters with the original flowers but if yours is missing, then you are only up to your imagination. Did you know that there was a larger vintage "lava lamp" known as Decorator that featured without any flowers and people decorated it themselves. Please see the images below.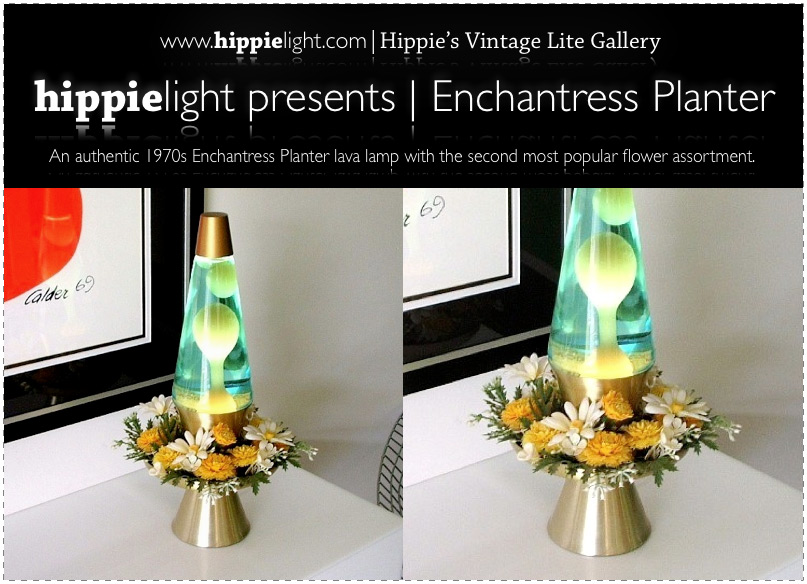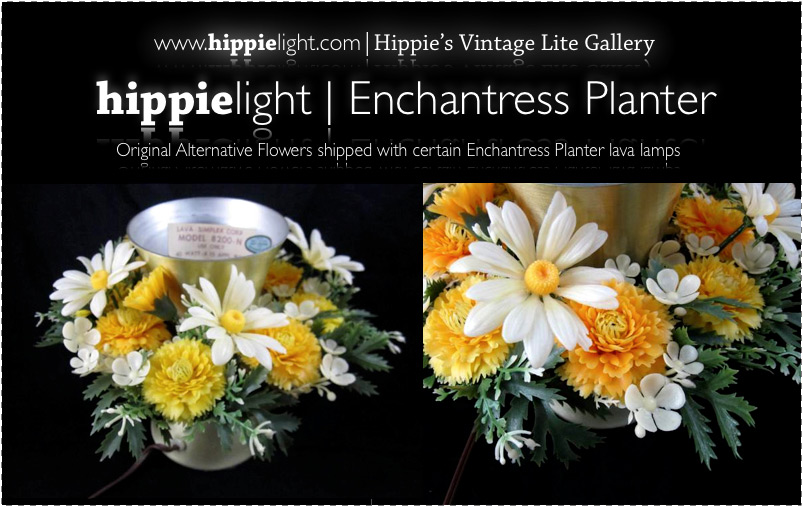 www.hippielight.com | Carlisle | The flow of a Vintage Carlisle
Carlisle is an amazing vintage design that features an amazing cone shape form, that is really different in style and fashion to any other piece of its time. Carlisle is a very simple design but extremely elegant. Carlisle combines the elegance of Century and Aristocrat, features the starlight holes as a beautiful touch to the base and the whole lamp is finished in a beautiful satin gold-tone. Carlisle was made in the USA and is a great vintage "lava lamp". Carlisle featured colour combinations such as: Orange/ Yellow, Green/ Blue and Red/ Clear.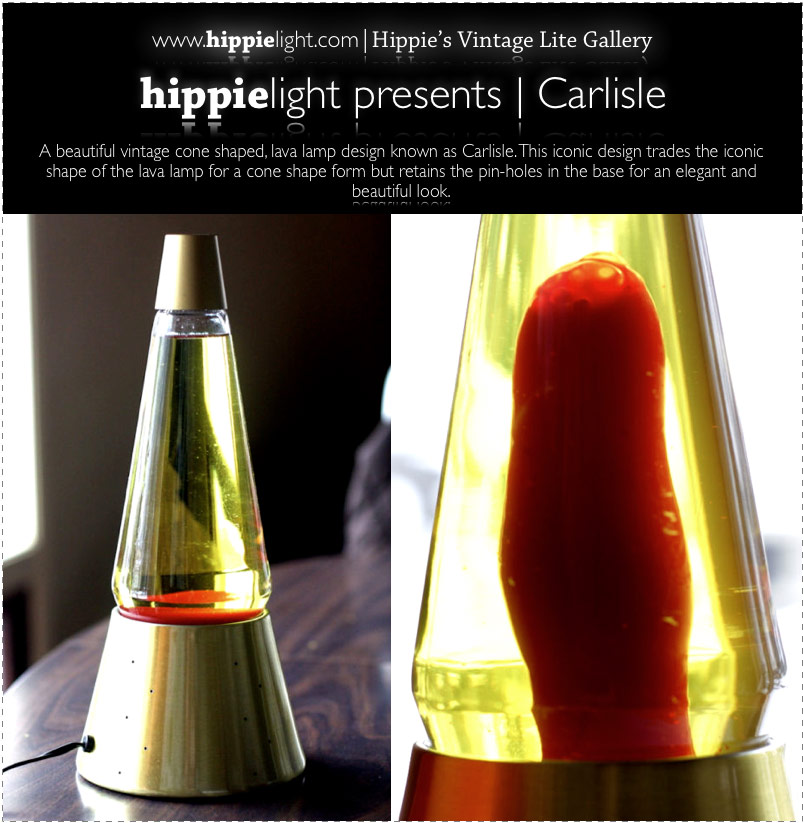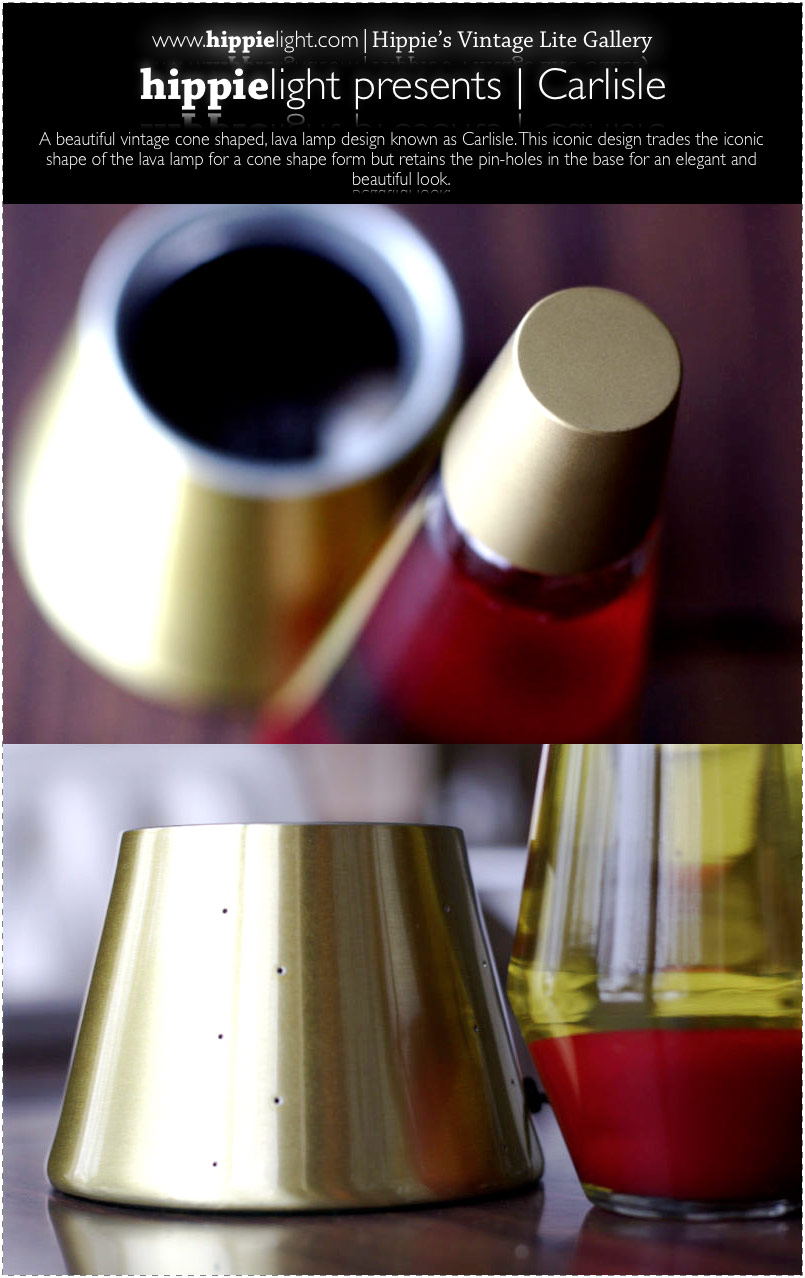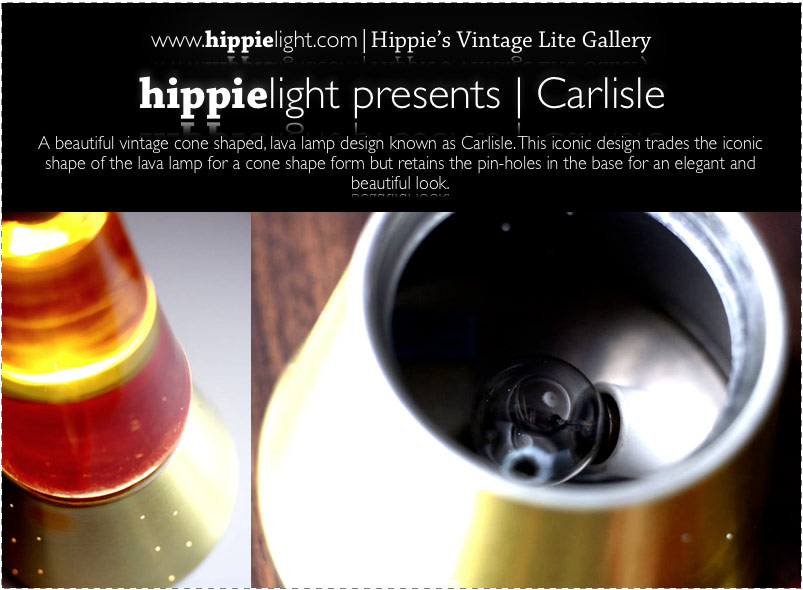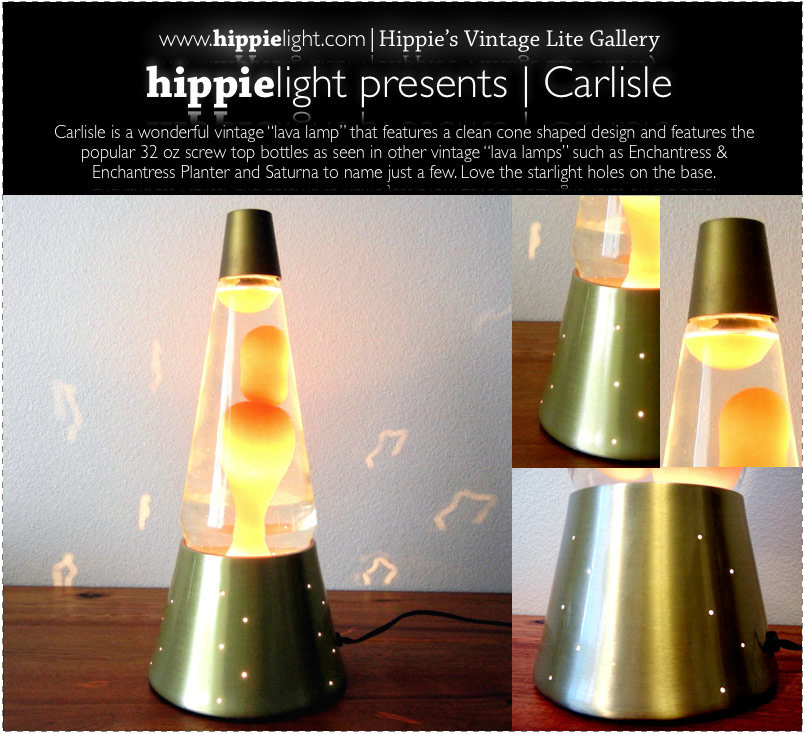 www.hippielight.com | Saturna - Spacey Design | The flow of a Vintage Saturna "lava lamp"
Saturna conjures all the thoughts of an alien spaceship or something magical like a wizard's hat. The Saturna was a 1970s "lava lamp" that featured a 32oz bottle just like the Carlisle and the Enchantress Planter. It looks really amazing and is a wonderful design. The base of Saturna (Model 400) is described as being "inspired by celestial bodies..." and the base resembes an alien space ship UFO base. Saturna is a beautiful and collectable vintage "lava lamp".
Below one can see a Saturna and see the lamp flowing, the base and the underside of the base. The Saturna looks wonderful next to the Aladdin "lava lamp". In fact they are the most magical looking "lava lamps" ever created. Please see the graphic below.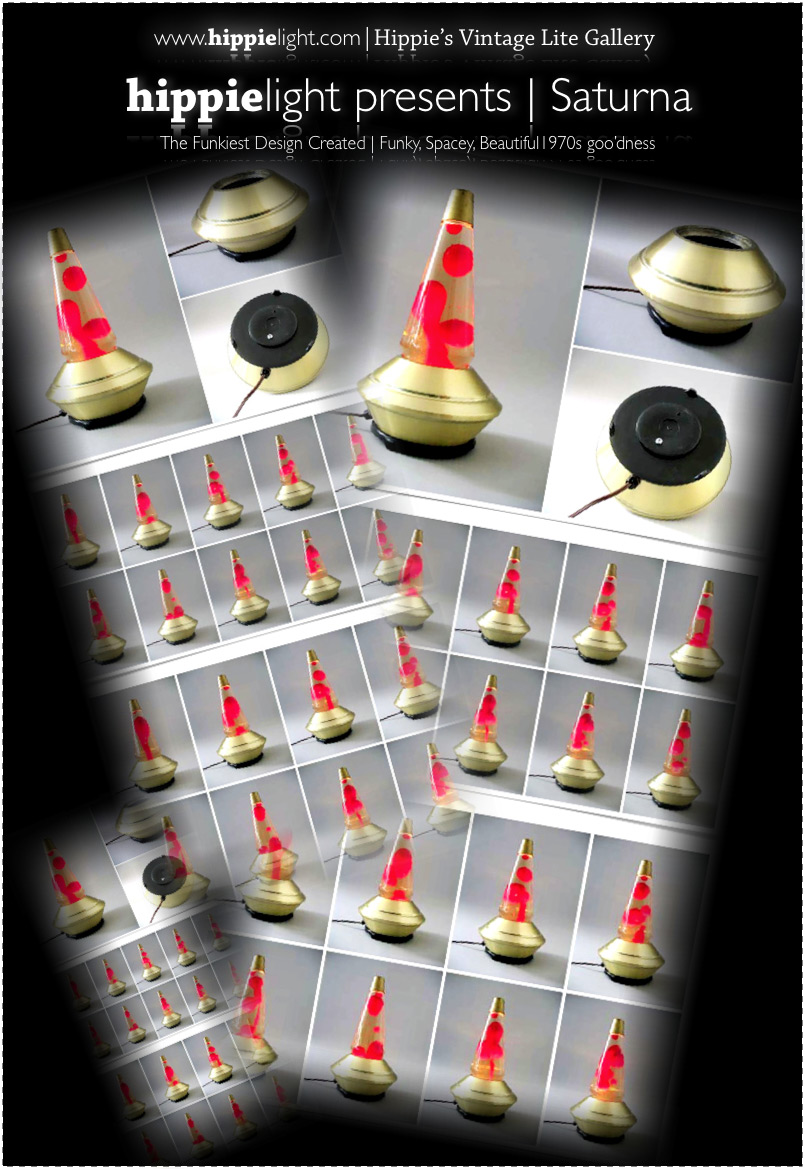 www.hippielight.com | Vintage GemLite Mystique Model | The flow of a Vintage Mystique GemLite Glitter Lamp |
In the 1970s GemLite was introduced, a range of glitter lamps, these lamps really glittered like crazy. They featured a fast moving formulation which had beautiful pieces of silver reflective glitter inside the lamp.
When the lamp was switched on the glitter would swirl beautifully in the lamp and would shimmer casting reflections on the surroundings. These lamps are very beautiful and extremely elegant. Below one can see the Mystique model as seen below. These lamps also were sold with the bubbling formula as well as GemLite formula, in fact one side of the box showed the lamp with the lava liquids and featured the text: "the light of a million moving shapes that soothes intrigues fascinates entertains", " A Motion For Every Motion". The side that features GemLite glitter liquids features the text: "enjoy the newest visual sensation in environmental lighting ... thousands of floating silver flecks twinkle a multi-color hypnotic spell that charms and fascinates".
Mystique Series 700, presents a square design described as: "Square and smart; its simplicity makes it one of the most sophisticated styles in our line" Internal supports within the square design support the bottle. Mystique uses a 30w intermediate (C-9) bulb.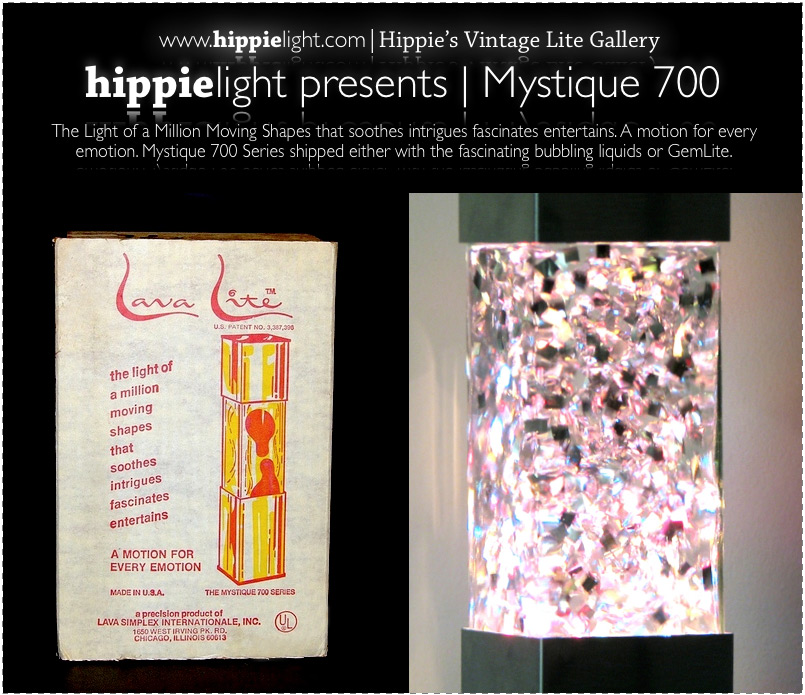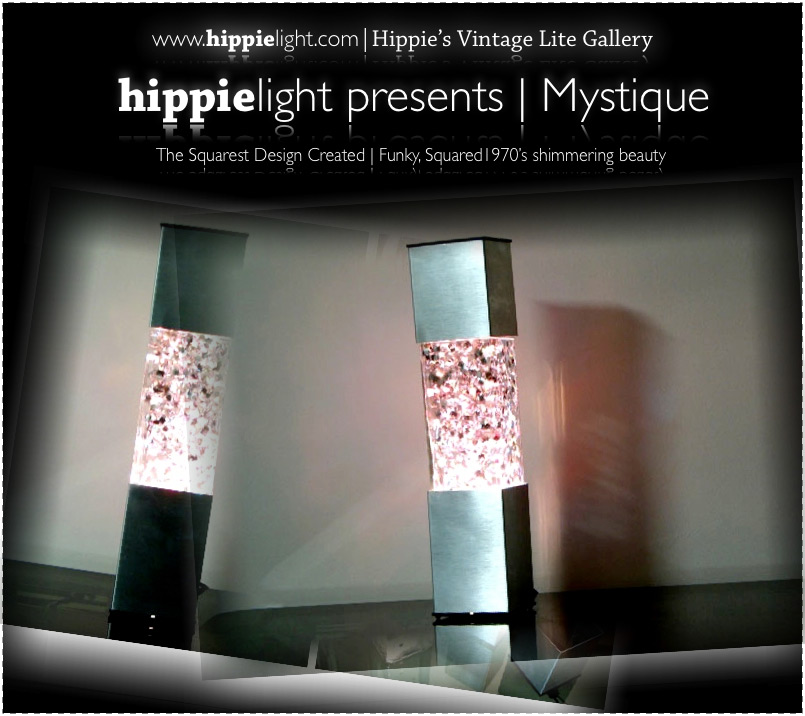 www.hippielight.com | Continental Model 800 | The flow of a Vintage Continental Electric "lava lamp"
The graphics below is dedicated to a vintage model known as the Continental that was brought to market in the 1970s. This particular lamp design featured the bubbling liquids and also GemLite, which was a fast moving glitter formula. A big thank you goes to El Metador for taking these wonderful photos of these pieces in his collection which shows a Continental featuring the lava liquids. This particular model features two small circular heat coils placed next to each other side by side, to generate the stunning lava flow for the lava model.
The Continental "lava lamp" (seen below) featured an interestingly shaped bottle featuring round corners and was dimensionally very thin. This lamp featured an interesting base and cap which was cut at a slant offering a unique shape in the range. Please see the images below which show the lamp's construction and elegance. Continental uses a 30w intermediate (C-9) bulb.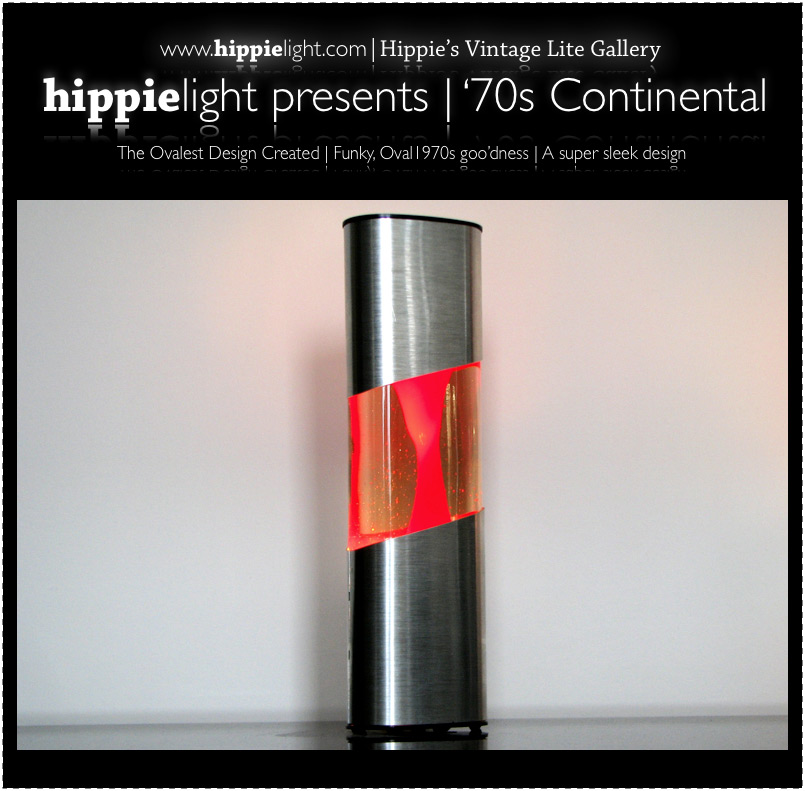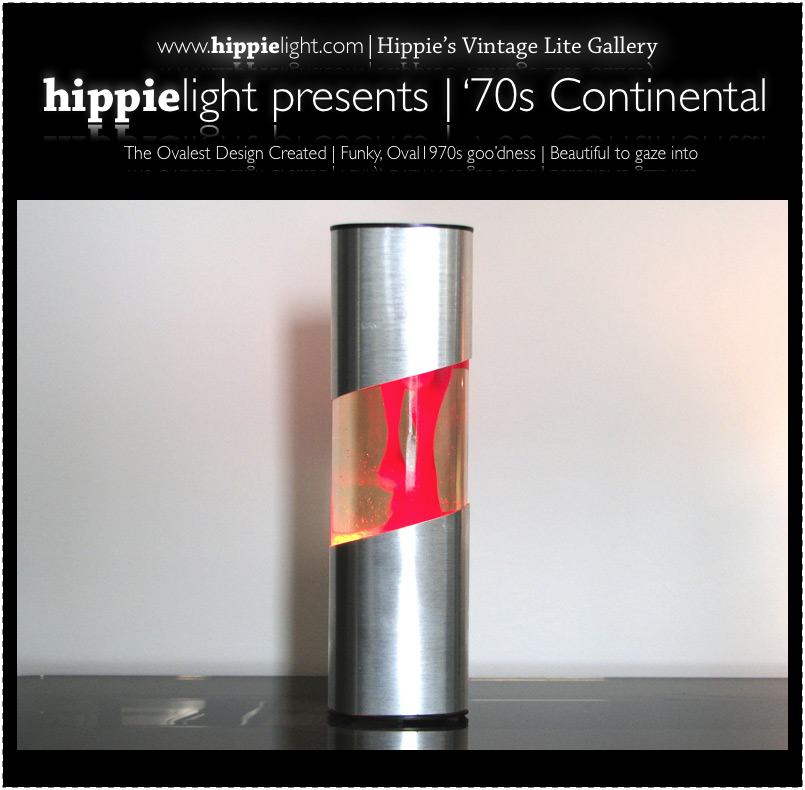 www.hippielight.com | Capri | Hippielight is dedicated to Lamps that Bubble and Fascinate
A very simple and small uncommon vintage "lava lamp" model, this lamp used a Consort bottle and cap, and had a cylinder base with a very small rolled edge at the top, no wider "step" at the top (lamp had internal supports for bottle), however the base cone as a rolled edge. Below one can see a boxed vintage Capri. Capri has also been seen with GemLite glitter fast moving bottles, for a different effect.
The bottom of the cylinder was attached to a short, narrow flared cone. Metal finish was satin brass or satin silver. A glitter version of the Capri has been seen in a vintage newspaper articles and also featuring glitter and with Coors branding on the base of the item. Capri featured colourways such as: Orange/ Yellow, Green/ Blue, Red/ Clear.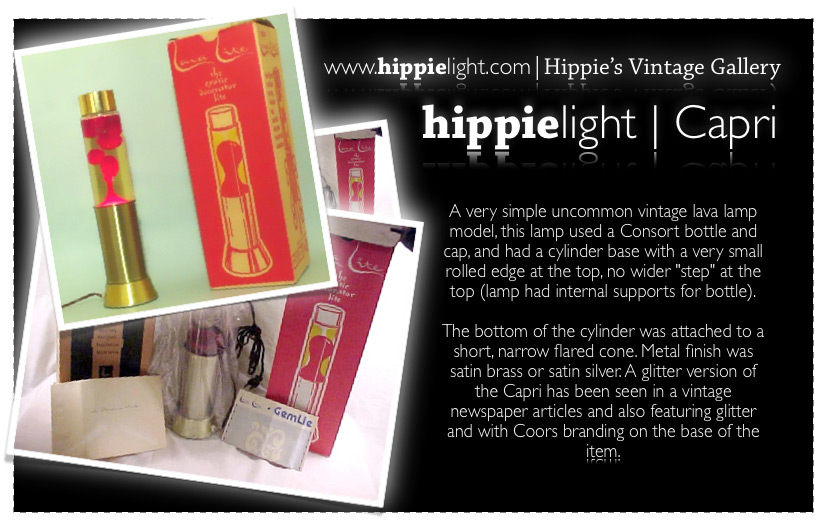 www.hippielight.com | KaleidoLite & Silver Spinner
KaledioLite consisted of a circular 7" globe on a brass finished cup with a solid American walnut base similar to the stunning Regency lava lamp. KaleidoLite contains a series of colored lights which are programmed to flicker singly and in sequence shining their lights through a matrix that creates a veritable myriad of colored shapes and shadows. KaleidoLite was launched in on the 1st April 1968.
The KaleidoLite. "Weird, Wanton, Whimsical and Watch-able, Ripe for the "in" crowd and IN for the ripe crowd!", "A great commercial eye-catcher for stores, outlets of any kind that want to attract attention." So said the sales catalog about this odd non-liquid lamp, oddly enough introduced on April 1, 1968.
The Vintage Silver Spinner was another clever product that features a beautiful metal base and a circular globe which sits on the base. Inside there is a standard lighting fitting and a spinning shade that sits on a needle and rotates simply via the heat generated from the bulb. As the shade rotates it casts coloured patterns on the surface of globe and beyond. This was one of their non-liquid kinetic lighting products.
It is a true psychedelic sensation! This particular model seen below, owned & photographed by Jerome Dopson, dates to the 1974 and is a great piece of history and a very hippie product.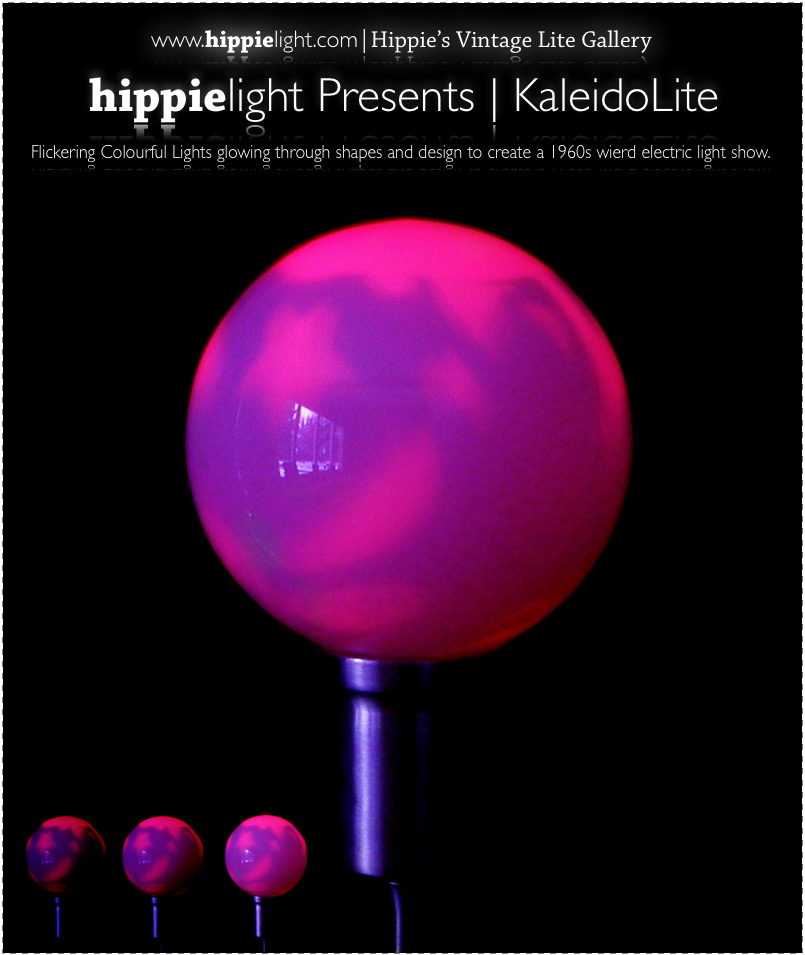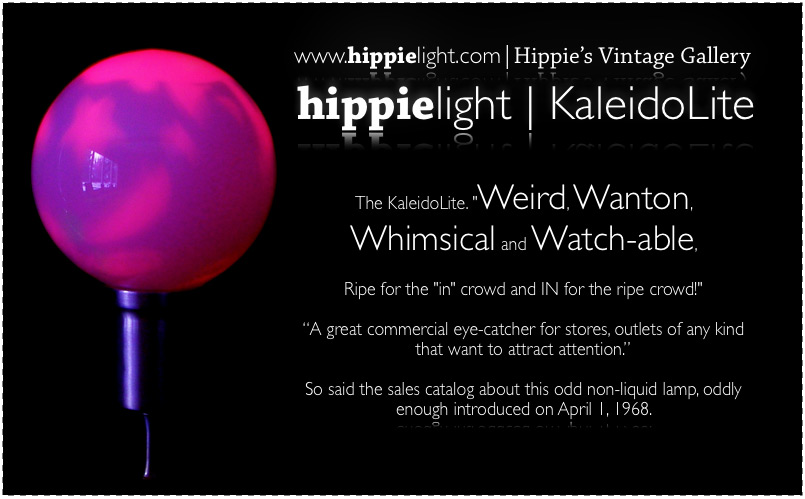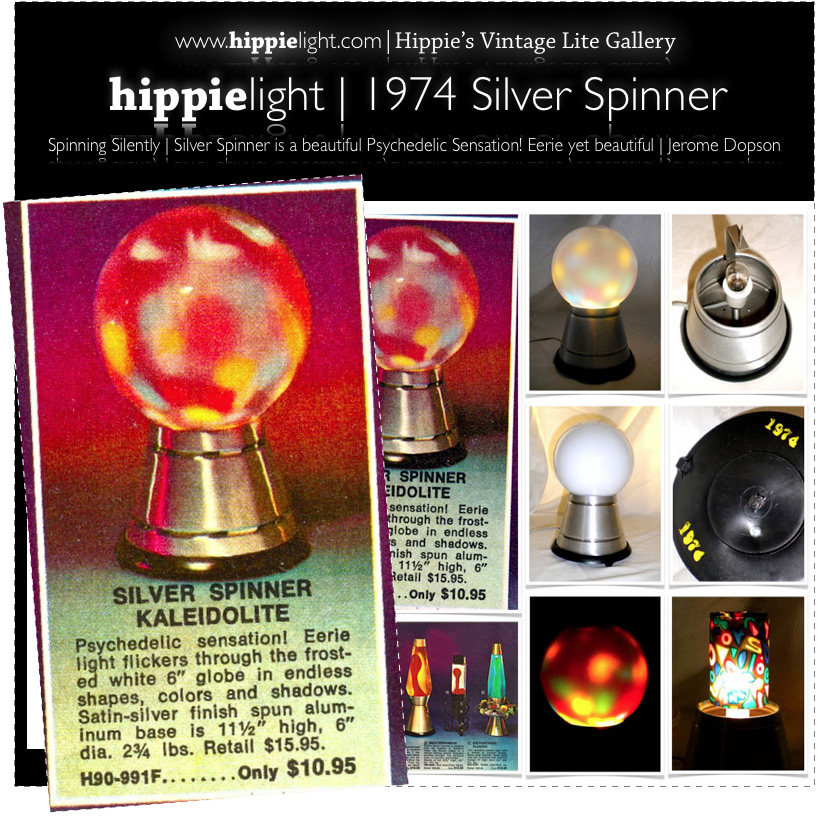 www.hippielight.com | Vintage Advertisements | Aristocrat, Mediterranean & Aladdin Vintage "lava lamps"
In the 1960s and the 1970s "lava lamps" were popular everywhere, the images below show some third party adverts that display vintage "lava lamps". Below one can see Aristocrat, Mediterranean and Aladdin.
The Mediterranean is a beautiful vintage "lava lamp" featuring lovely wrought iron in deep lustrous black. Legs are formed by three Florentine scrolls. An early brochure displays Mediterranean in three colour combinations: 2942 Yellow Liquid and Orange Lava, 2943 Blue Liquid and Green Wax, 2946 Clear Liquid and Red Lava. The Mediterranean uses the same bottle as the Consort and other vintage "lava lamps". The Mediterranean is described in vintage catalogue material as: "Exotic Spain inspires a creation with all the mystery of Aladdin's Lamp. A hypnotic spell-binder designed for the Mediterranean mood" The cap of the Mediterranean vintage "lava lamp" was presented in a jet black finish. Mediterranean has also been seen with GemLite bottles.
Aladdin is the only vintage "lava lamp" that you get three free wishes with. Seriously, it is a magical design that utilises 32oz "lava lamp" bottles and creates a very beautiful magical look with its curly handle. Aladdin was perhaps one of the world's very first themed lamps with the exception of the Lantern, and featured a look that simply is magical.
One can also see the vintage wave machine too, which is calming and relaxing. The advertisement below features the Wave Machine, the sister product to the lava lamp, and a motorised liquid display that would relax and be serene.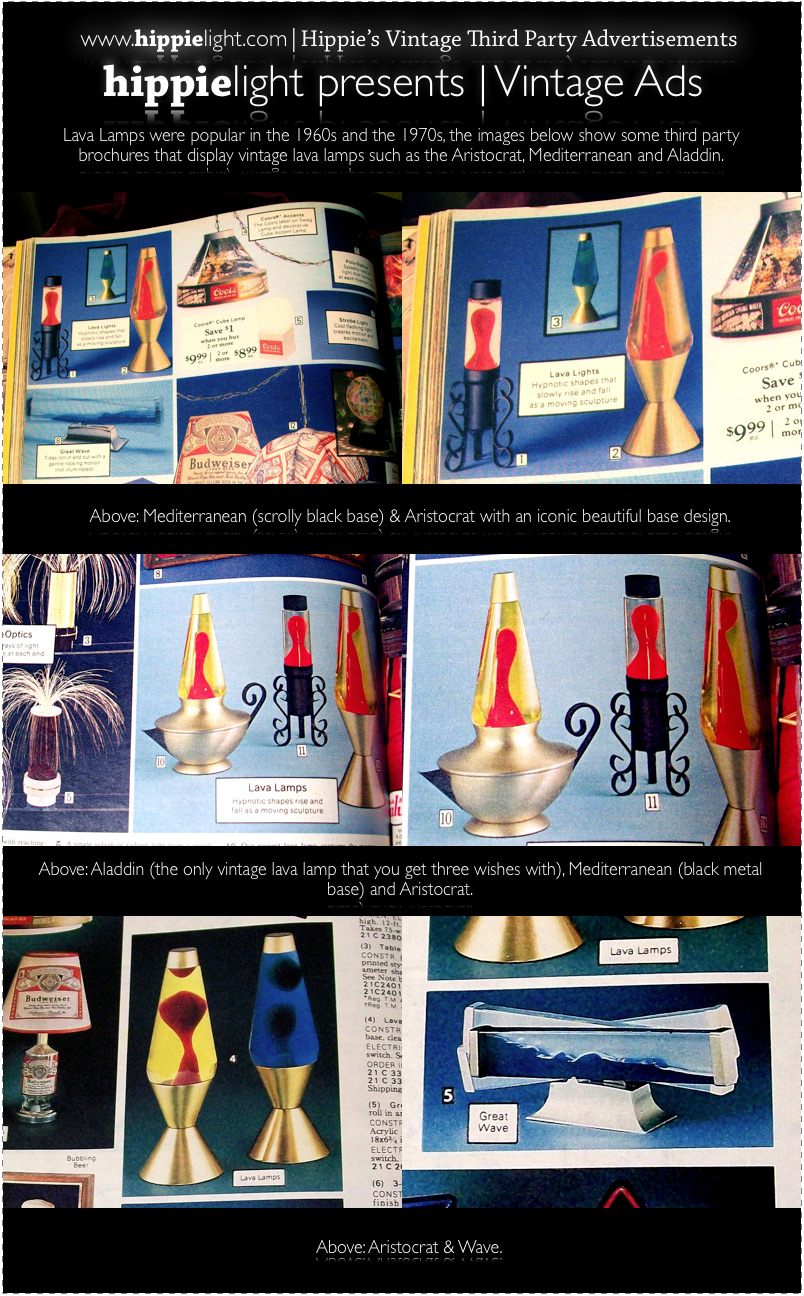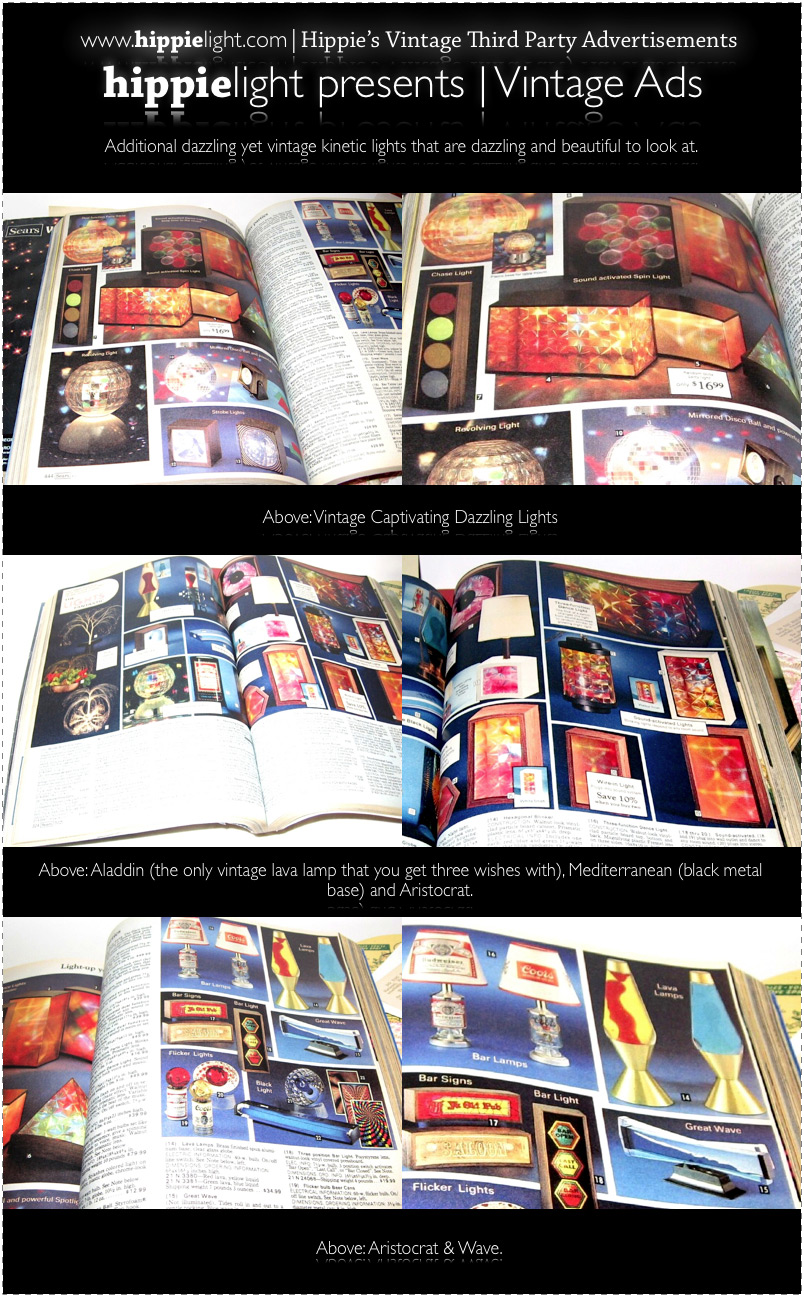 www.hippielight.com | 1980s Presents Aztec featuring Sun-gold lava.
The Aztec vintage lava lamp dates to the 1980s and features a bronze looking base, identical in form to the Enchantress, Aztec features sunny-gold lava bubbling in clear liquid for a warm looking effect to create a beautiful warm glow that exudes from this lamp.
Aztec is just one of the many different products that were released with its original form but with different finishes. Later in the 1980s and the 1990s one would see Midnight (black finish), Princess (white finish), Elek-Trick (assorted colours) & Silver Streak (silver finish).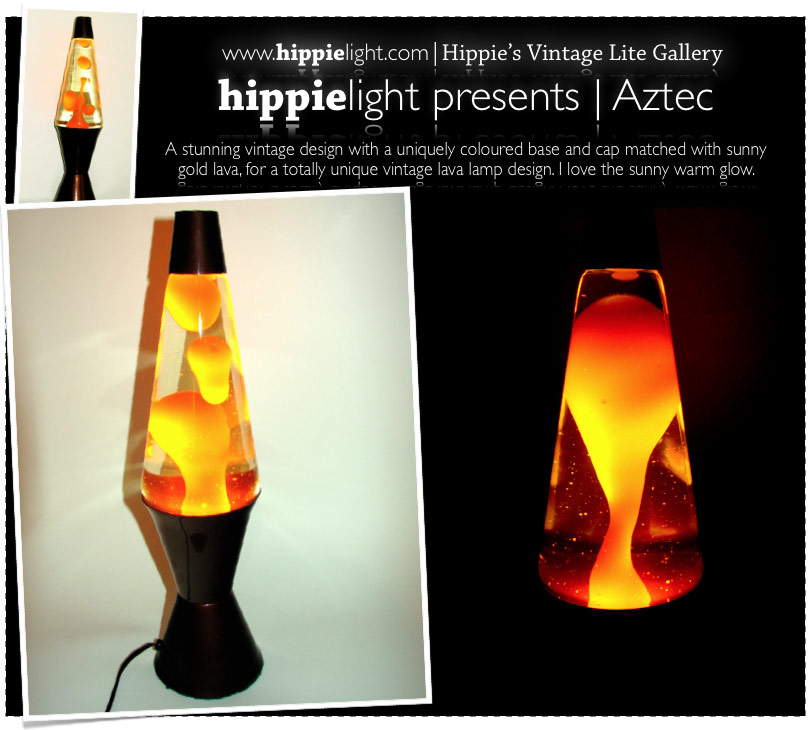 www.hippielight.com | Presents Mini Wave Machine Corner
The Wave Machine was a completely new idea, featuring a vessel containing two different coloured liquids rocking up and down. When the Wave Machine is switched on, it creates the effect of waves rolling in and out of a shoreline and looks simply stunning to watch. Below one can see a very old wave machine with its whimiscal blue packaging and in particular is Model 16, also known as the Adriatic. Furthermore one can also see a later wave machine. Both are extremely beautiful.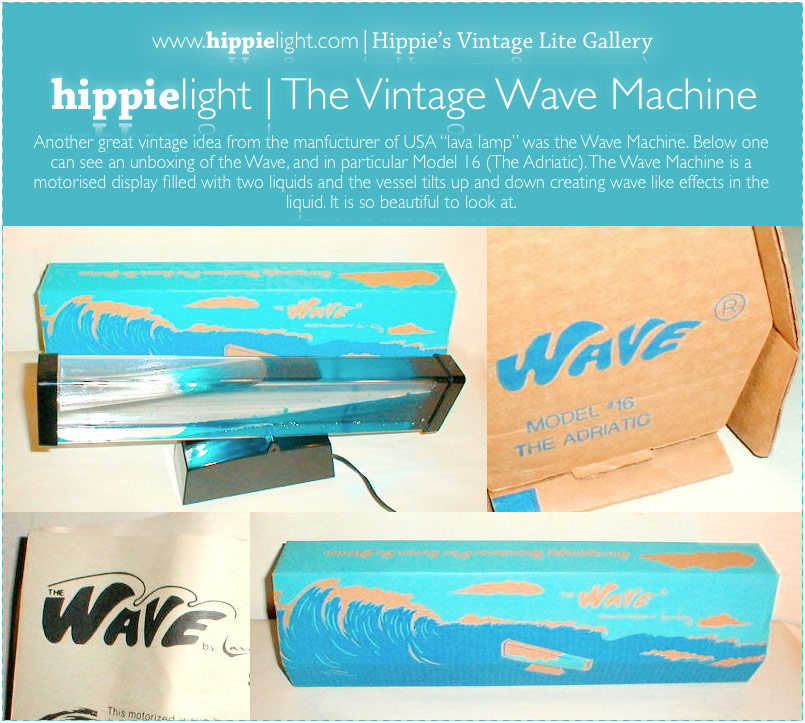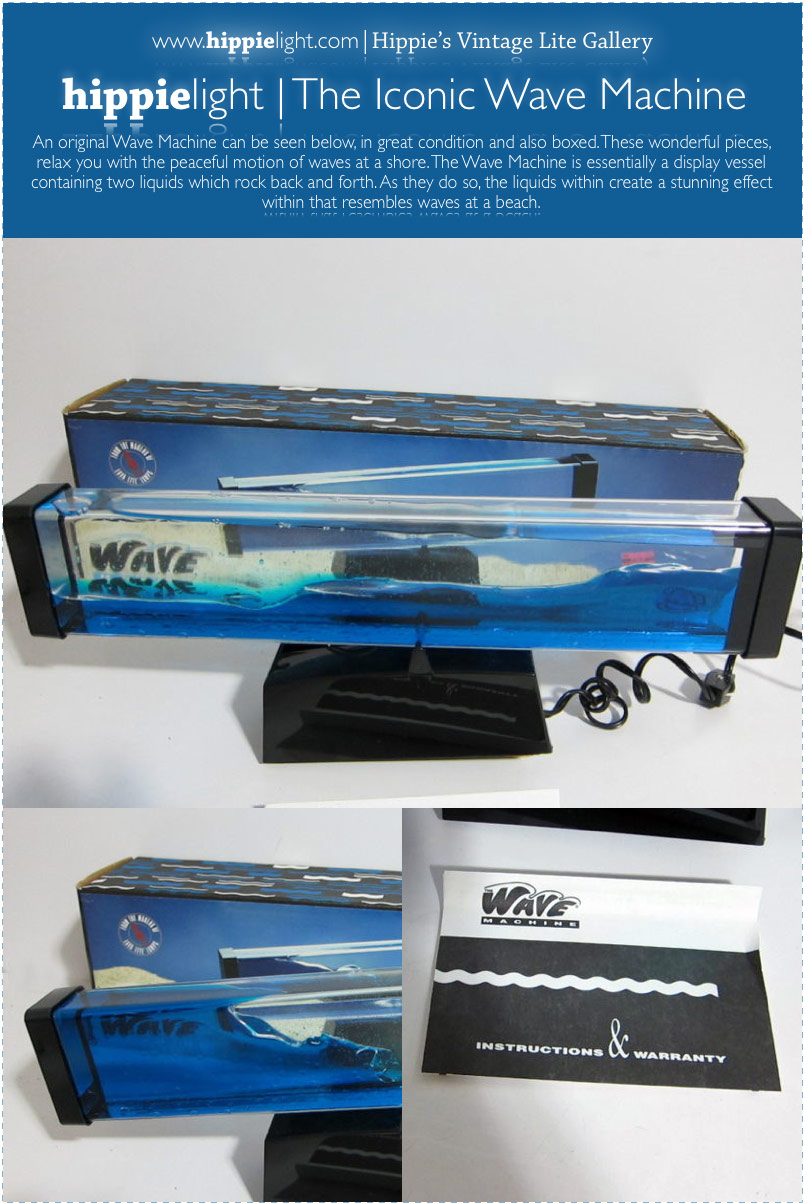 Welcome to www.hippielight.com | The Dazzling European Glitter Lamp Designs
Did you know that in the 1970s there were simply tonnes of manufacturers all over Europe producing a wide range of glitter lamps, in all different stunning designs. From tubular designs, to window-styled glitter lamps to, examples with a bubble globe little bottle raised on a stand to create a beautiful design, there were simply a design to suit everyone. Below once can see a selection of vintage glitter lamps. Some of my favourites include an amazing glitter lamp which features a forest or tree like infinite graphic in the backdrop, making the glitter flakes look like snow floating around in a winter scene. Then there is the beautiful bubble design featuring a bubble shaped bottle for a truly out of this world look. Another favourite is the French Window Glitter lamp designs featuring a metal enclosure with a cutout (or some cases lots of cutouts) just like a window for people to view the glitter shimmering around within. Which design is your favourite?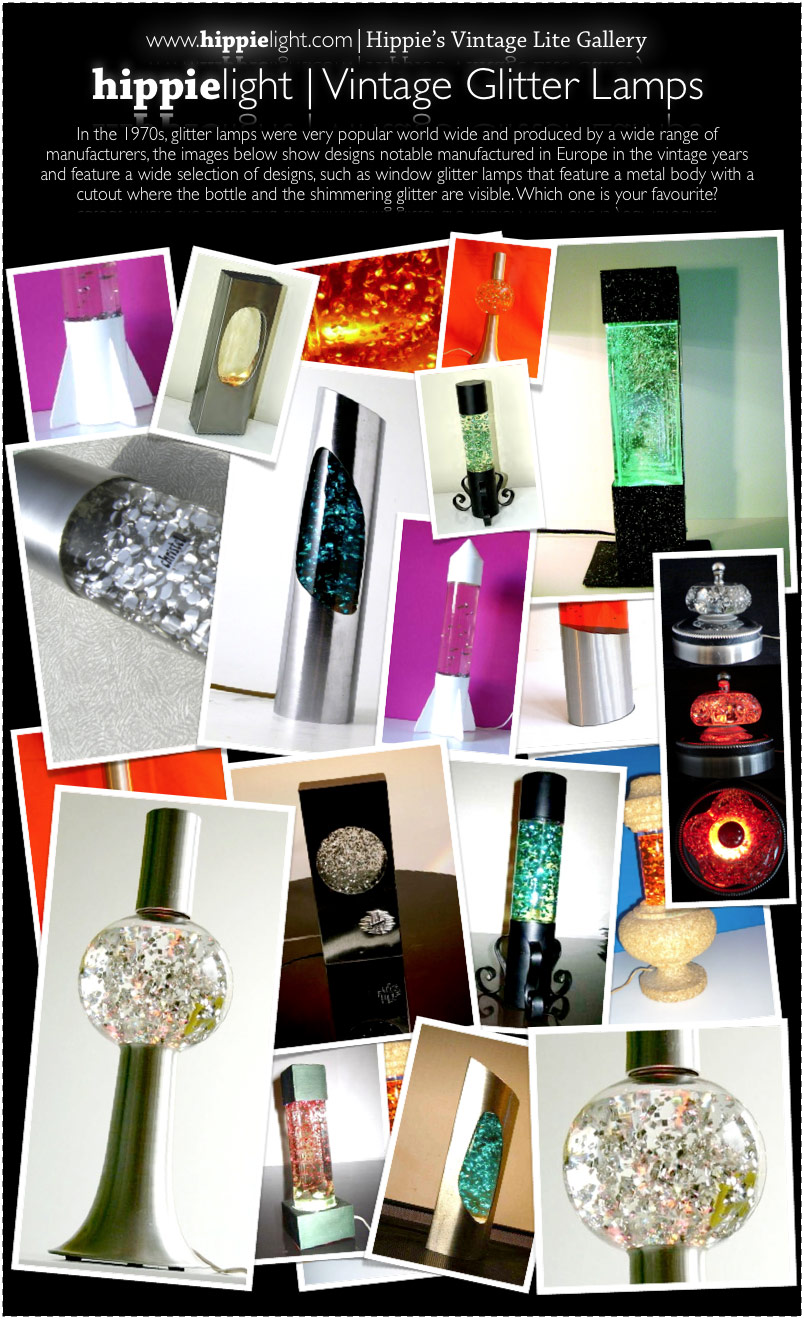 www.hippielight.com | Vintage USSR Russian Glitter Lamp | Spacey
A great example of a vintage USSR (Russian) glitter lamp. This stunning lamp features a tall oversized cap held in place by three supports and a circular ball shaped base. This wonderful example features glitter shimmering in the bottle for a beautiful effect. These USSR glitter lamps are made very well, and have a very unique and distinctive look to them, which is particularly space like and very different any other glitter lamps produced during their era.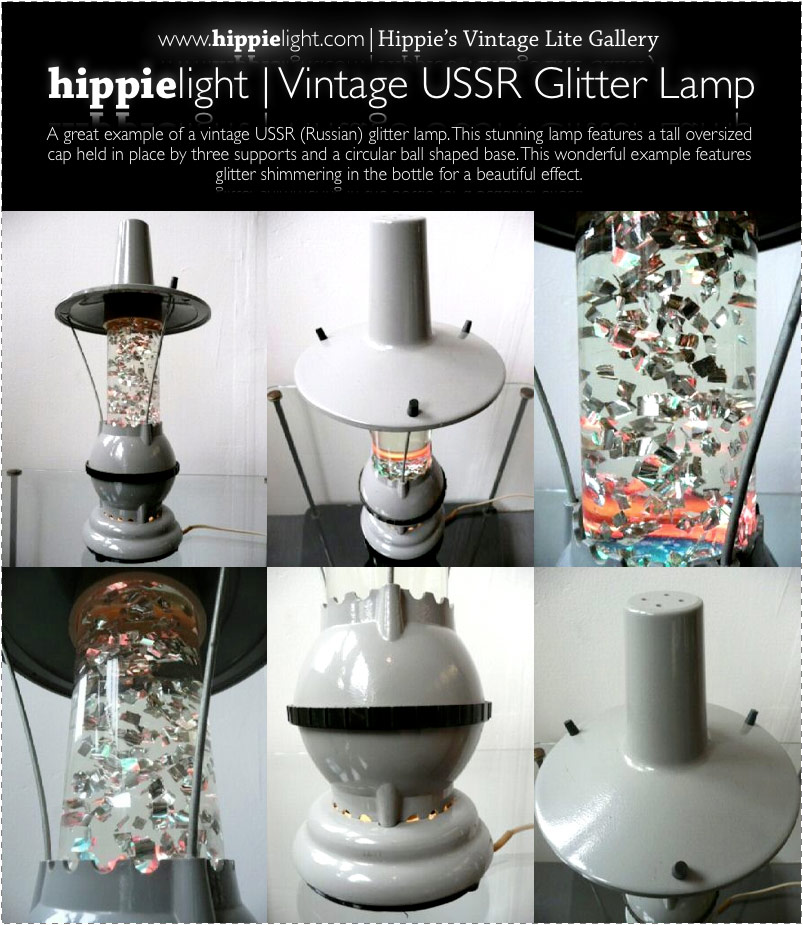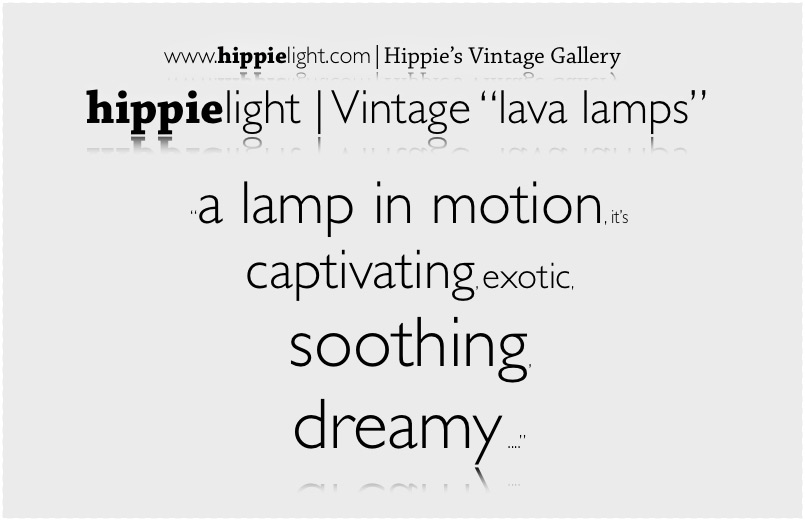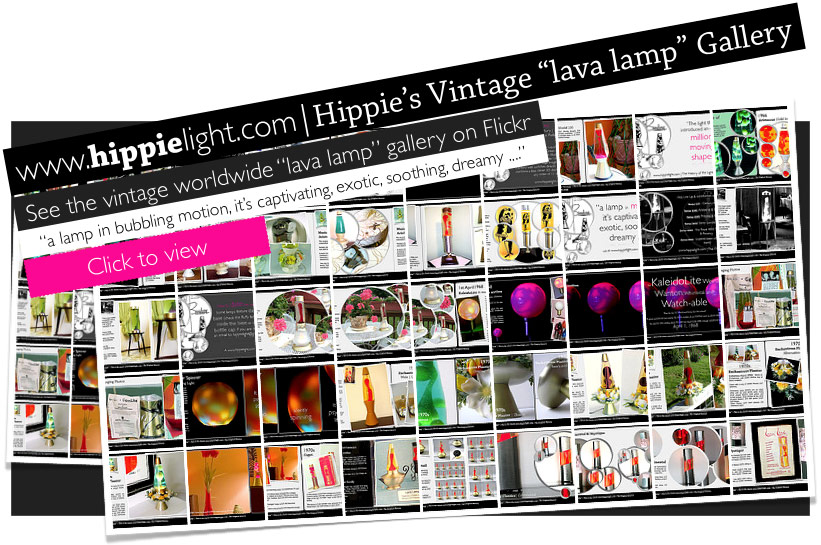 Welcome to www.hippielight.com Mini Index, a site dedicated to the history, heritage and nostalgia of the "lava lamp" and other beautiful vintage lights such as rain lamps. Created by Anthony Voz. Thank you for visiting www.hippielight.com | www.hippielight.com