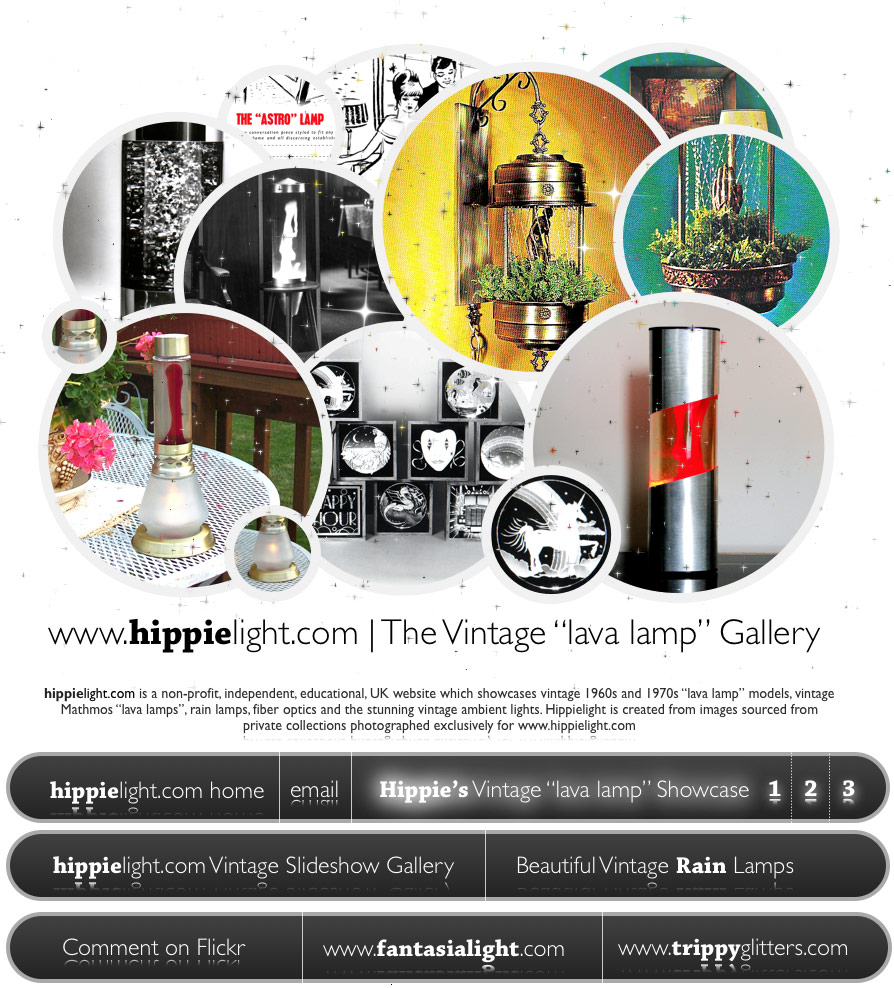 www.hippielight.com | Vintage Historical "lava lamp" Showcase | Vintage "lava lamps"
Hippielight.com has been dedicated since its very first day to the history of vintage "lava lamps" and the original vintage designs relating to the 1960s & 1970s. Hippielight documents the legacy of vintage American "lava lamps" since the 1st of July of 1965, the vintage designs and the designs that are loved by everyone still today, decades after their release. From Century, to Enchantress Planter, to Carlisle, to Continental, to Decorator, to Aristocrat, these vintage USA manufactured "lava lamps" are still loved by thousands today and a represented through personal photos in collections and displayed on www.hippielight.com.
These USA creations were indeed the vision of the late great Mr. Hyman (Hy) Spector and his wonderful factory. Mr. Hy Spector was born on the 5th of January 1908 in Kiev in Russia, whilst he is indeed remembered for his work with the "lava lamp" he was involved with Starr Container Corp and featured in prestigious positions in various organisations. He is remembered with fondness and look into any vintage 1960s & 1970s vintage "lava lamp" and you will see his reflection.
Today the original Mathmos Astro lamps are still made by the Mathmos since their invention by their founder Edward Craven Walker. We at www.hippielight.com love the Mathmos Originals invented in 1963. They are still hand made with pride, care and attention in the United Kingdom. See more at www.mathmos.com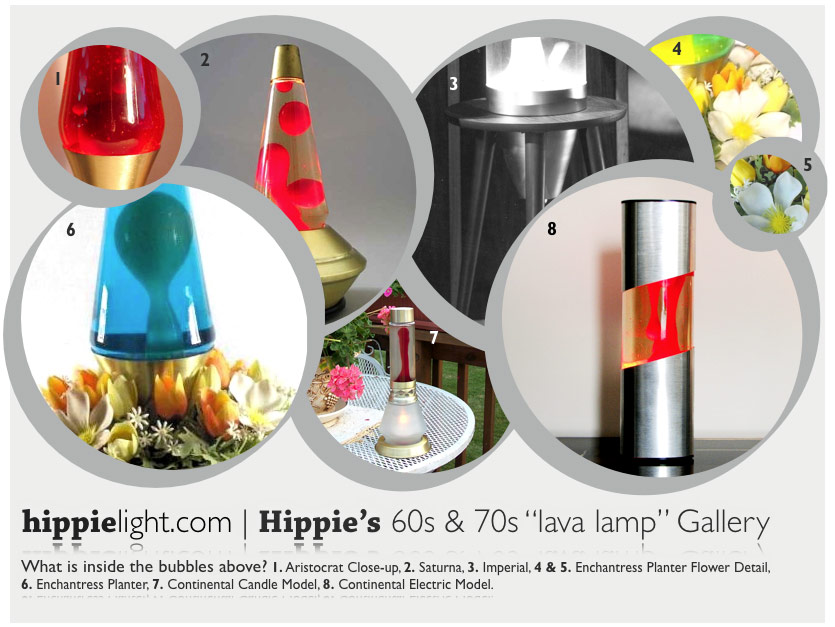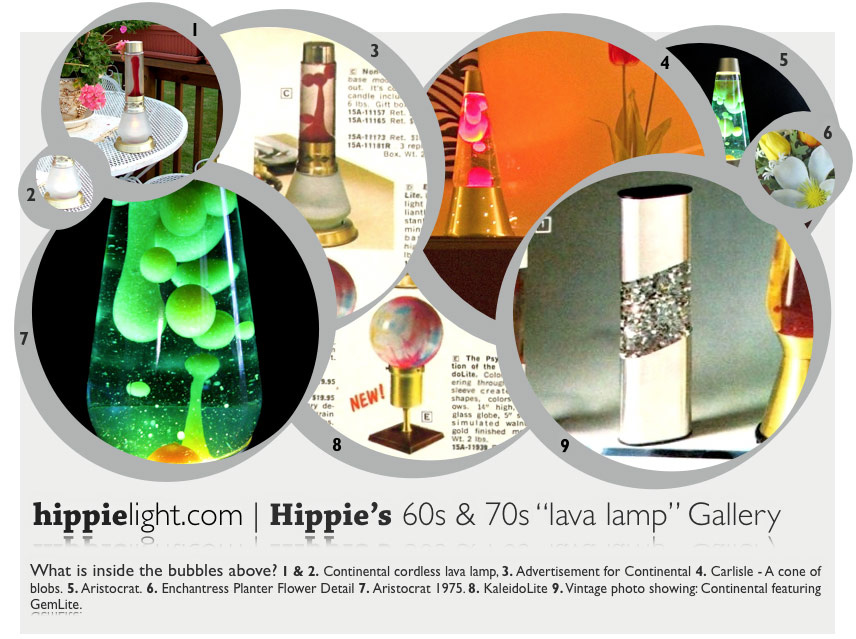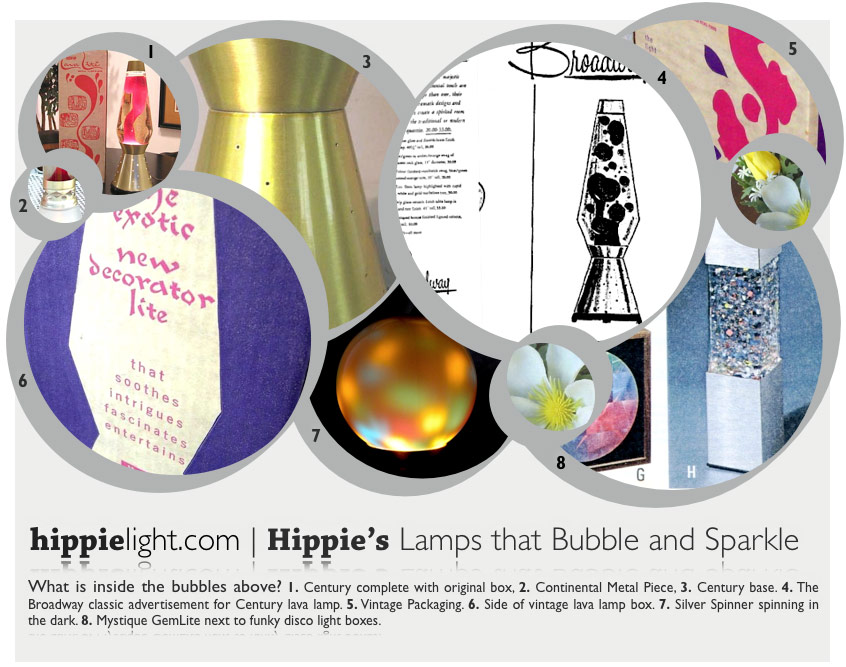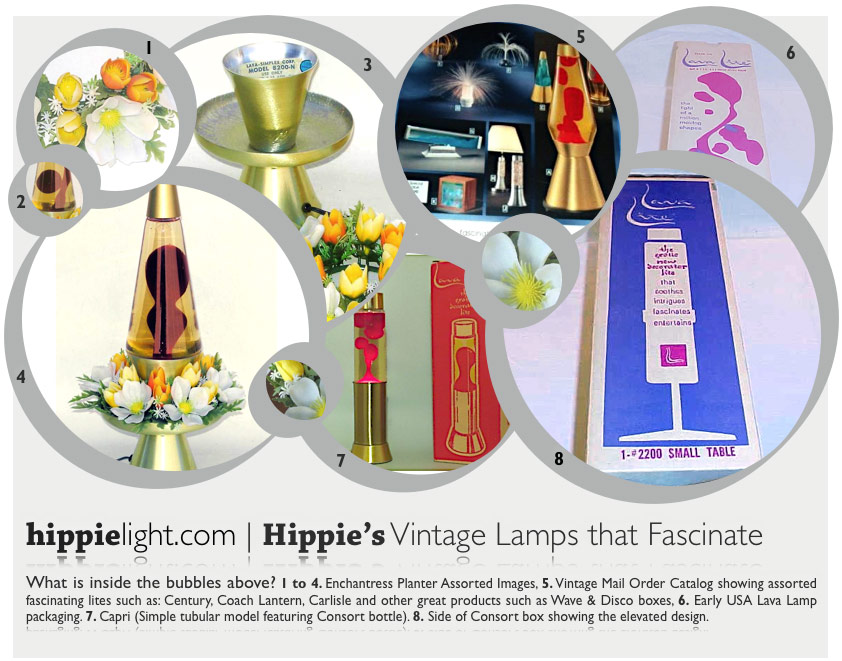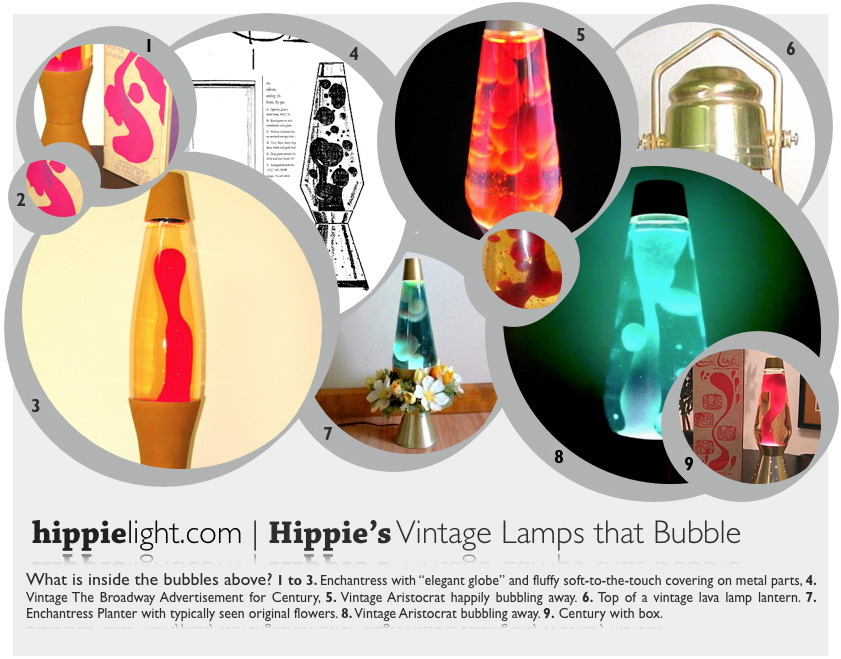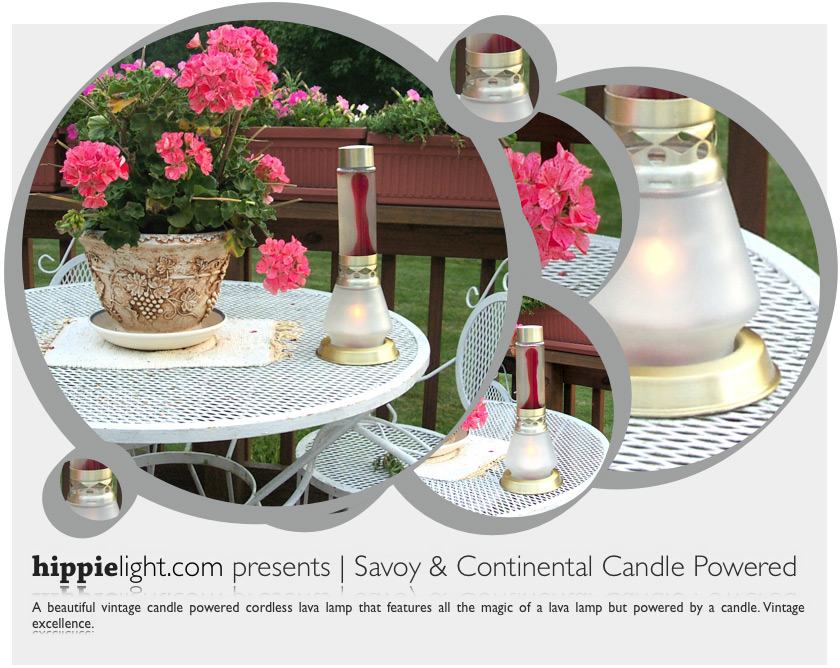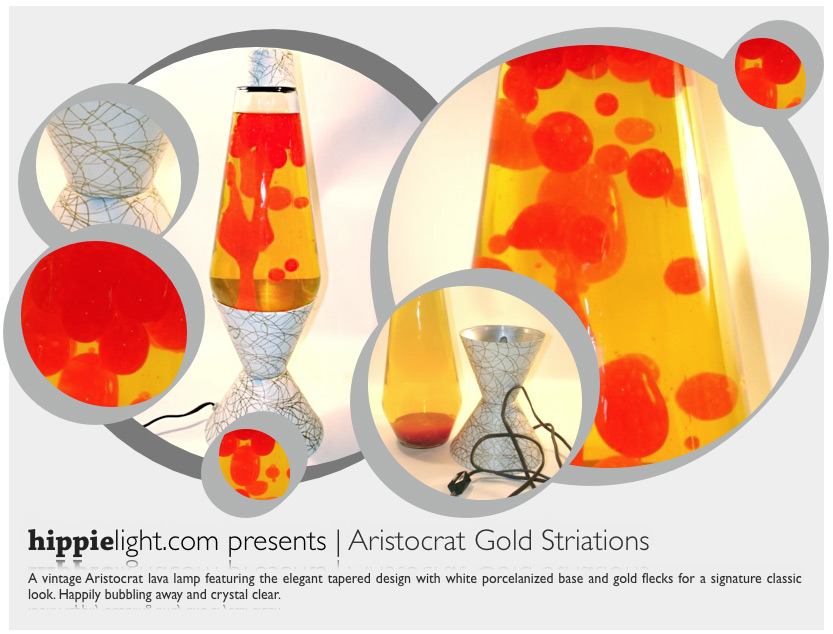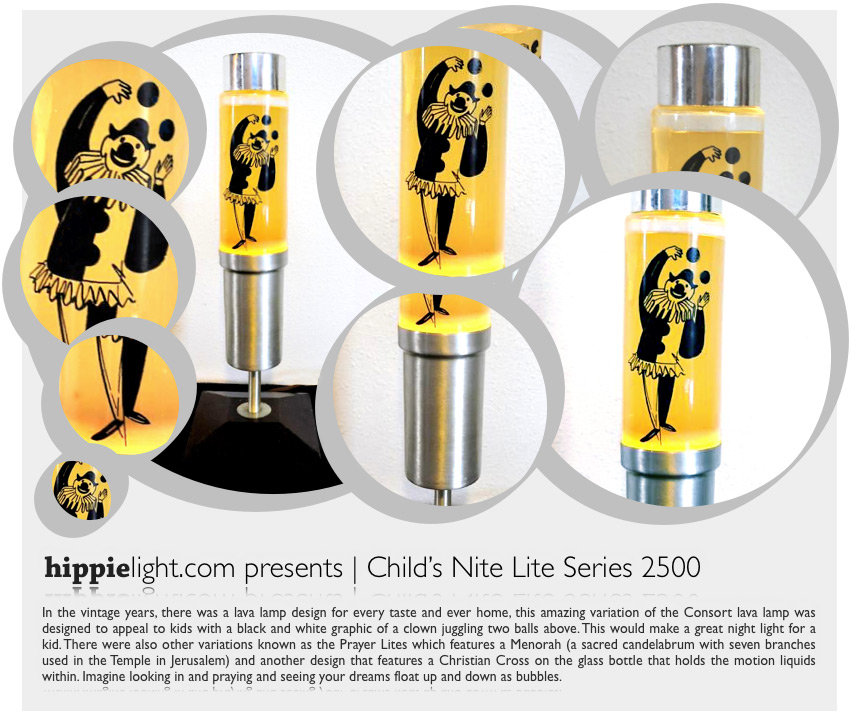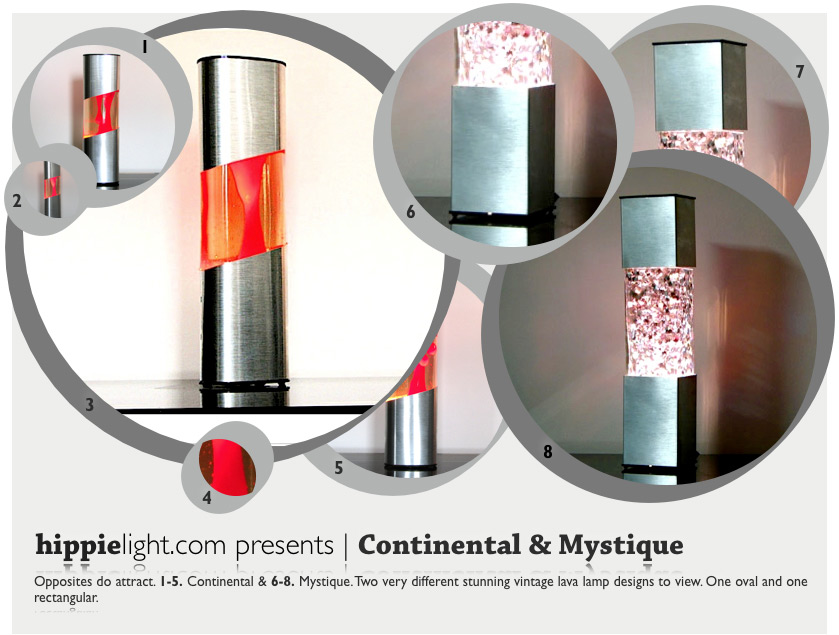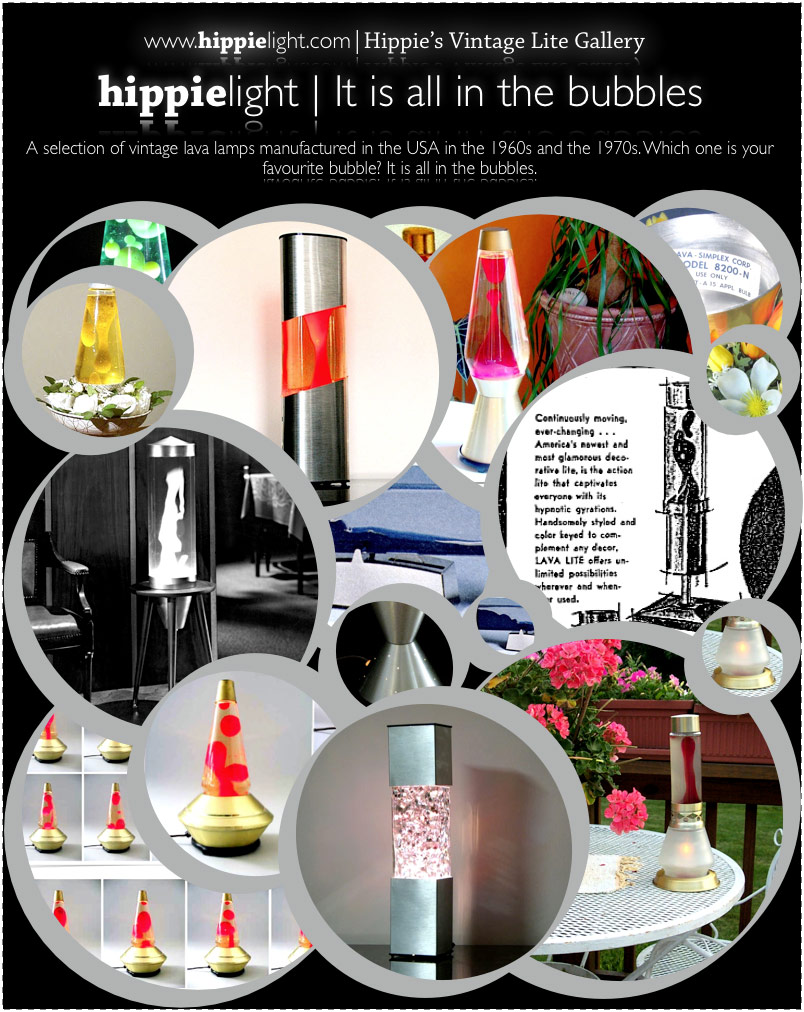 www.hippielight.com | The Century Model: 100 | Unboxing a Vintage Iconic Century "lava lamp"
The Century was the first lava lamp produced in the USA and started the legacy of the "lava lamp" in the United States of America. The original founders of Lava Corp., were inspired by the Crestworth Astro Lamp, that they saw at an exhibition and they acquired the rights to sell it in the USA. They opened in Chicago and brought the magic of the Astro lamp to the USA in 1965. What would become the Century first appears refered to purely as "Lava Lite" in 1965 printed material and was described as "America's Most exclusive new look in lighting ... Adds glamour and interest to any setting!"
The Century is the American version of the Astro with a few notable changes such as starlight holes in the base, which were very popular in lighting fixtures of the time. With its pinhole starlight base, it is a timeless design that will stand the test of time.
The Century was a classic that was core to the lava lamp that was manufactured in Chicago in the USA. Century and all the great vintage USA lava lamps are the vision of Hyman Spector, the co-founder of Lava Corp, in 1965. 1960s colour combinations for the Century include: Red/ Fluorescent Green, Orange/ Yellow, Green/ Blue, Yellow/ Green-Blue and Red/ Clear. The Century also featured a Champagne Mist colourway, that was refered to as "A cream base in a pale amber liquid - A truly enchanting combination" Century uses a 40 watt appliance bulb.
You can see the unboxing of a vintage Century below which this particular model features the original lava lamp hang tag, showing the bubbles around the name. A great USA manufactured piece. Century made in the USA was an unusual exotic decorator conversation piece. Use a 40w bulb inside your vintage Century for the correct flow. Please see the images below to see an unboxing of a vintage Century "lava lamp", more examples and even the instructions & the warranty send off card. One of my favourite pieces of paperwork is a receipt for a vintage 1974 Century "lava lamp" which can be seen in the images below.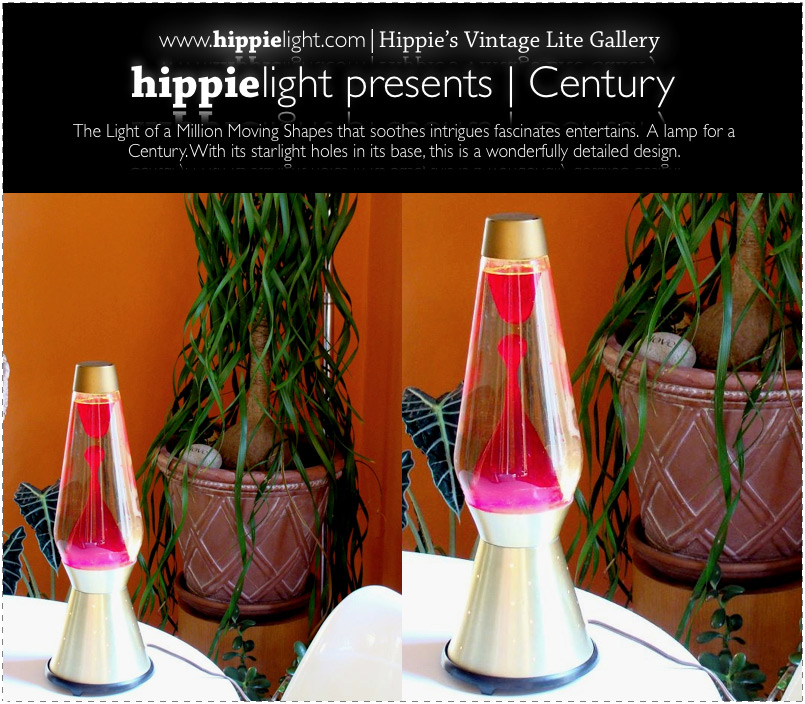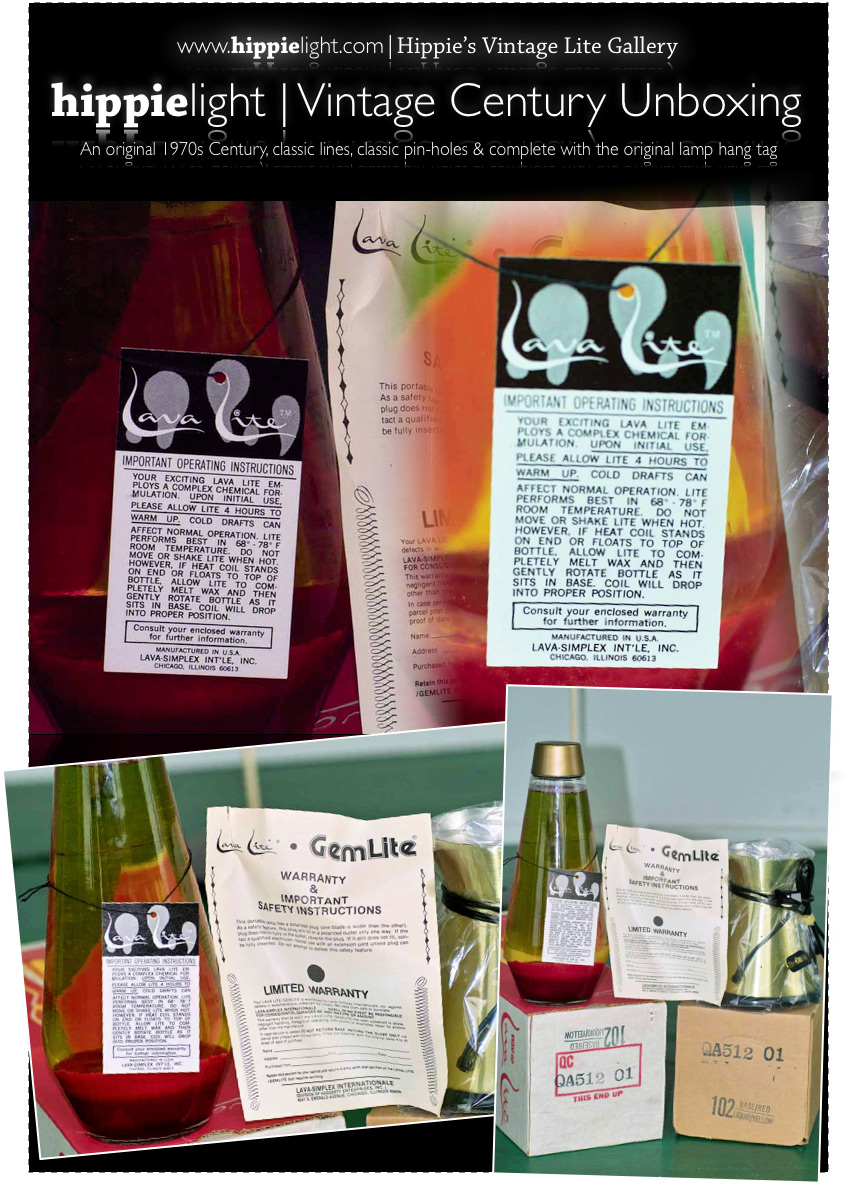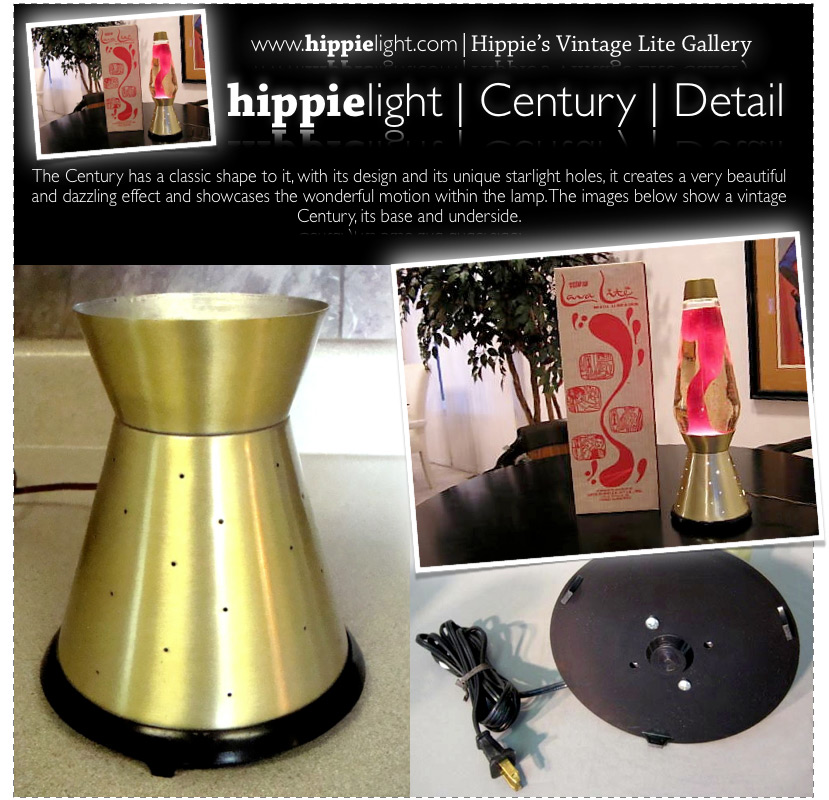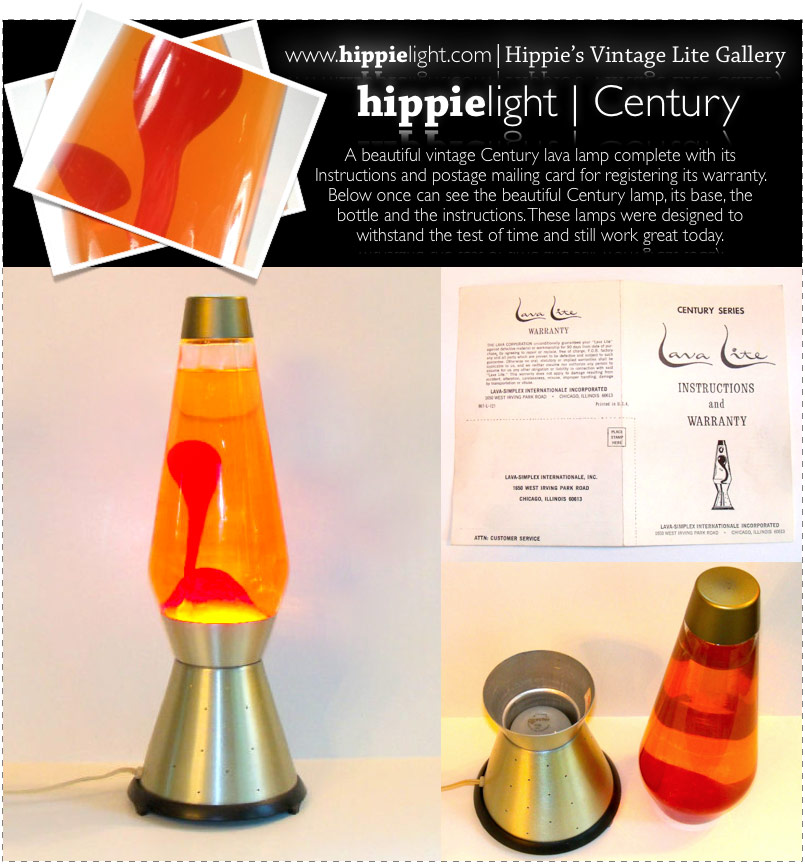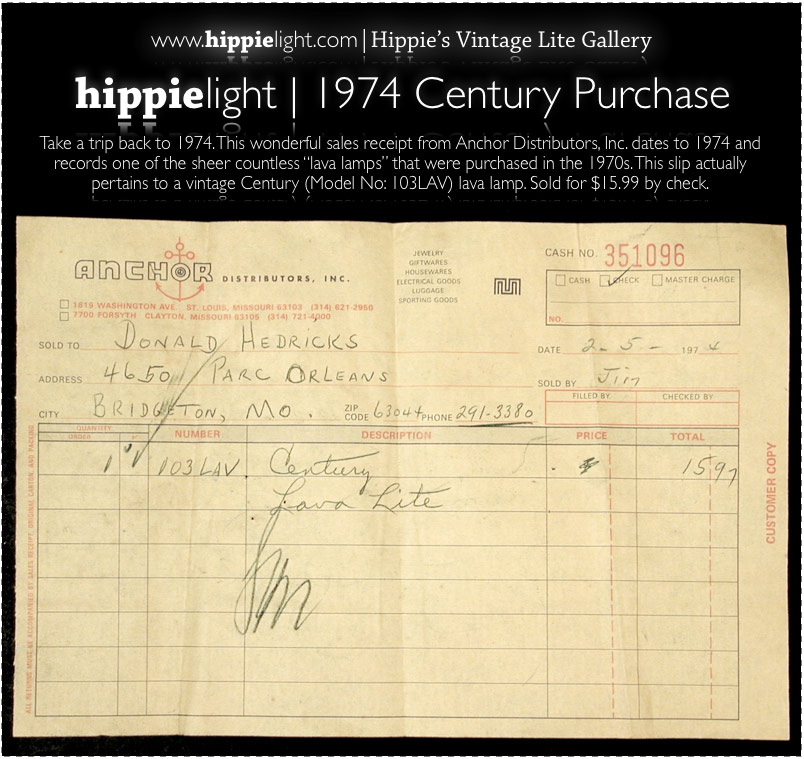 www.hippielight.com | Aristocrat | Another Vintage Classic "lava lamp" born in the 1960s
The Aristocrat is the sister product to the Century and features a very beautiful elegant base design with beautiful starlight holes in the base that creates a beautiful touch to the piece. In the earlier years the Aristocrat was offered in a white or black porcelainized base with gold striations. Aristocrat was a very popular design and features a sharper, tighter and tapered base design than the Century, creating a very elegant cone upon cone form. Aristocrat was also made in the USA and they were very popular lamps. 1960s colour combinations for Aristocrat include: Green/ Blue, Champagne Mist, Red/ Clear. Aristocrat uses a 30w R-20 reflector bulb.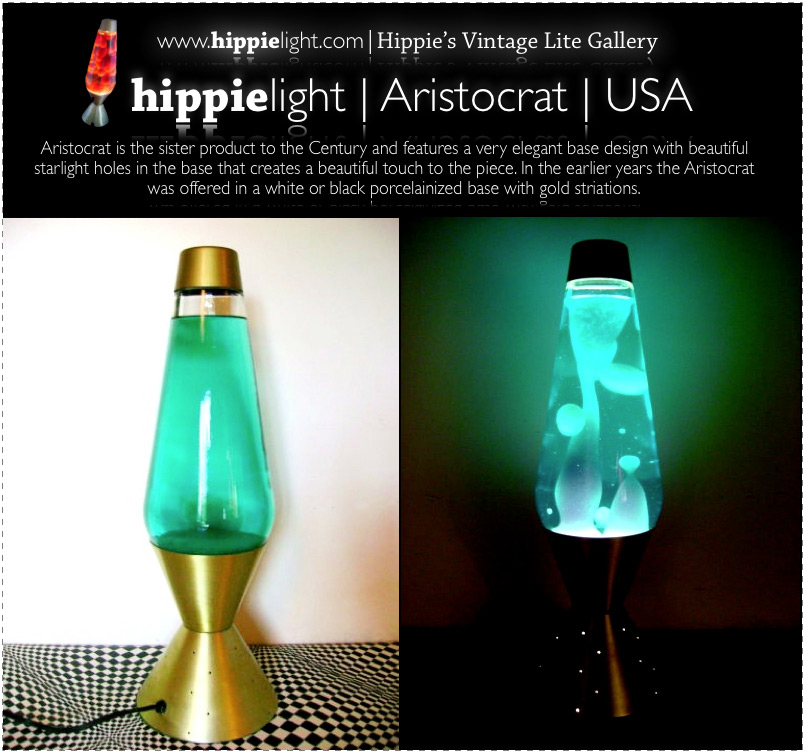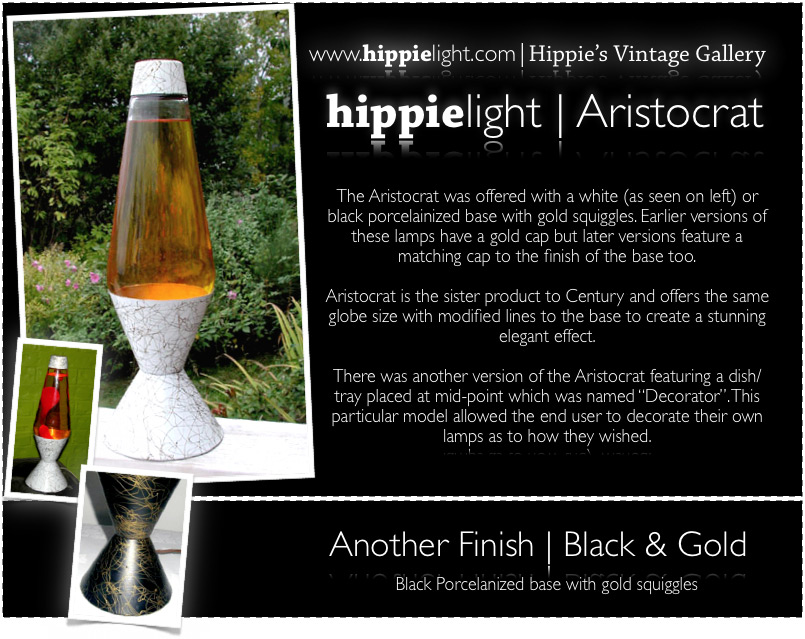 www.hippielight.com | Decorator | How will your decorate yours?
Decorator How will your decorate yours? Decorator is essentially an Aristocrat featuring a great tray/ dish placed at mid point that features the space for people to decorate the piece. I really love this idea launched in 1966. This model was targeted to the homewife who wanted to decorate the lamp and was shipped without any flowers, allowing one to decorate it as one pleased. Do you remember this model, did your family have one? With or without flowers you will love the vintage Decorator "lava lamp".
Decorator is seen in a 1966 brochure featuring three colour options: Green/ Blue, Champagne Mist and Red/ Clear. If you have one of these beautiful models, why not send us an email and let us know how you decorate yours. Decorator uses a 30w R-20 reflector bulb.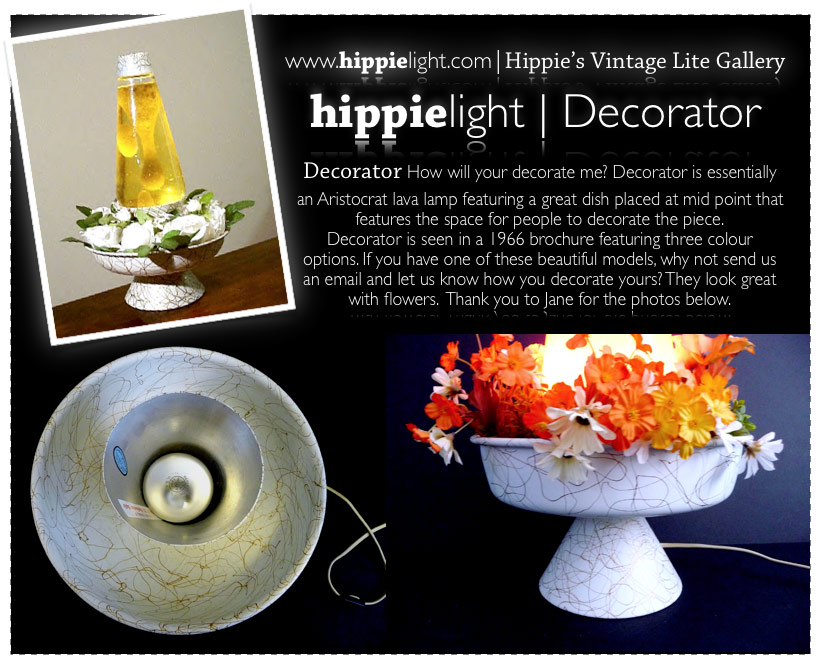 www.hippielight.com | The Vintage Musical Lava Lamp | Music to our ears and eyes
We Lava collectors love the original lava lamps made in the USA and nothing is better than finding a lamp style or design that has not been seen before.
The lamp on the left is a typical Aristocrat with the white base and cap combination with the gold flecks of paint on the base and the cap. It is not an early white and gold Aristocrat as earlier versions of these lamps featured a gold cap as opposed to the white/gold cap seen.
However unlike normal ones this features an inverted tray that is located on the mid-point of the base. This tray contains two musical windup music motors which play sound. Once the music motors have been wound by clockwork action, they will begin to play music. Funky and great for for the young kids.
A few of these lamps have been spotted, therefore these lamps are not just customised pieces. Further to this the part which contains the music box has the same white and gold paintwork on it, which makes us believe this was not customised and shipped from the original factory. A few examples of these have been spotted and are very rare, therefore they may have only been produced for a limited time or in a small number. These lamps are not featured in any catalog or sales brochure that we have seen and do remain a musical mystery.
If you know any more about these lamps or have one, we would like to get in touch with you. Please drop us an email at: hippielight@googlemail.com Thanks!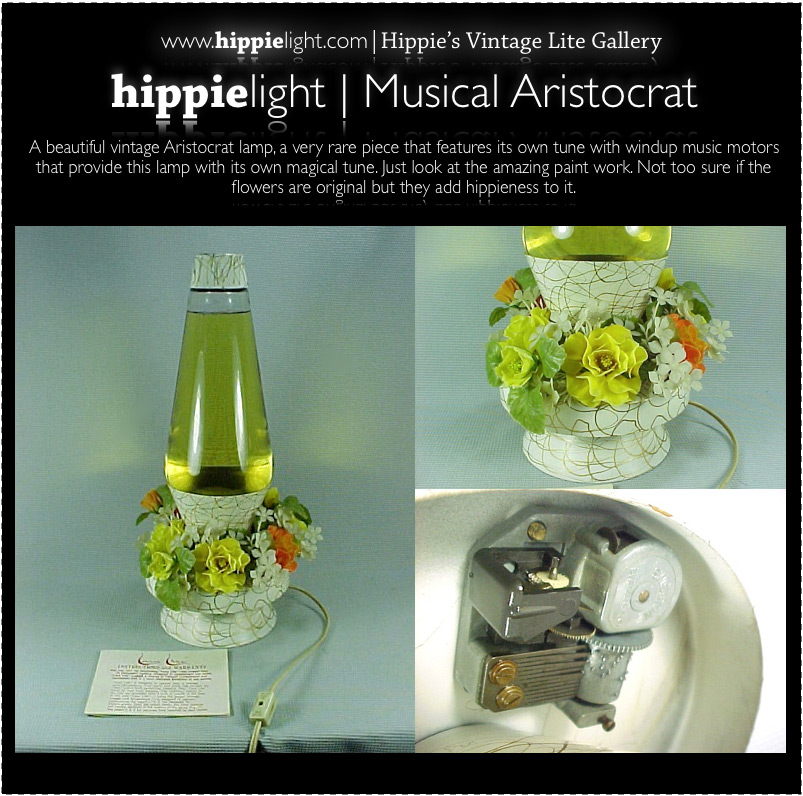 www.hippielight.com | The Imperial Vintage Lava Lamp
Simply King Size. Simply Dazzling. Simply Stunning. Simply The Imperial. One vintage Lava Lamp rules supreme, simply the largest ever vintage USA lava lamp, The Imperial was amazing. King-size elegance and beauty. The Imperial featured a massive container supported on a beautiful metal and walnut stand. These lamps were individually carton packed and the 1966 wholesale brochure shows 3 colour ways for the product. This model was sold for $149.50 and has been seen featured in a 1966 brochure. Very few of these stunning pieces have been seen and they a tribute the liquids within. In the images below one can see a vintage candle powered lava lamp bubbling on the table. Imperial featured a list price of $129.50
Model: 5102: Orange Wax. Clear Fluid. Model: 5103: Green Wax. Clear Fluid. Model: 5106: Red Wax. Clear Fluid.
More colourways may have been produced in the following years. Imperial uses a 150 watt FL-R-40 flood bulb in the base.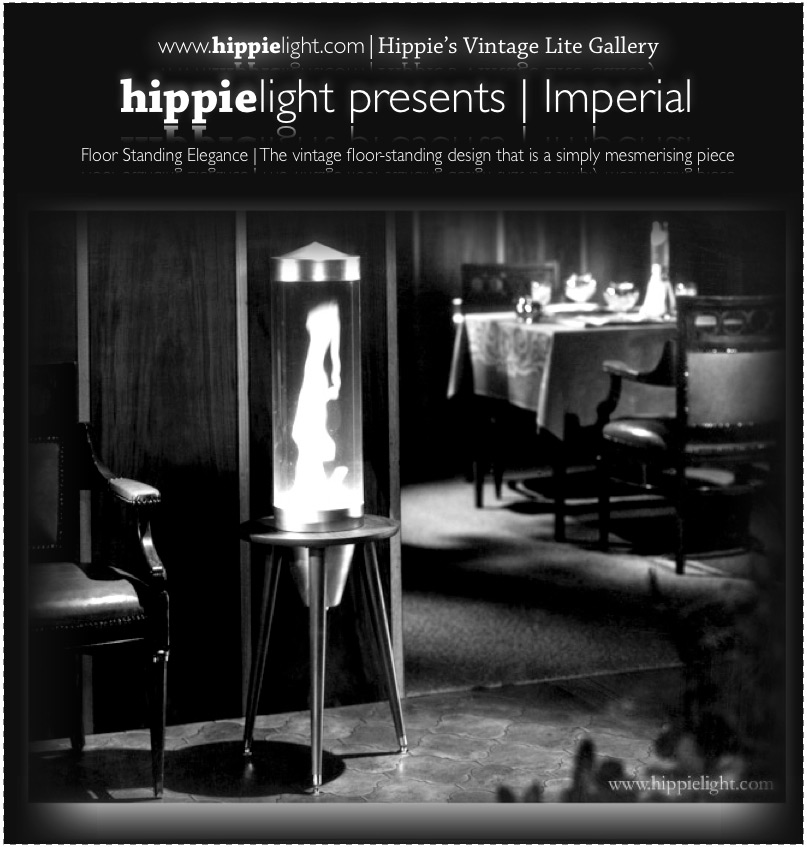 www.hippielight.com | The Princess | The Beautiful Wall-Mounted Sconce "lava lamp"
The Princess wall mounted lava lamp - Model 2100 | "A dramatic new styling concept. Use singly in halls or foyers, use in pairs for smart new wall treatments." Princess featured a beautiful consort styled globe placed onto a walnut scone with a reflective back which reflects the motion within the lava lite. The base features a handy switch on the underside and it is connected via a tubular section to the wooden backing of the lamp. The wonderful photos below are kind courtesy of ammodesign.
Below one can see a these very rare vintage wall mounted lava lamps and they are completely stunning and complete with everything. Princess feautured various colour combinations in the 1960s: Green/ Blue, Champagne Mist and Red/ Clear. Princess uses a 15 watt intermediate base sewing machine bulb.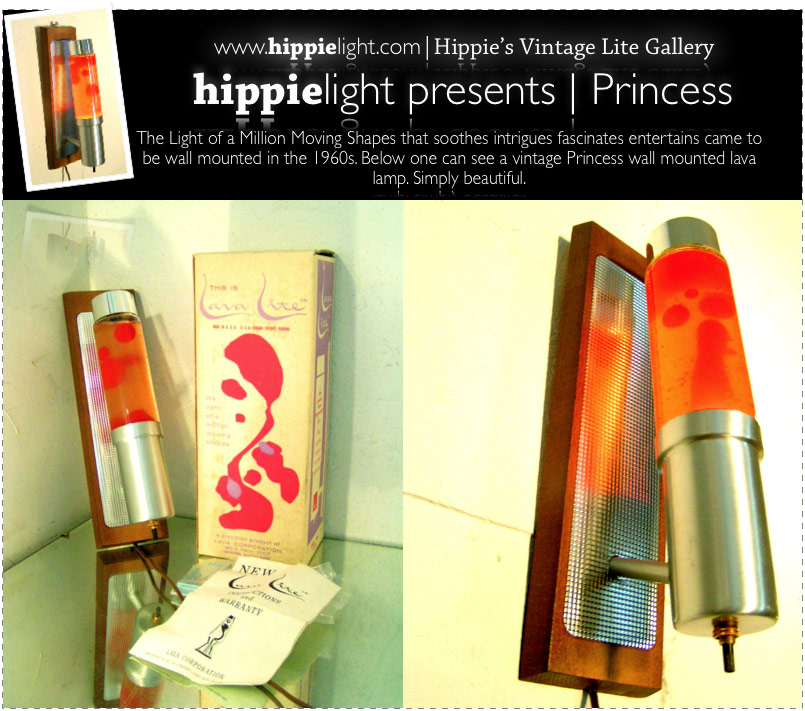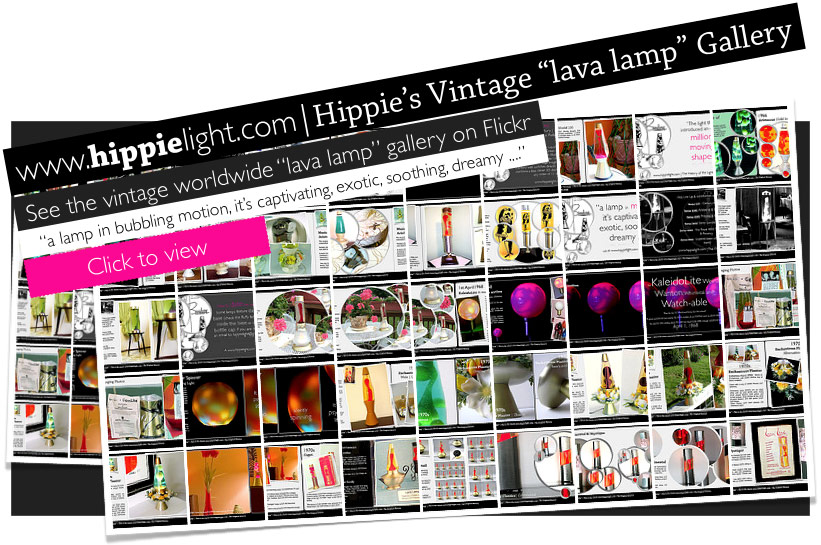 Welcome to www.hippielight.com Mini Index, a site dedicated to the history, heritage and nostalgia of the "lava lamp" and other beautiful vintage lights such as rain lamps. Created by Anthony Voz. Thank you for visiting www.hippielight.com | www.hippielight.com