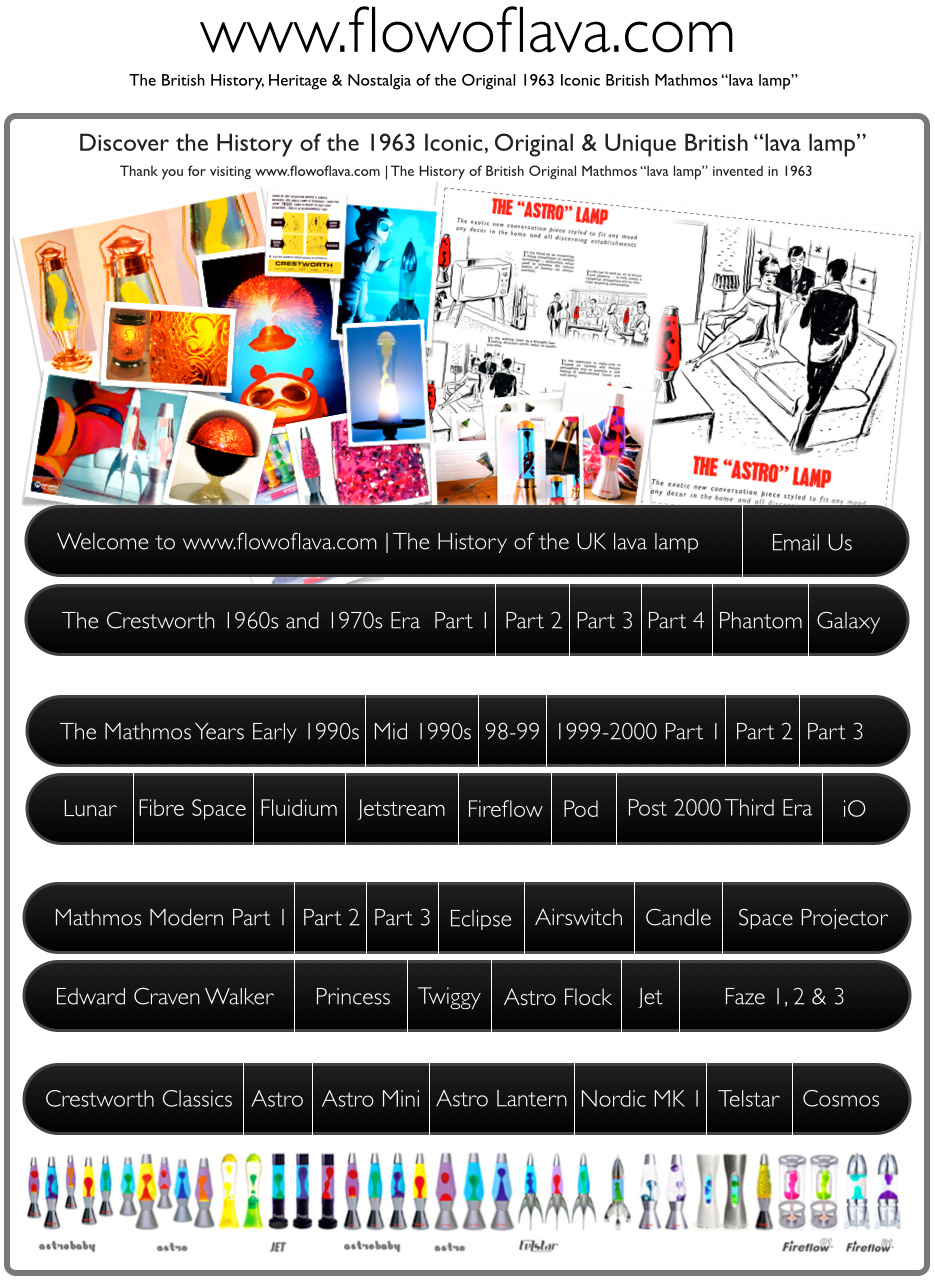 flowoflava: TV Section.
The Crestworth Astro was the hippest thing around in the 1960s and 70s, living in many college student's rooms, naturally it was shown on some TV shows. We have created a small TV section with clips and videos that feature Crestworth inventions. Click on the TV below to enter.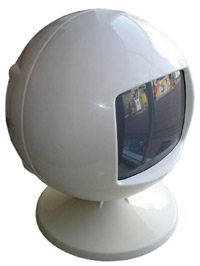 Audio Reflections of Edward C. Walker.
In 2000, Edward Craven Walker sadly passed away, a bit later Cressida Granger the MD of Mathmos gave an interview regarding Edward Craven Walker. You can listen to it below it is saved as an .mp3. Please ensure you have software that can read .mp3 files such as Quicktime.
Mathmos: Rays of Magic Interview.
Stephanie Baum talks to Cressida Granger of Mathmos, manufacturer of the lava lamp and other innovative lighting. Publication Date of Interview: 19-DEC-2003.
The lava lamp was invented by Edward Craven-Walker 40 years ago as a unique approach to an egg timer, thus launching Crestworth in Poole, Dorset. The company was acquired by Cressida Granger in 1990, who rebranded the company Mathmos and is the current MD.
Mathmos produces and distributes its interactive lighting concepts to retailers worldwide enlisting the talents of well known designers to develop its modern mood light collections, garnering several design awards in the process. It recently renovated its Old Street showroom and opened a shop in Covent Garden.
SB: What background did you bring to the company?
CG: I came to the company in 1989 from antique design dealing in 1960's, 1970's furniture and lighting when I was 25. My business partner at that time, David Mulley, was also an antique dealer dealing in arts and crafts, so when we came to the company we only had experience of being our own boss and selling things - that was it.
SB: Was Crestworth on the market at the time?
CG: It was being run from a corner of the old factory (in Poole) really as a tax loss because Walker owned a lot of land around there and his son had had a go at relaunching (the company), but had not really got anywhere.
By coincidence, I'm from Poole and ended up buying (lava) lamps to sell in Camden Market and realised that there was a really big demand for them so I approached Walker and said naively `could I remarket the products?' - he didn't write back.
And then David wrote and we were invited down to meet Walker and he basically just gave us the company and said you can buy the machinery and opening stock over time; if you make money, it's your money.
SB: Walker sounds like he was an interesting guy.
CG: He was a real eccentric - not in the bohemian manner - he's just not like anyone I've ever met. He's done all sorts of things - been a pilot, an accountant with Price Waterhouse (Cooper), a nudist camp (director), or at least was when we first met him - and he made underwater nudist films. One was shown in Leicester Square in the late 1960s. And then he invented the lava lamp.
Our relationship was quite difficult, because he was quite old school.
SB: How so?
CG: He referred to me as the salesgirl until the end! But he was great. He'd fly a helicopter when he was 80 and he was always riding off in his Jags. He was just a great enthusiast for life really.
SB: Did you always want design to be part of Mathmos?
CG: Not really. When we acquired the company in the beginning it was just about the lava lamp and that was a runaway commercial success - which doesn't come around very often. But we always knew it was never going to last forever. So David and I did start developing other product alongside. We did argue a bit about how that was to be done and so when David left and I acquired the whole thing, I started doing it the way I wanted to do it, which was to put design more at the forefront of what we were doing.
SB: How did you attract designers to the company?
CG: One year at 100% Design I did a stand when I first acquired the company, and it was just an advert for designers: We want designers! Where are you? And after that people did start coming to us. And after we started working with designer Ross Lovegrove more people started coming to us; now people come to us a lot.
SB: Did you approach Lovegrove or did he approach you?
CG: We knew him because his people were talking to us about borrowing some lamps for an exhibition in Frankfurt but no, I went to him and asked him.
SB: Lighting seems to have much more personality and can be adapted more than it used to be.
CG: It's become fashion really.
SB: Having a lighting studio has helped with all the developments in lighting, hasn't it?
CG: Things are changing. LEDs are changing everything.
SB: What are LEDs?
CG: They are the little, tiny light sources that you see in everything. Most of our new products are made with LEDs. The beauty of them is they last for a really long time and you don't have to change the bulb. At the serious end of lighting they are busy changing all the traffic lights in America into LEDs, so they don't have to change the bulbs. From our angle it means you can make products that don't have to be opened and shut; they can be sealed units because they last for ages and they can be much easier to control than with computer chips. So they bring up whole new realms of possibilities in lighting.
SB: One of the interesting things about your products is that they're so easy to control and interactive. They're not toys as such, but they make light more accessible to younger people.
CG: That's something we try to steer away from. Clearly our products are liked by children but it's a shame.
SB: Obviously you disagree with that.
CG: No, I don't disagree, it's just that we don't want to be a children's lighting brand.
SB: Do you think people try to make you into that?
CG: Yeah, I think it's because some of the products are child appealing. Really they are magical toys of light for adults, but they appeal to children too. And regulations around children's lighting are very different - the marketing is very different, the level of spend, materials you might use are different. We are trying to design for adults but, hey, the more people who like them the better.
SB: There have been so many changes to the company since 1963.
CG: Well, 40 years is a long time. In a way it's amazing how little has changed in 40 years. We're still on the same site in Poole, we still make the original product that was launched 40 years ago - not many companies do that.
SB: Have there been any other breakthroughs in lighting design, aside from the LEDs, that have accelerated the development of new products at Mathmos?
CG: Well electronics have played a role, obviously, with LEDs. But most of our things are quite low tech really. The tumbler changes colour on different facets - that's achieved with a tilt switch which is quite a mechanical, simple thing.
We use infra red rays to turn off and on the new product, Tuba, so you block the ray and that changes the mode, and turns it off and on. And there are lots of new things coming like the EL panel and new light sources.
SB: Lots of the products that you've produced use lighting as a work of art. Do you see the company evolving into one that uses lighting in conventional designs such as floor lamps?
CG: We're working at the moment on functional lighting but it will be interactive and have that Mathmos magic with light, and quality as well, which I think is the cornerstone of what we do. That's what makes us unique; we're interactive and that sort of magical chaotic place - so we need to retain both. But we would like to make functional lighting also.
SB: Does Mathmos have any partnerships with companies with products that would complement yours, like furniture?
CG: No we don't. We should do really. It's a good idea, we'd like to widen our product range. At the moment we have no links with furniture. We have a product we'd like to make in furniture but we don't know how to make furniture, so if anyone who wants to phone us up then great!
SB: How did the lighting industry respond to your decision to make the company more design based?
CG:We don't really know anyone in the lighting industry. We've always been a bit odd because we don't fit neatly into any industry.
We could be giftware, we could be design and we could be lighting. And we're a bit of all of those. The design industry was very receptive. I was really worried about asking Ross Lovegrove to work for us because he easily could have been extremely rude and said `No chance'. We've never been turned down, people have been extremely excited about it.
SB: Was it difficult to adapt the Poole factory to making all these different products?
CG: It doesn't. It makes lava lamps only. It has made some of the new products, but increasingly we don't make things ourselves anymore.
SB: Where is it made?
CG: All over, in places like the Far East and Eastern Europe. Increasingly we're just like any other manufacturer. In our world, product life is short and your demands on different materials and different technologies change rapidly. So to gear up for a two-year window to make something in say silicone, is madness. So you have to be flexible.
Since I started manufacturing the cost bases have completely changed. England has got much more expensive and abroad has gotten much cheaper.
SB: What is your favourite light design at Mathmos?
CG: Bubble is my personal favourite - it was quite ground-breaking as a product, and it's a very pure design and it set us off on a whole train of thought on LEDs and rechargeable lighting.