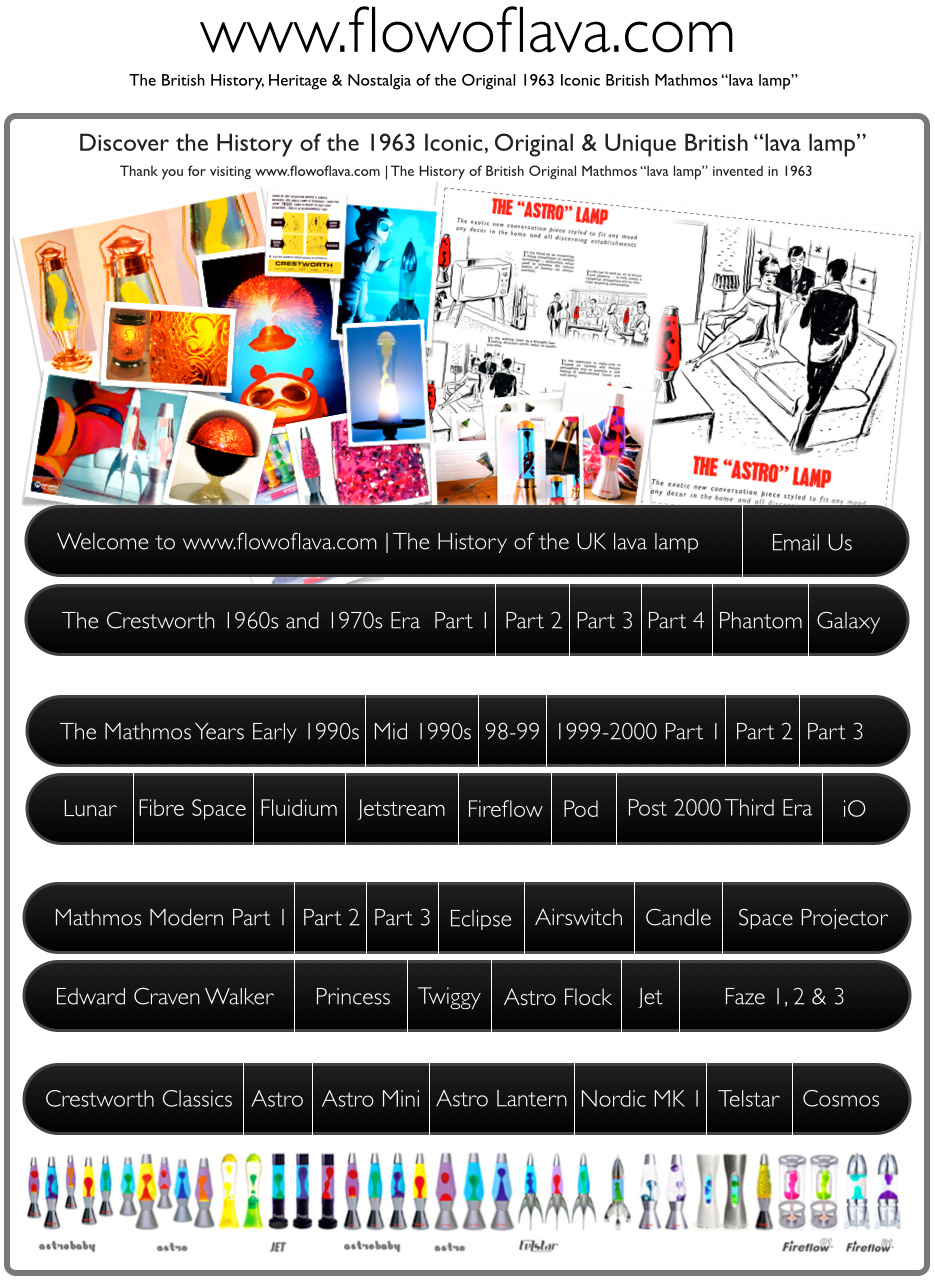 Mathmos Fluidium by Ross Lovegrove | Mathmos 2000s History
Fluidium by Ross Lovegrove was designed for Mathmos and launched in the Year 2000. Featuring a completely unique form with a polycarbonate body and soda lime glass bottle, this lamp design was a new kind of lamp, unlike anything the world had ever seen before. In many ways it is a showcase to the wonderful flow and the organic forms within the lamps. Originally launched in Opal, Orange, Yellow and Green with Opal and Orange retired, Fluidium is a unique product. Please see the images below for promo shots and colour combinations.
There are two generations of Fluidium, the earlier editions feature a circular logo on the glass while later editions feature the word Mathmos printed onto the glass.
On this page one can see:

Brochure images for Mathmos Fluidium showing the lamp's construction, the colour combinations and display unit,

brochure images for Mathmos Fluidium showing the lamp featuring colour enhancing bulbs,

background history and sketches.

During its internal development Fluidium was given the working title "'Nebula"
Mathmos Fluidium (in keeping with all things Y2K), featured a virtual launch party on 02/05/00.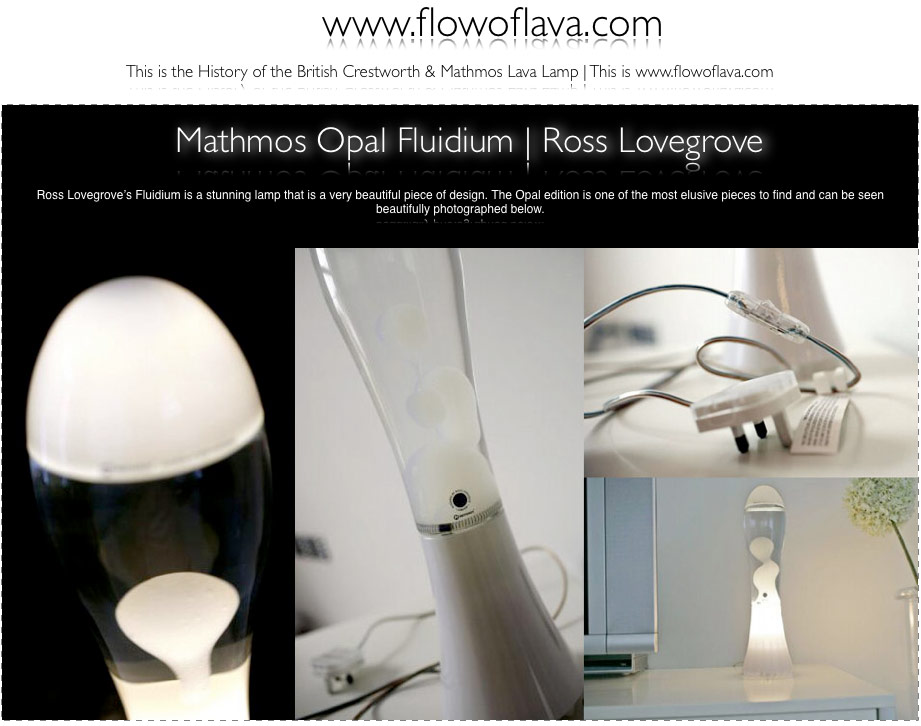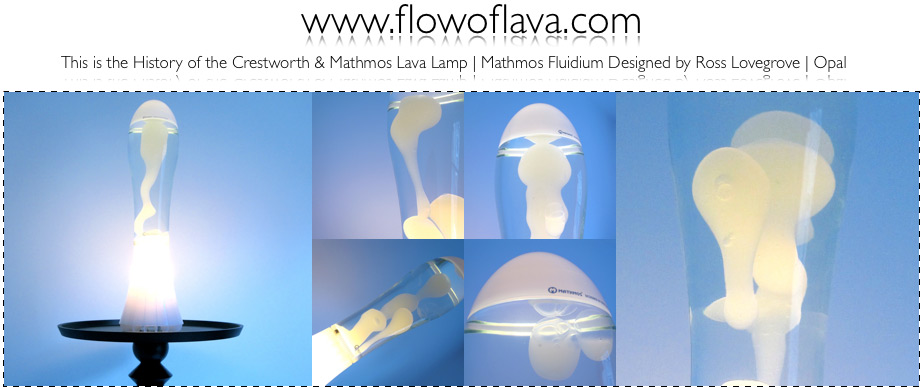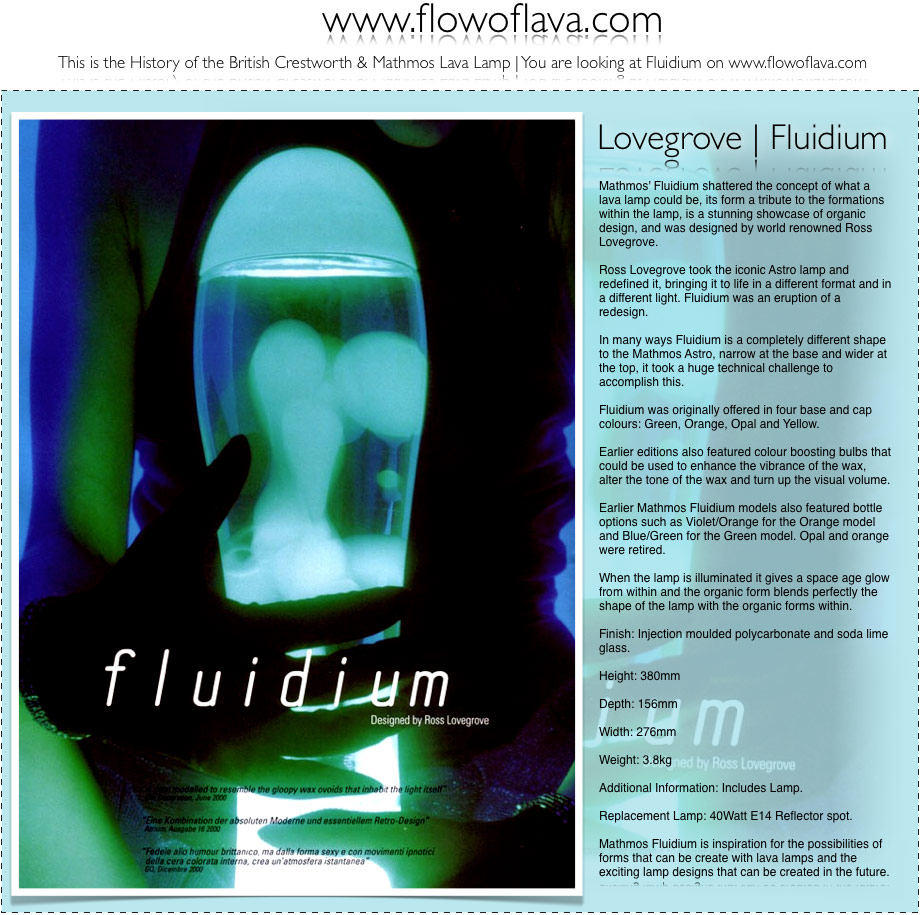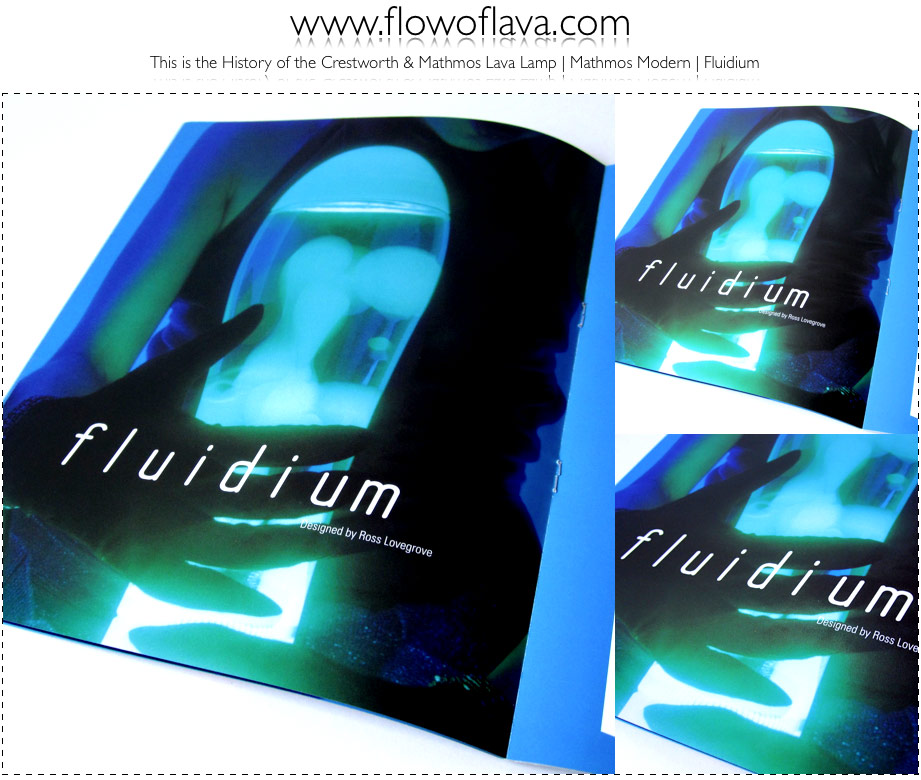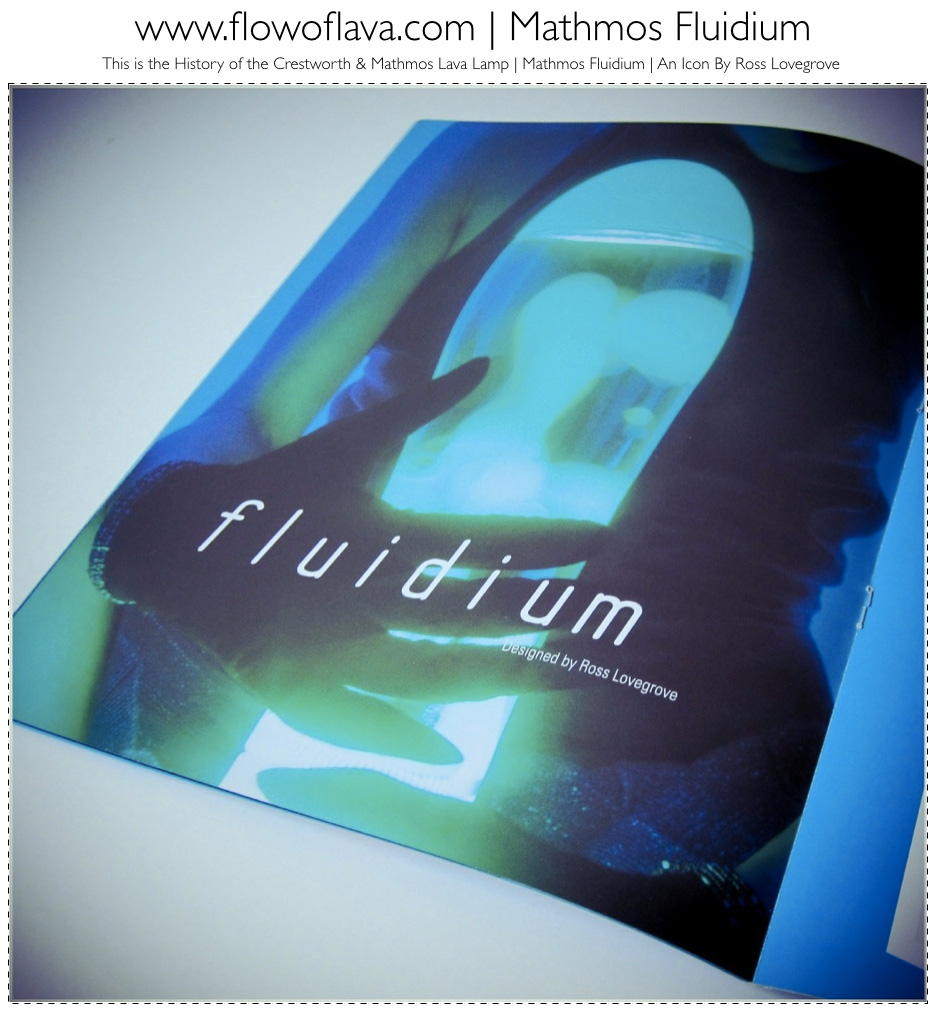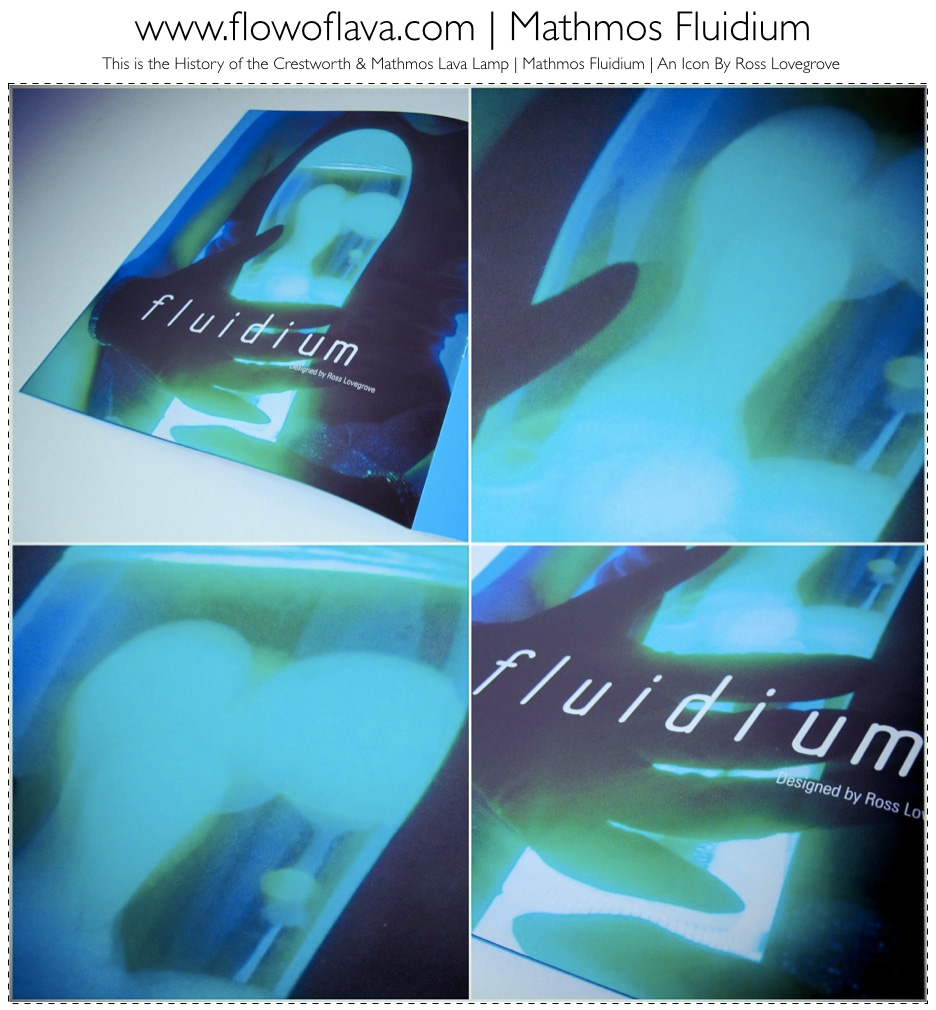 Mathmos Fluidium by Ross Lovegrove
A sketch can be seen below of the wonderful Fluidium by Ross Lovegrove.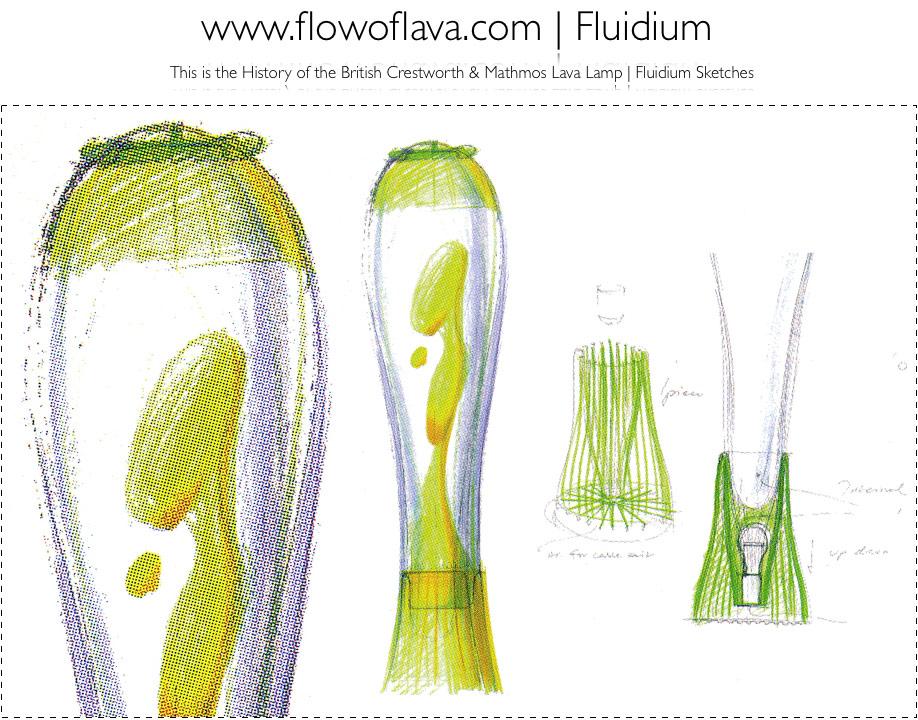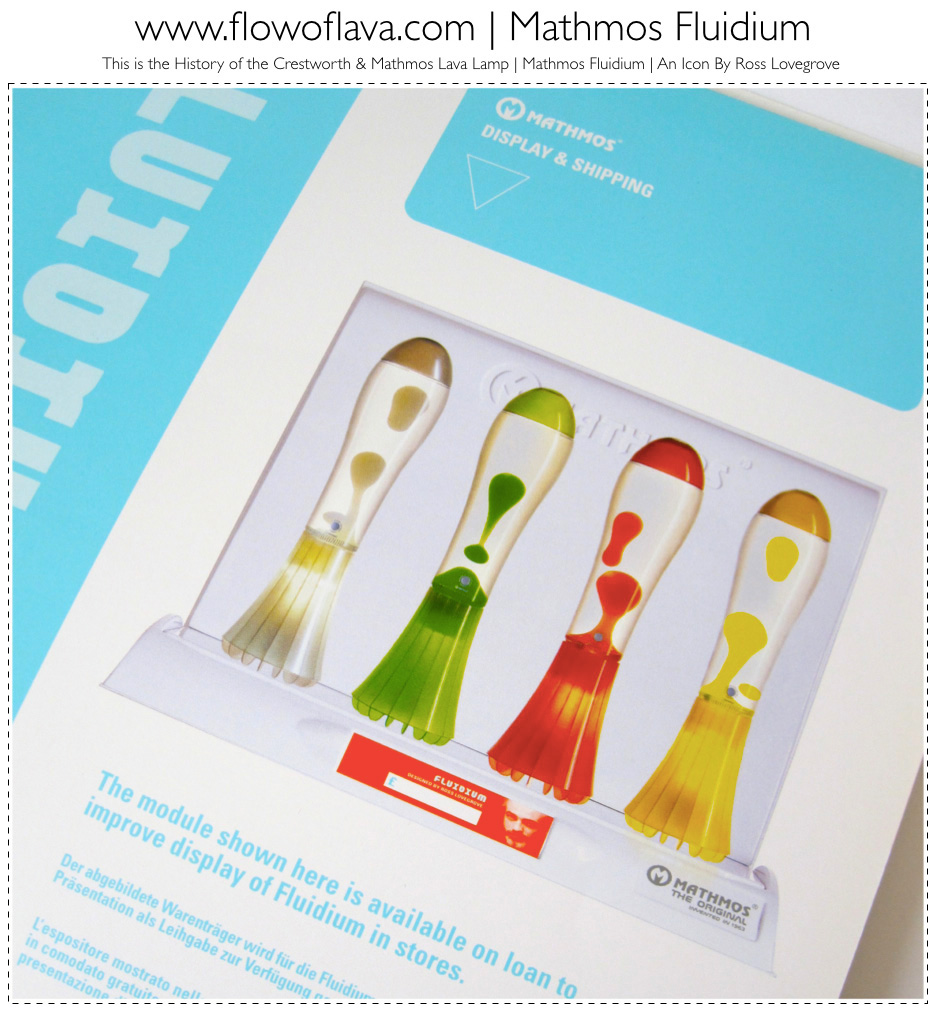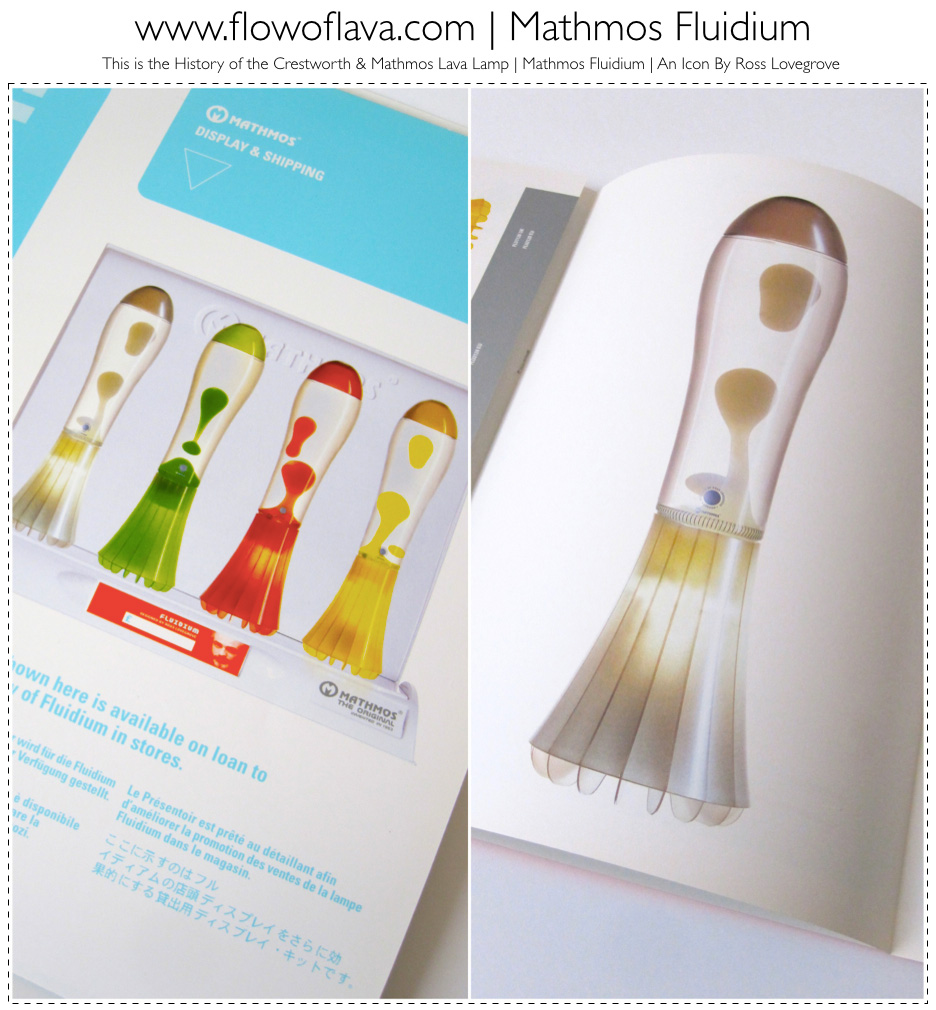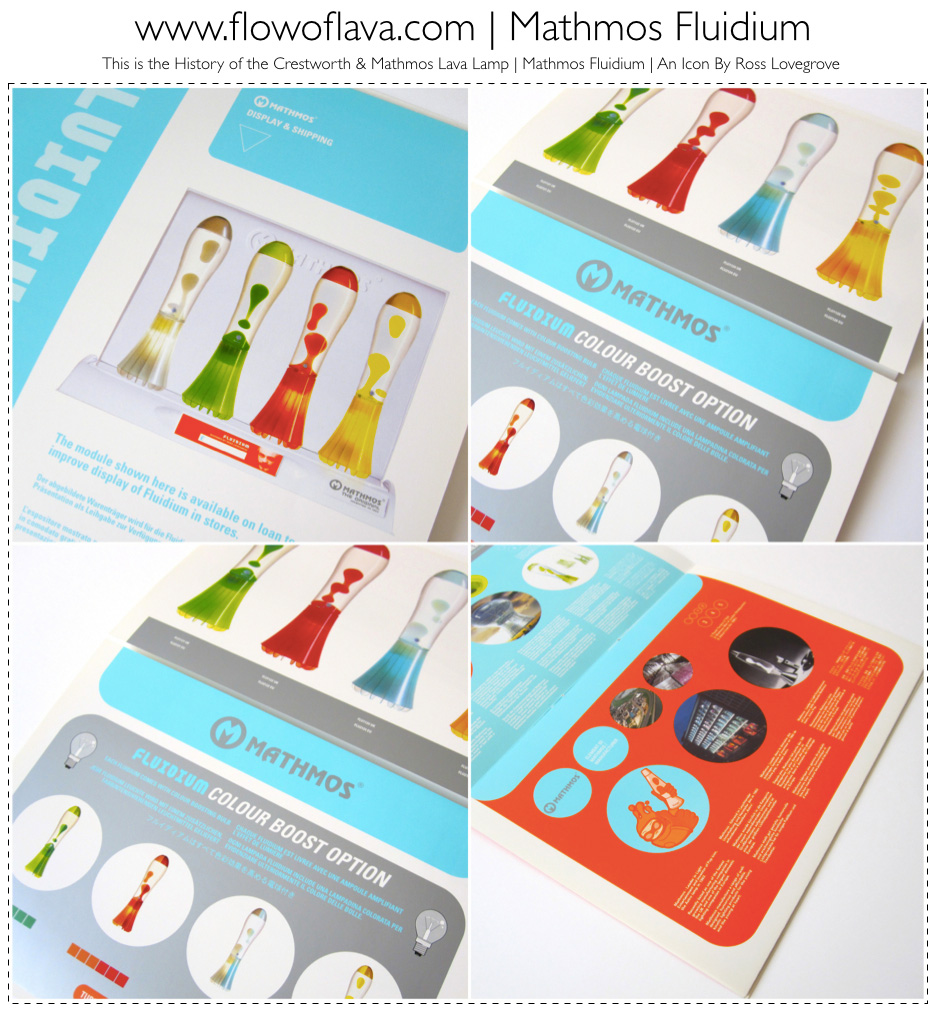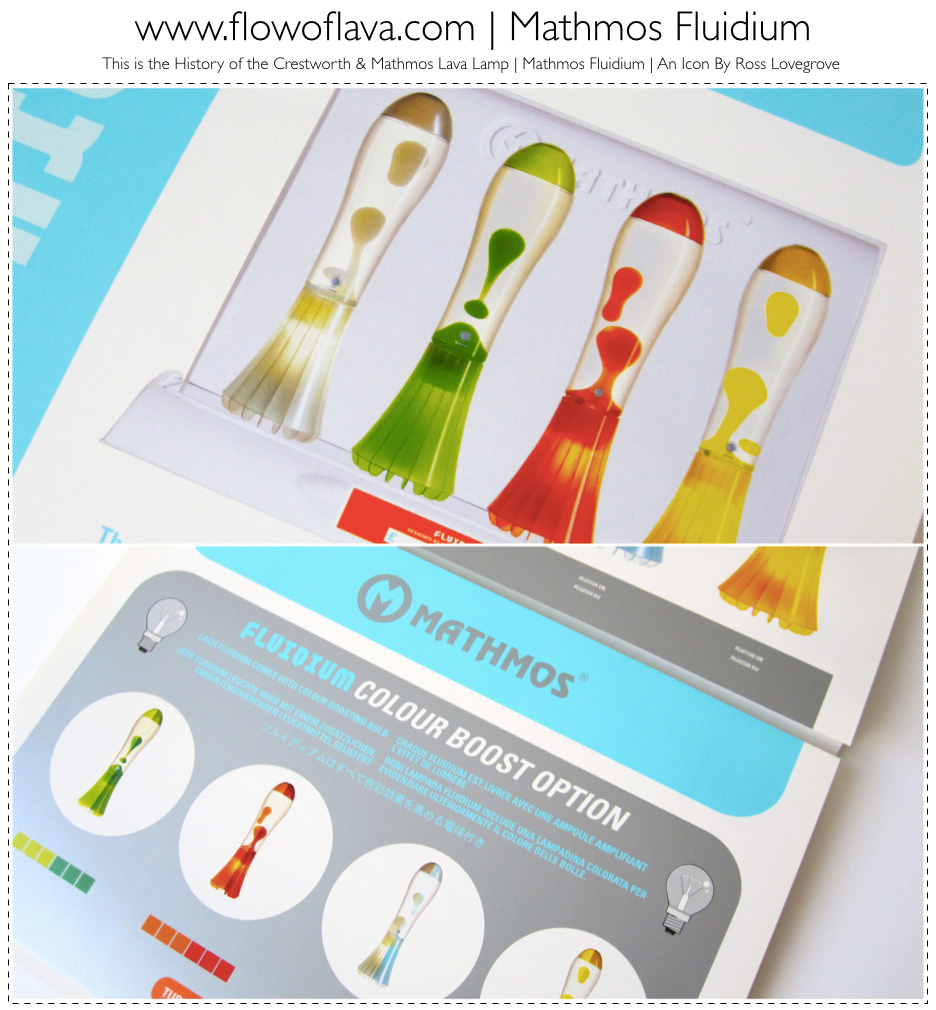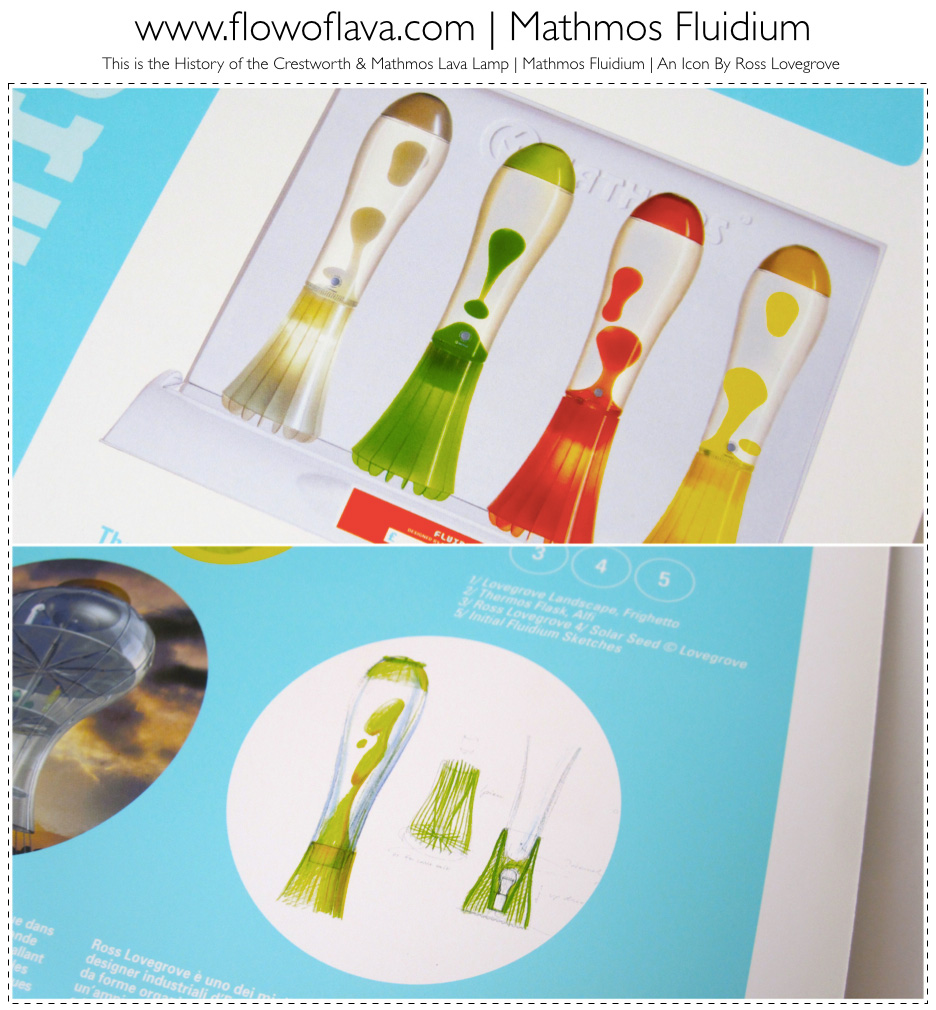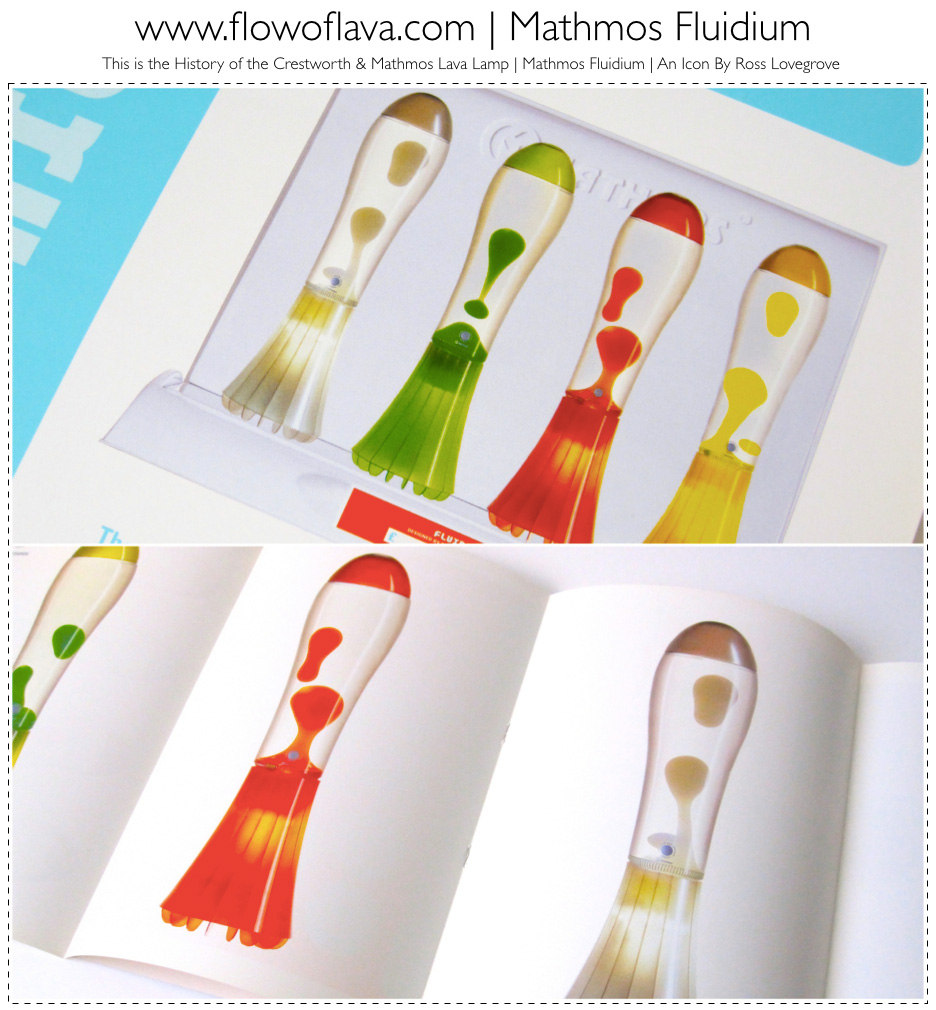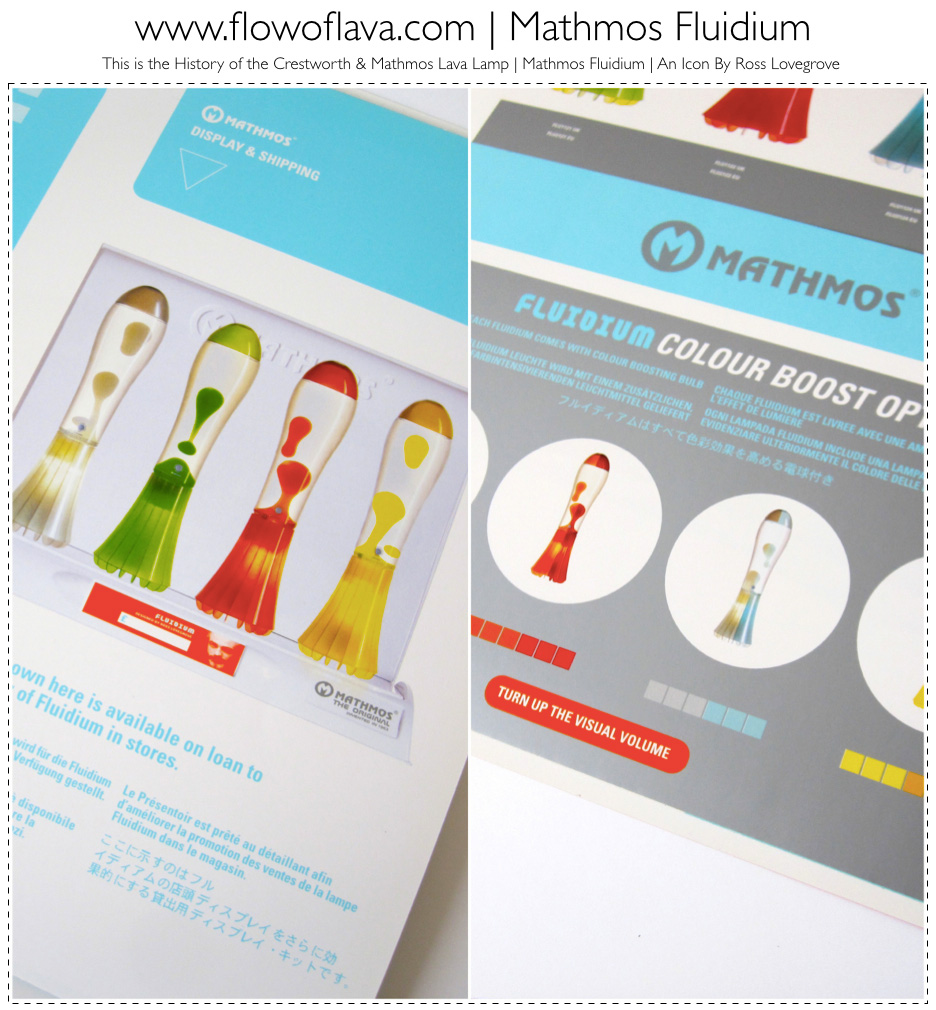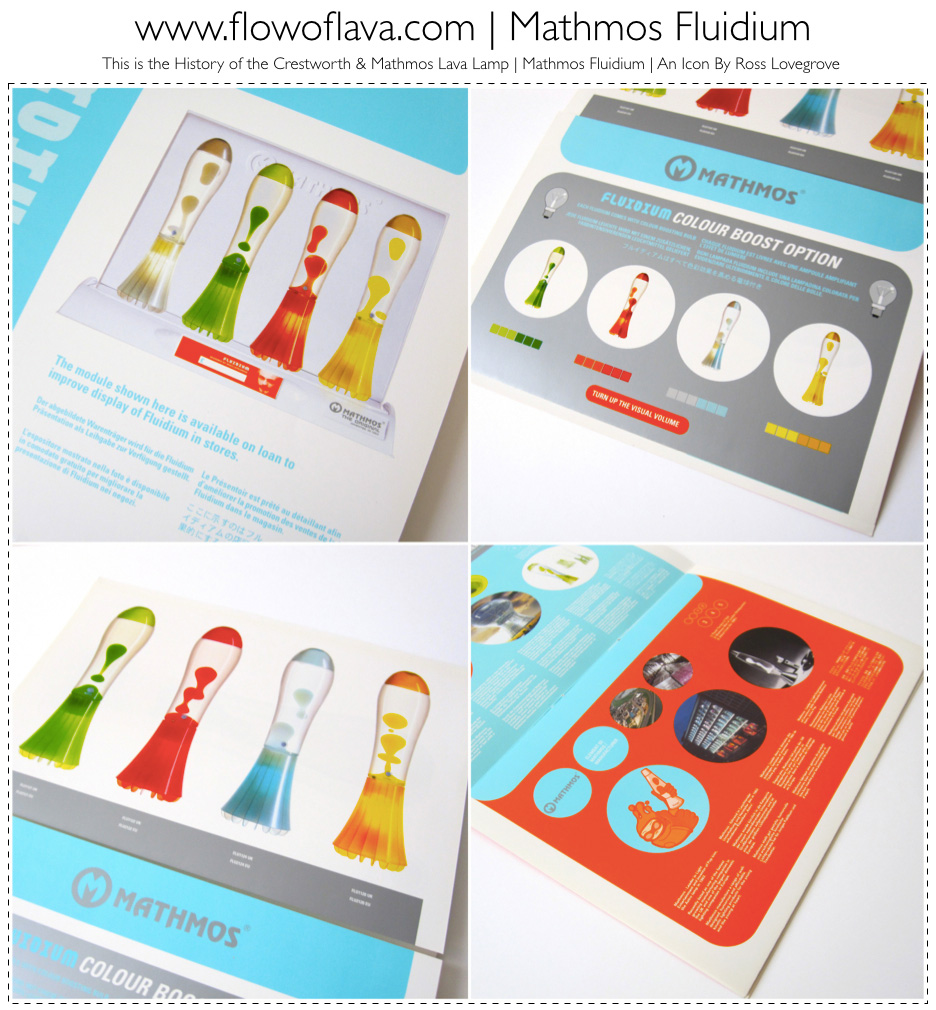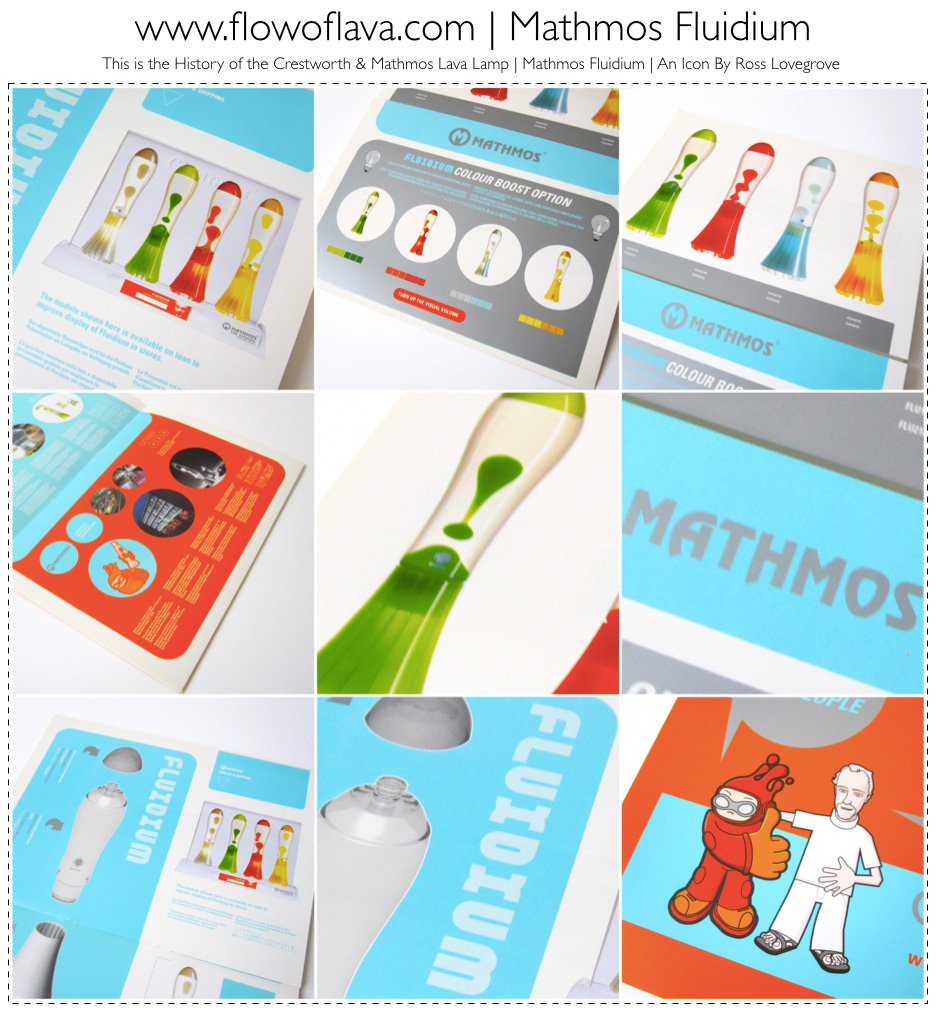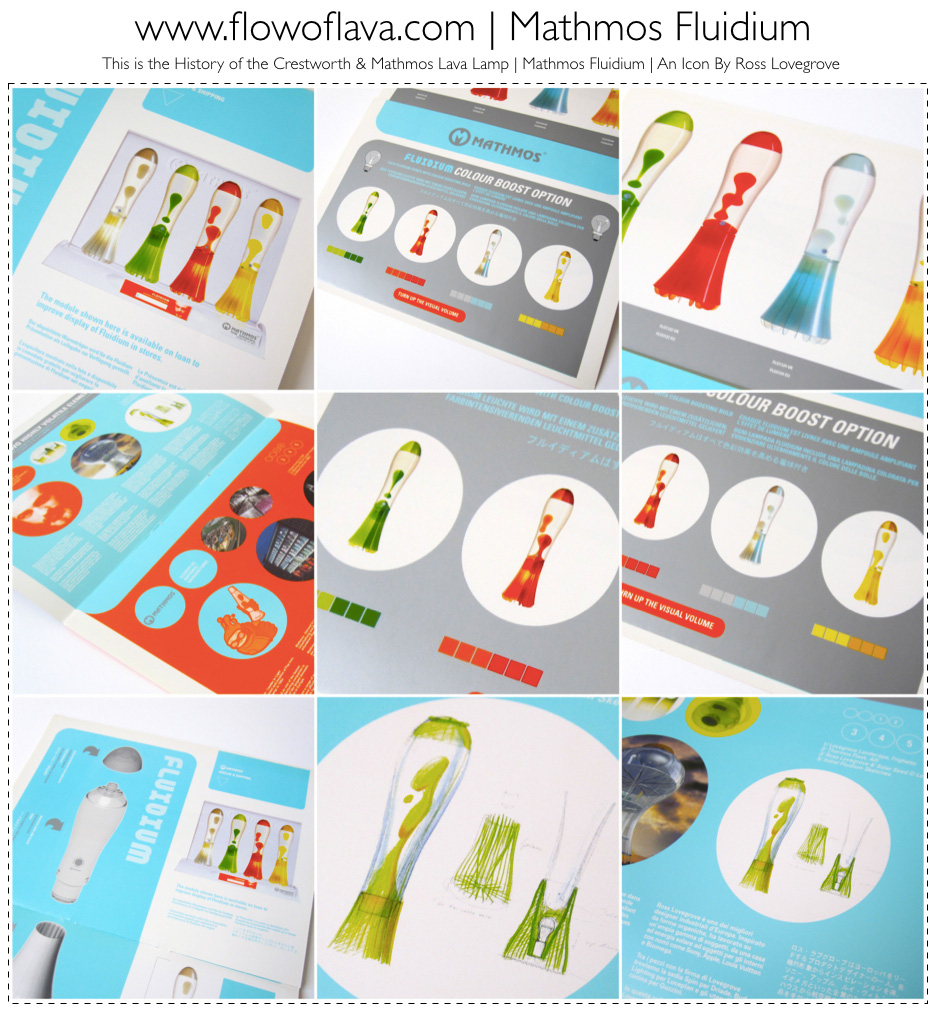 Mathmos Fluidium by Ross Lovegrove
Below: Clear & Green Mathmos Fluidium - Stunning Fluidity in a glass bottle.


Mathmos Fluidium by Ross Lovegrove
Ross Lovegrove, the designer of Fluidium can be seen below, next to an Opal Fluidium.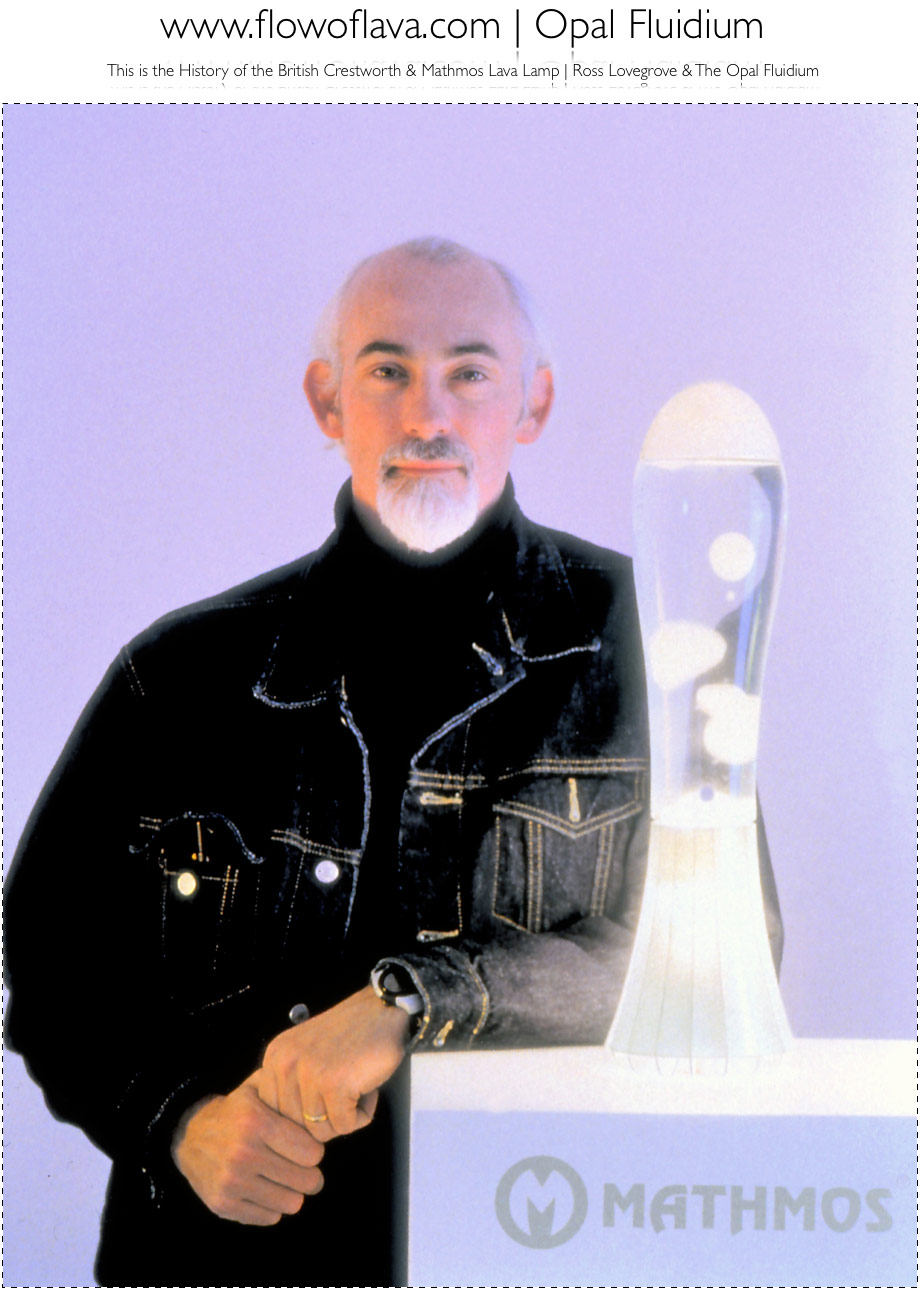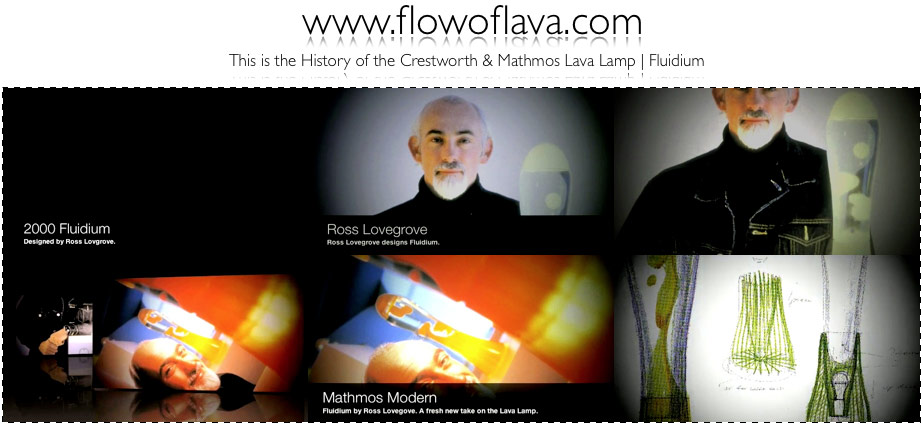 Mathmos Fluidium by Ross Lovegrove
Stats on the fluidium:
Finish: Injection molded polycarbonate and soda lime glass.
Height: 380mm
Depth: 156mm
Width: 276mm
Weight: 3.8kg
Additional Information:Includes Lamp.
Replacement Lamp: BSBE14R50 40Watt E14 Reflector spot.
Top cap, reads- Mathmos Designed by Ross Lovegrove.
Ross Lovegrove is one of Europe's leading product designers. Inspired by organic forms he was worked on a diverse range of subjects from a solar house to aircraft interiors with names such as Sony, Apple, Louis Vuitton and Biomega.
Lovegrove's signature pieces include the Spin chair for Driade, Bud lighting for Lucepan and kitchen utensils for Guzzini.
In this collaboration with Mathmos, Lovegrove has an opportunity for his bold, organic shapes to reach a new audience and to work at last with a British Manufacturer. Fluidum received a lot of press attention and was was seen in stores in the UK such as John Lewis and the gadgethub. I first saw the fluidium when I was in Oxford Street in london and saw a beautiful display with a row of them in the window of the Gadget shop. The opal fluidium was my second lamp and still stands today working well. There are two Generations of Fluidium earlier editions have a glass insert within the base and shipped with colour enhancing bulbs. Fluidium also had a green model with blue/green colour combo and an orange version which had Violet/Purple colour combo.
Above image displays the: Green, Orange, White and Yellow Fluidium. Turn up the visual volume with colour boosting bulbs from Mathmos. Mathmos no longer provides the colour boasting bulbs for the fluidium and these are extremely hard to find.
Above: Initial lineup of Mathmos Fluidium line. The orange and opal fluidium were dropped from the product lineup.
The Mathmos Fluidium is essentially a lava lamp from Mathmos designed for the New Millennium. Made from injection molded polycarbonate with molded soda lime Glass this lamp was designed by Ross Lovegrove. Available currently in two superb colours, the ultra-modern Mathmos Fluidium draws attention to itself in any location. As with all decorative lighting, the Fluidium will be best appreciated in subdued lighting.
Remaining colours of fluidium left in production: Yellow and Green.

Mathmos Opal Fluidium featuring Blue Colour Boosting Bulb & Assortment of Other Mathmos Lava Lamps.
An Opal fluidium with a colour boosting bulb can be seen in these amazing video stills below, from Stereophonics' Handbags and Gladrags. One can see a whole myriad of Mathmos lava lamp classics from the Astro to the Astrobaby to the Fluidium to the Jet and even the Lunar they are all there. Enjoy the images below.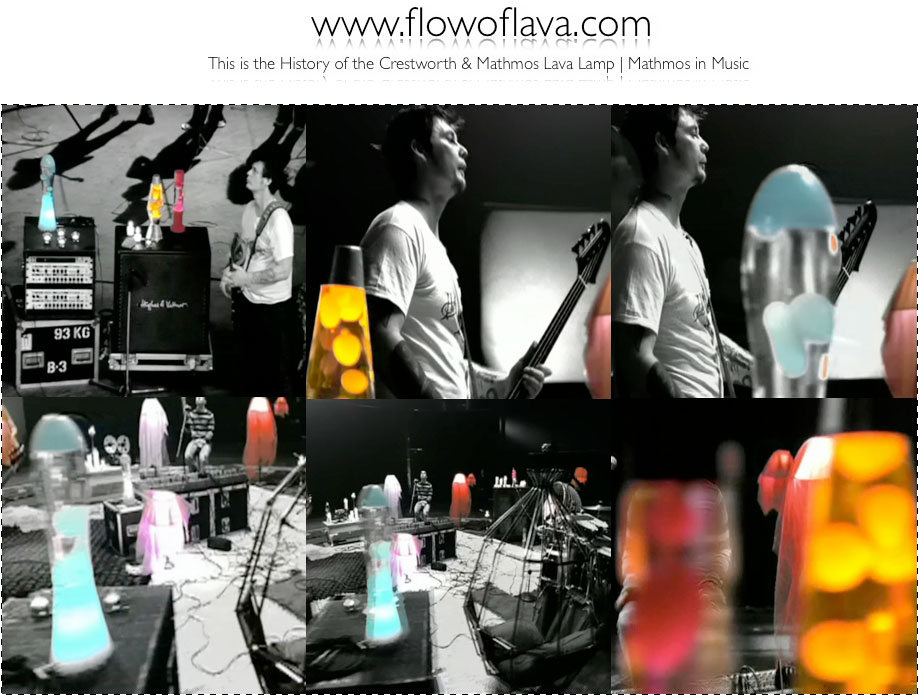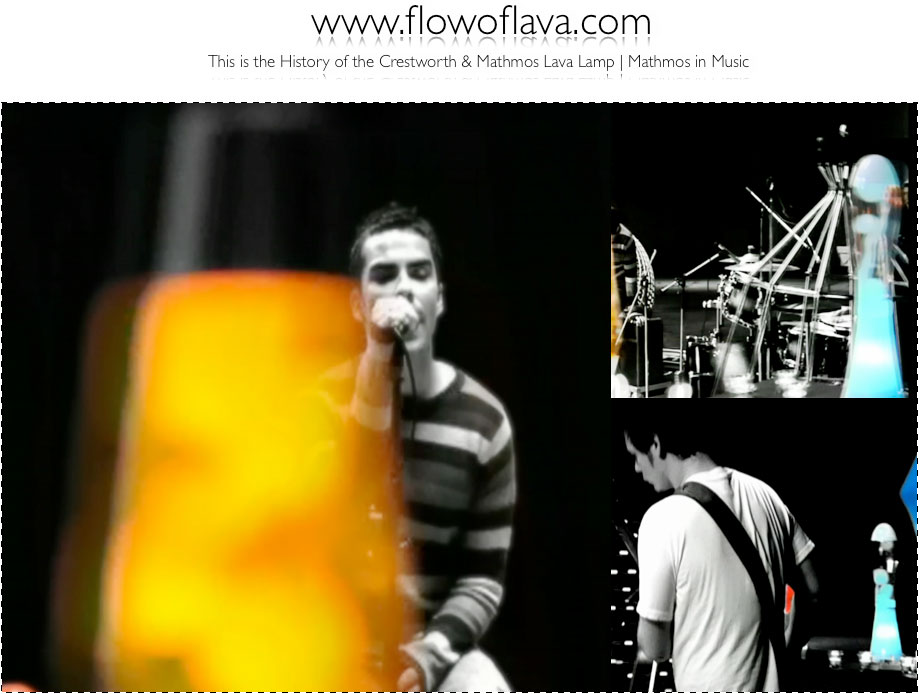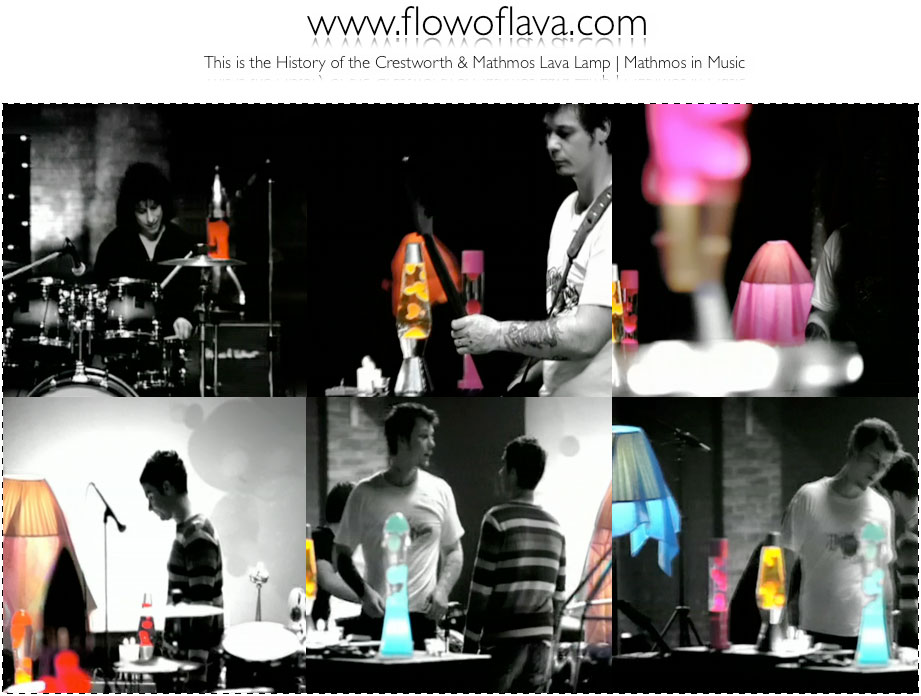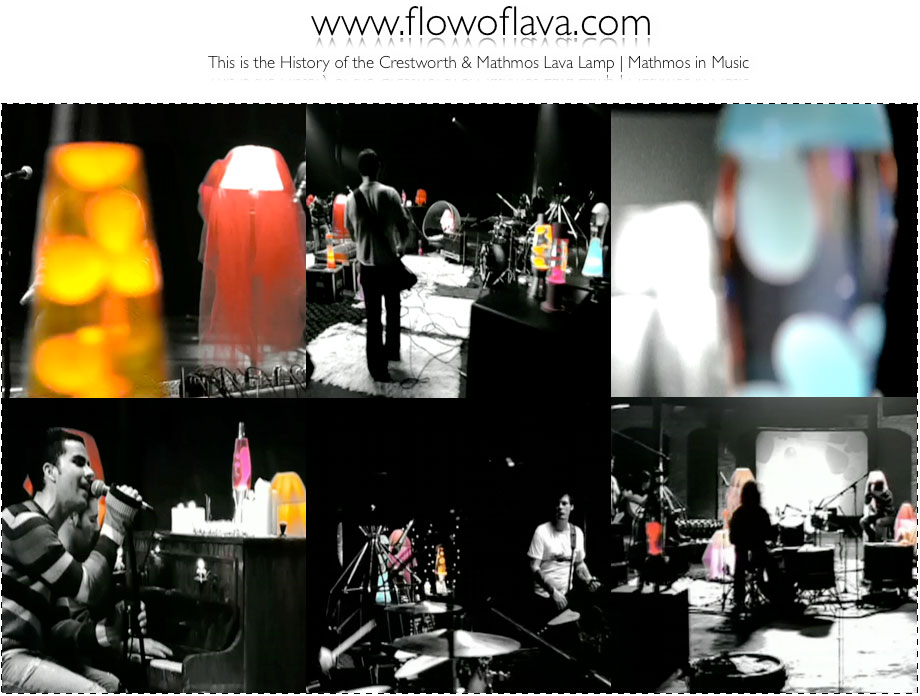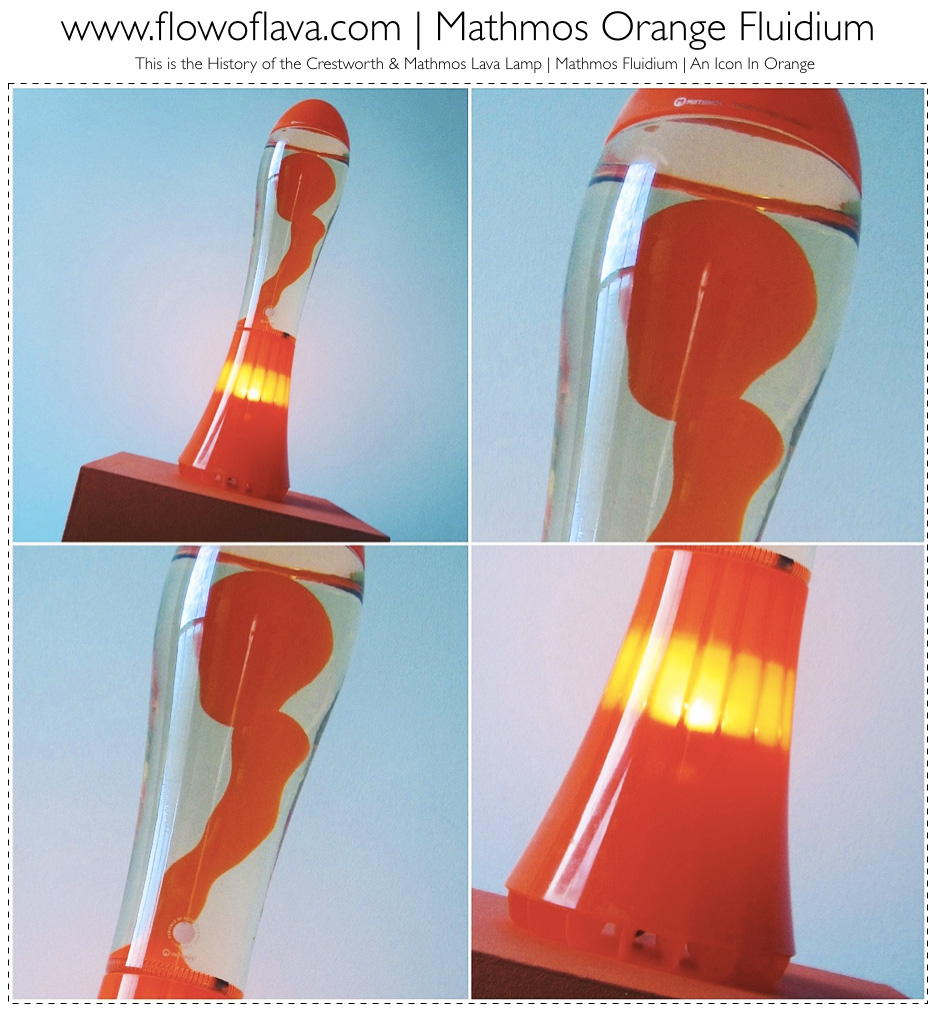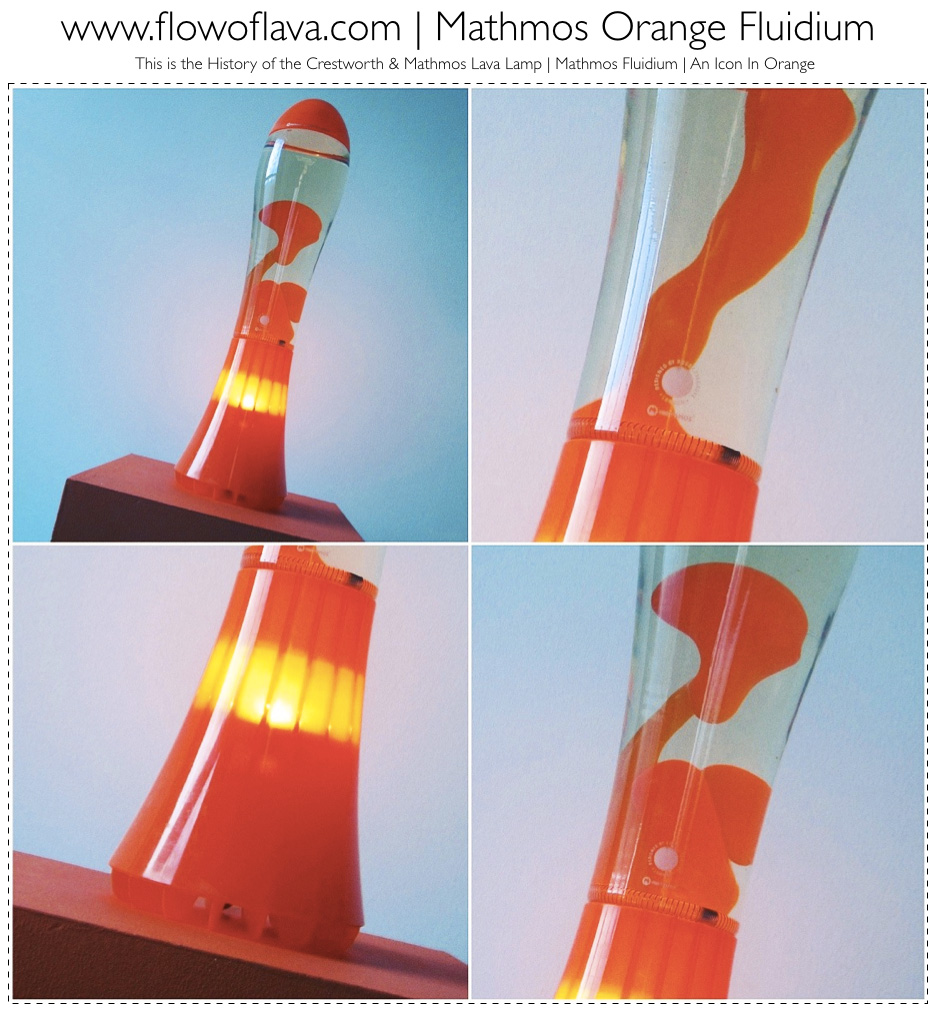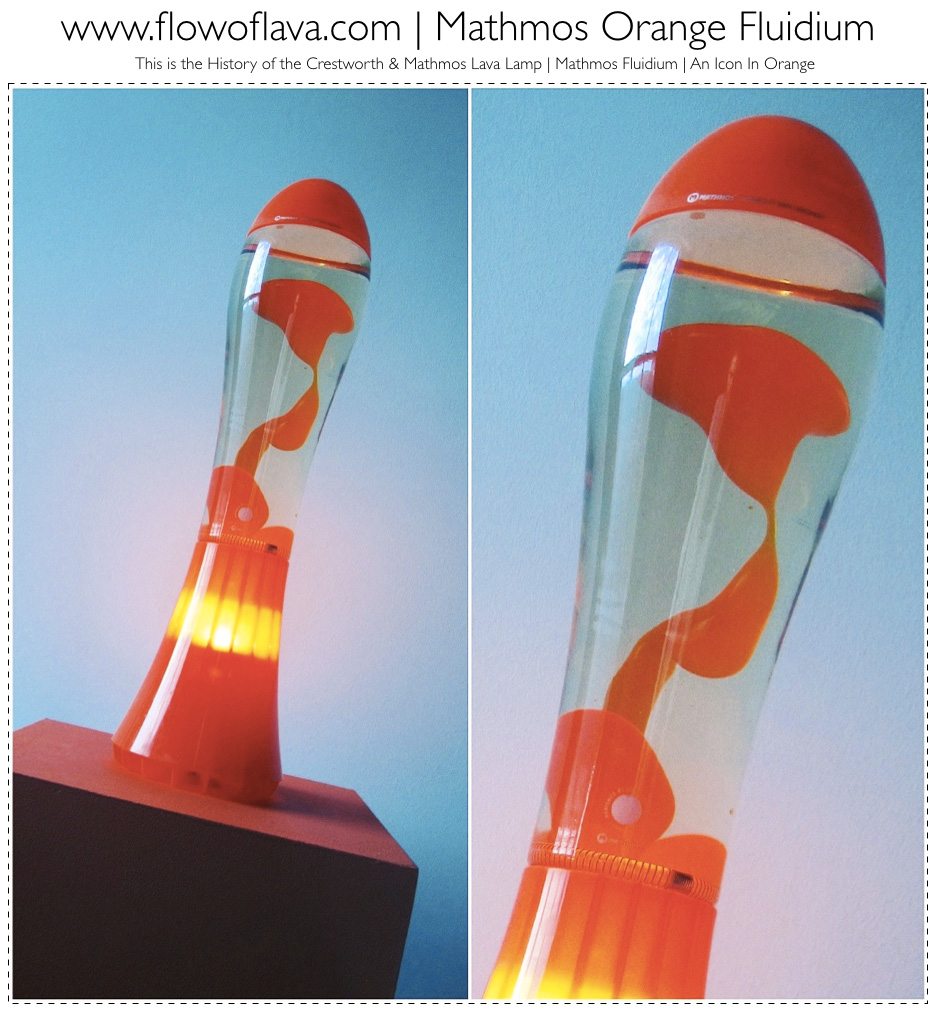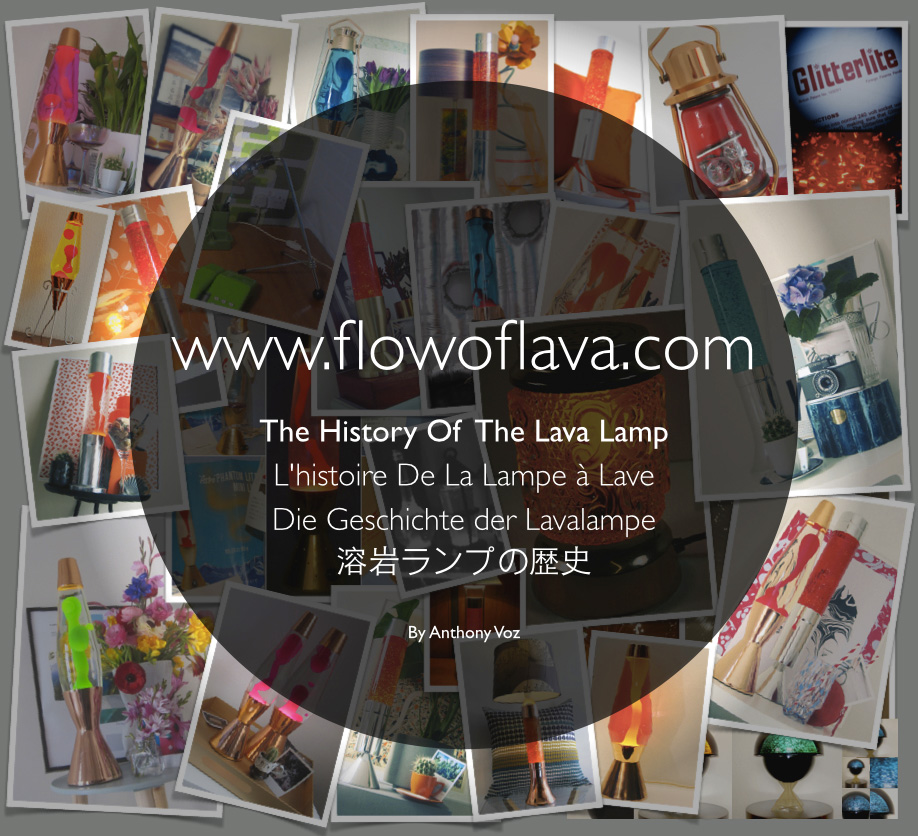 You are browsing www.flowoflava.com, a site dedicated to the history, heritage and nostalgia of the Original Mathmos Astro Lava Lamp. Created by Anthony Voz. Thank you for visiting www.lightoflava.com | www.flowoflava.com