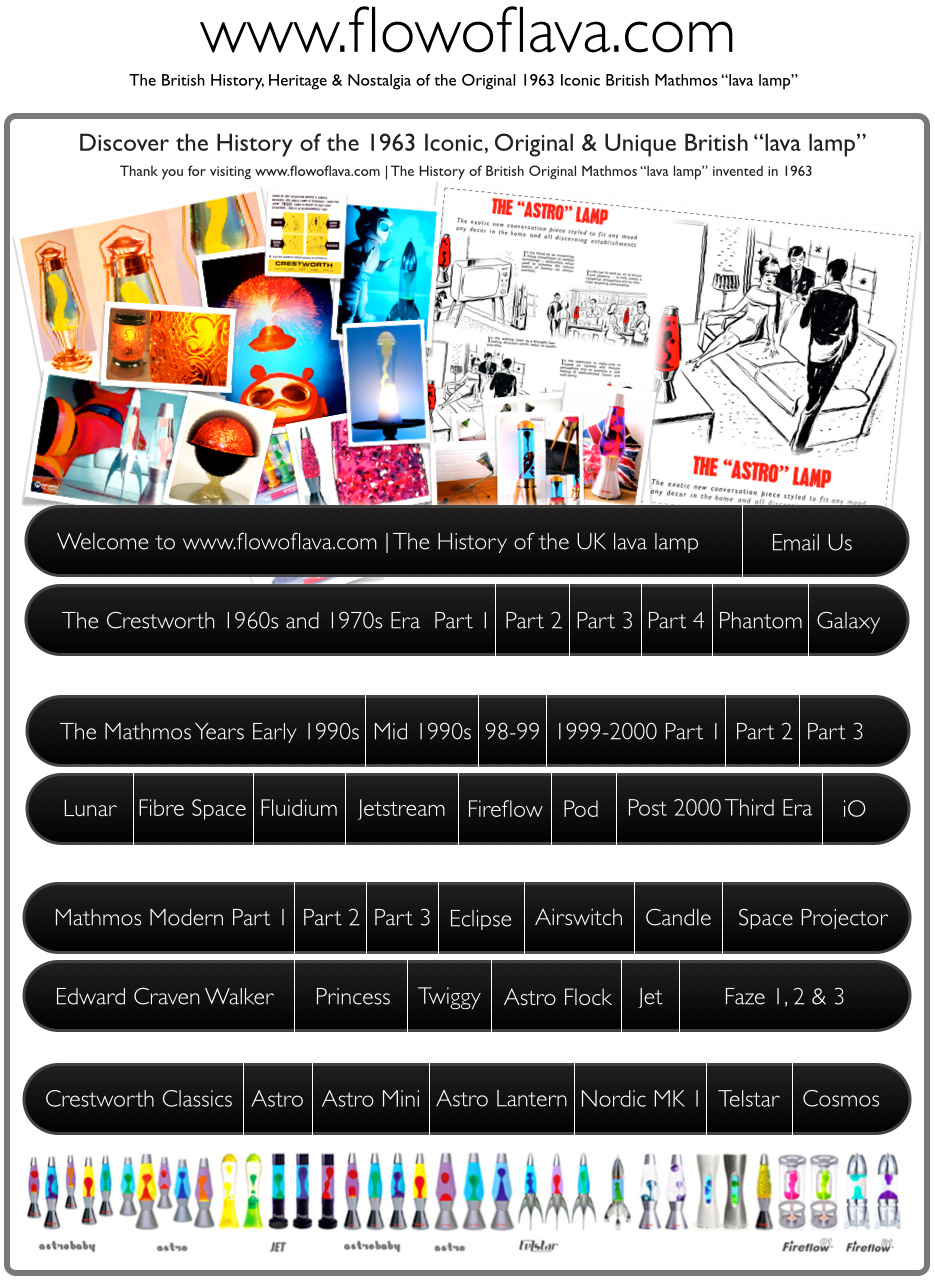 ::: Kind Emails & Ex-Crestworth Mathmos Employees :::
Since running this site, we have had some wonderful kind and informative emails. We get all kinds of emails, from people asking help with a lava lamp they have just found at a fleamarket or something that was given to them by a relative. Some simply want to know what the lamp is, some people also need help fixing their old lamp. We also get emails from people commenting how much they like reading the site. One of the coolest emails is when we get ex-Crestworth employees who email in ...
Below are some emails of interest.
Thank you to anyone who emailed in and please feel free to email the usual address at: astrohistory@googlemail.com
--------------------------------------------------------------------------------------------------------------------------------------------------------------------------------
Barbara Goddard Writes ...
I have just been browsing on your website and reading the info on the Astro lamp. I thought I would e-mail you as I was Craven Walker's P.A in 1963 during the exciting times of the invention of the astro lamp. We worked in small offices in Kennington Road and Craven had just set up the factory in Poole, so life was pretty hectic!

I left Crestworth in 1964 to have my first baby, and although we kept in touch for some time, I sadly lost touch with Craven and his wife Christine. I was given one of the original astro lamps, one of the first off the production line, but again, sadly, it was damaged during one of our moves and is no longer in existence!

I remember those times with pleasure - Craven was a nice man to work for, very unpredictable, but also fun, and very generous. I remember, when I first started working for him and finding out that he was a naturist, being very nervous in case being naked was a condition of employment, but he was always the perfect gentleman!

Reading about the astro lamp has brought back these old times, and I hope you will find the above interesting.

Barbara Goddard.
--------------------------------------------------------------------------------------------------------------------------------------------------------------------------------
Dear Anthony,

I was delighted to get your e-mail concerning Craven Walker and the astro lamp. Unfortunately, I cannot throw too much light on the subject of Crestworth, as initially I was more involved with 'En Famille', which was the host family exchange company which Craven was mainly involved with at the time, but I will endeavour to answer as many of your questions as I can.

I think that Craven believed in the lamp totally, he struggled mightily to get it off the ground initially and eventually succeeded, but I don't think even he realised the impact it was going to have the second time around, I remember it's revival and at the time thinking how strange it was that I was involved in it the first time around!

The lamp was received with indifference at first as far as I can remember, and at the time it was a case of literally going into stores, etc and selling, first the idea and then the lamp itself. I remember that Craven had many setbacks, and it says a lot for his tenacity that he hung in there and carried on.

As far as employees were concerned, I worked at Kennington Road with Craven, and he set up the factory in West Quay Road, as at the time he was living in Canford Cliffs. Once again, the full details are not known to me, as he was responsible for hiring staff from local sources in Poole. I have no recollection of David George Smith, but he was obviously involved heavily, but he was not based in Kennington Road. There was no address prior to Kennington Road, the whole concept evolved from there.

You are absolutely right about the origins of the name 'Crestworth' - it was all to do with the belief that Craven had in the product. I am afraid I don't know about the symbolism of the logo - knowing Craven there must have been some reason, but I can't tell you what it was.

The factory in West Quay Road was the original home of the lamp - and dealt with manfacturing and sending the lamps, also customer services. I was responsible for a short time for handling the financial side of things, paying bills and expenses incurred in the manufacture of the lamps. I only visited the factory twice in the early stages of the production, and the main production line was involved with the original lamp - the one shaped like a rocket.

As I said, I was more involved with the 'En Famille' side of the business, but the interesting thing is that the current 'En Famille' website makes no mention of Craven, but states that there were 'some differences' involving people involved, so I wonder what the history is concerning that?

I also knew Craven's second wife, Elizabeth, who starred in his naturist films, which he produced and directed under the name 'Michael Keatering' and also Christine, his third wife - I actually took over from Christine when she left to have her first son, Paul, by her first husband. Craven later divorced Elizabeth and married Christine. I think their son is Christopher, but I have noted from the information on the various websites that he married for a fourth time, to Sue.

I am afraid that this is all the information I can give you, and I am sorry that I cannot help any more, but I hope you find it will shed a little more light on the subject for you.

Regards

Barbara Goddard.
--------------------------------------------------------------------------------------------------------------------------------------------------------------------------------
Clive Wheeler who managed the Crestworth Anodising Factory in Wareham posted these wonderful photos ...
Everyone knows that the finishes on Crestworth lamps were stunning and a huge selection of their products were based around metal components. Crestworth took over a factory plant and which was used for anodising so that the lamps would be anodised and finished to the highest standard. The rare photos below date to the 1970s when Clive Wheeler managed this wonderful factory which was a core part of Crestworth.
The photos below are courtesy of Mr Clive Wheeler ... A big thank you goes to Clive for donating these wonderful photos. From top to bottom:
Image 1 shows a view from the Crestworth office and what the surroundings would have looked at that time.
Image 2 shows the equipment that was used in the anodising process and shows most of the line, with parts being transported to the next tank.
Image 3 shows Mr Steven Luke operating the Phosbrite chemical brightener before the anodising process, some parts can been seen racked up.
Image 4 shows the Inside of the Crestworth factory in Wareham at the start of the anodising process. Parts were stock piles as seen in the back which were sent for assembly at Crestworth house. Supervisors etc at the Poole factory were Mr Betts. Mike Start. Ken Bartram. Paul Mitchel. Receptionist was Kate Williams & General Manager Doug Walton.
--------------------------------------------------------------------------------------------------------------------------------------------------------------------------------
Carolyn from the Flying Duck Retro Shop in London writes ...
Hi again Anthony!
WOW! have just looked at all your websites - they-re AAA-mazing! - love the pictures! so many great things. you certainly keep yourself busy - we can't even manage to maintain one website!
I've attached ALL the twiggy pics i took so you can pick & choose. i think i've probably got a few other items you might want to photograph in keeping with your websites. i'm off on holiday on monday for a couple of weeks & am really busy this week but i'll happily send you more pics if you're interested when i get back. drop me an email week beginning 22nd to remind me as i've got a head like a lovely plastic retro seive! just to give you a taster, i've got a couple of fruit ice bucket variants - a white pineapple & a standard one with ICE written on it - then a pineapple jug with matching cups - tho' i think you've probably already seen that around. i've also got a great US orange spun glass table lamp, sort of in the shape of a boat, with pink plastic flower detailing & a 50's electric fire with plastic flower display (how safe is that?!) just to be getting on with - oh & have you seen the 50's inflatable footstool with plastic flowers inside?
let me know if there's ever anything you're searching for so i can keep a look out on my travels.
As you can see my job is a labour of love - have always loved the buying, selling & collecting - not just a way of earning money but a way of life too! Just a shame that greenwich changed so much that we didn't want to be there anymore - you're right - when starbucks & macdonalds etc moved in - that sealed it's fate. plus the internet seems to be people's shop of choice these days. eeeh times have changed since i was up at 5.30 stalling out at covent garden market & selling at the stables in camden - i think we certainly enjoyed the heyday of secondhand & retro on the high street & certainly have lots of fantastic memories.
So i can see why you want to move to canada - sure to be rich pickings there too - what with all the garage sales, swap meets & thrift stores! very tempting!
Sadly my experience of Edward Craven Walker was very brief - we used to stock Crestworth lava lamps for years & just met him while on a trade stand placing an order.
back in the day we were very friendly with Cressida who runs Mathmos Ltd, as she used to have a stable at camden alongside us back in the 80's (ooh i'm showing my age now as you were probably just a toddler then!)
Anyway i'll shut up now but as a fellow enthusiast am keen to share any finds with you & contribute to your websites in any way i can,
Cheers for now & may the lava be with you!

Carolyn.
--------------------------------------------------------------------------------------------------------------------------------------------------------------------------------